New Gear For 2007: PMA Report; Studio And Mobile Lighting: Strobe, Hot, And Cool Lights
While no clear trends emerged, I was struck by the presence of many sleeker styled, more compact units. These lights are designed for portability and user-friendliness, with a special emphasis on affordability. I had expected to see a snowball effect in strobes with digital control, but that was not the case.

I have split this report into Studio and Mobile Strobe Lighting and Cool and Hot Lights, quartz/tungsten lighting (popularly known as "hot lights"); interestingly, hot lights have almost taken a back seat to cool lights--those daylight fluorescents designed for digital. I also have a section on Tabletop Lighting, Backgrounds, and Accessories, encompassing those increasingly ubiquitous and variously fashioned cube-shaped diffusion housings, tables, and more, many with lights, primarily designed (at least at this show) for anyone shooting for online sales and auctions.

What's New In Studio And Mobile Strobe Lighting?
These strobe lighting systems are designed to move into your studio or home, thanks to economical pricing, or to move you out of your home studio, owing to portable power or small size.

Dot Line Corp. showcased the RPS Studio Plus 300 ($299), a 300 ws monolight, with power output down to 1/8 and recycling in 2 seconds. A 5v triggering voltage makes it safe for use with D-SLRs. It features a 100w quartz modeling lamp (proportional and on/off-switchable), built-in photocell, and Elinchrom-style fittings. For 110v/60Hz AC usage. The two-light kit includes umbrellas and stands, plus wheeled travel case ($959). There is also a three-light Portable Strobe Kit available with 160 ws monolights that comes with an infrared triggering system--portable by virtue of the padded kit bag, not battery power.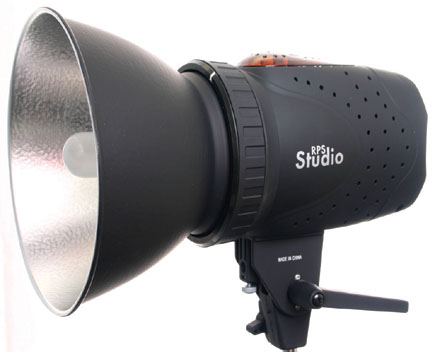 Dot Line RPS Studio Plus 300
Dot Line Portable Strobe Kit
The Elinchrom division of Bogen Imaging Inc. has recently found a way to "D-Lite" studio strobe users by fashioning these monolights in kit form. The kits will include two D-Lite heads, two softboxes, light stands, and carrying bags, with estimated street pricing of under $900 for the 200 ws D-Lite 2 and under $1100 for the 400 ws D-Lite 4 kits. The universal-voltage D-Lite 2 and D-Lite 4 are lightweight, at 2.4 and 2.9 lbs, respectively, and designed for use in the studio or on location, offering a five f/stop range from 1/16 to full power and adjustable in 1/10-stop increments. The 100w modeling lamp is proportional or on/off-switchable. Ergonomic touchpads and digital read-out add to ease of use. And to ensure compatibility with your digital cameras, triggering voltage is 5v. The lights are compatible with all Elinchrom accessories. Also new is the Skyport Wireless Flash Triggering System, which you read about in our photokina report. It's worth noting that when using a computer interface with this wireless system, you can store and reprogram multiple setups, and it will even let you make diagrams of each setup, when used with Elinchrom RX strobes.
Fotodiox brought out two new series, the more robust F-series, which they list as professional, and the simpler D-series (which stands for "Digital" although there is nothing digital about them). Available in four models, F-320, F-420, F-620, and F-1020 (representative of watt-second ratings), the F-series consists of fully self-contained monolights with adjustable output down to 1/128, with integrated infrared slave triggering. Each head comes with 7" reflector and protective cap. Prices start at $239. The D-series comes in a metal housing and offers considerably lower output than the larger units, in three models (D-110, D-120, and D-150--each reflecting their ws ratings). Power can be adjusted down to 1/16. They also have infrared triggering. But get this price: from $79-$99 individually and starting at $225 for two-light kits. These D-series monolights are true featherweights, coming in at between 2 and 3 lbs.
Interfit Photographic debuted the EXD200 kit to the world of advanced amateur/professional photography. Compact and lightweight, each 200 ws monolight features a digital display and soft-touch buttons, with output incremented in 1/10 steps and built-in infrared and photo-optical cells. Modeling (60w) is proportional and on/off-switchable. When reducing output, the unit automatically dumps the excess load to prevent overexposure. The EXD200 can be set to disregard pre-flashes from a TTL shoe-mount or camera flash. A 5v sync voltage makes them suitable for practically any digital camera. The kit comes complete with stands, shoot-through umbrella, small softbox, and padded case. And might I add, I admire the sleek, compact, stylish design of these monolights.
Strengthening its position in the world of mobile lighting, JTL introduced us to the Mobilight DC-600 ($830, MSRP). This battery-driven monolight incorporates a flash tube born of a 21st century technology that results in improved performance and durability, in a compact size. The unit features digital output adjustment in 1/2 and 1/10 power settings, a 360Þ universal receiver for wireless remote control, auto dumping of excess power, digital display, built-in stabilizer, dual locks so it can be suspended from a ceiling rail, and built-in photo slave. The eye-catching green color scheme reflects outdoor applications. Compatible with all JTL accessories. The lightweight JTL Lithium Battery pack (supplied in kit) will support either one DC-600 for 500 flashes at full power or a Mobilight 300 (300 ws) for 1000 pops. In addition, the battery can power two 300 ws monolights.
Three new monolights and a number of related kits shore up Nadel's standing in the world of studio lighting: OPUS OPL-M100SR, OPL-SE250, and OPL-SE500, rated respectively at 100, 250, and 500 ws. Each light offers fully variable output down to 1/8, with 4-second recycling and built-in photo slave. The two larger units employ a 150w modeling lamp, whereas the smallest unit uses a 60w bulb, each with variable output. Prices are $116 for the 100 ws unit and $395 for the 250 and 500 ws units. Kits start at under $350 for the OPL-M1000 (100 ws) and under $500 for the OPL-SE2501 Basic (250 ws) system.
Promark Intl. has taken over distribution, sales, manufacturing, and service for the entire Norman lighting product line, which includes power packs and monolights. Norman systems are heavily used by commercial photographers and this complements Promark's Photogenic systems primarily used by portrait photographers. Promark also announced a new addition to the Photogenic StudioMax III with built-in radio slave triggering system, specifically the 320BR, which is an AC/DC version; the 320R is an AC version ("R" designates radio triggering). Additional on-camera transmitter and receivers also available, with a working range of 150 ft, over four channels. Accessory radio triggering system is also available for the entire StudioMax line. New kits have been fashioned to include radio triggering.
Dot Line RPS CL Softbox Kit
What's New In Cool And Hot Lights?
Cool lights might be the fashion with digital photography, but the right hot lights can look really cool and serve many needs.

In digital lighting, Dot Line Corp. introduced the RPS CL Softbox Kit. Each cool light delivers the equivalent of 350w of illumination from a 75w CRI 85 fluorescent bulb, rated at 5000K, with a life of 5000 hours. The kit comes complete with lamp head, softbox, and bulb for $159. Replacement lamps are $39 (MSRP).
Interfit Super Cool-lite 5
FEATURED VIDEO