New Gear For 2007: PMA Report; Photo Accessories: Storage, Display, Backgrounds, Props, And More
Digital photo books seem to be the hot trend for permanently displaying your favorite images. One that caught my eye as being both attractive and quite reasonable was the MyBook PhotoBook Kit from Peleman Industries (formerly Unibind). For just $15, you get an 81/2x11 hardcover book containing a transparent protective matte plastic cover sheet at both ends and 15 sheets inside that will accept digital images. The software to layout the pictures is included. Once the digitally produced pages are ready, they are stapled together then placed in the hard spine of the book and an adhesive strip seals them inside.

Print File, long known for their broad line of archival negative and slide preservers, also offers a range of presentation albums and storage items. New items include presentation books up to 13x19" with 10 polyester pages and a magnetic cover closure, also available in album versions. Black clamshell archival portfolio boxes with a top and bottom that stays flat when the box is open now are offered in a larger 4" deep version in sizes 8x10, 11x14, and 16x20". New sizes are offered in the 2" depth versions as well. They now offer a CD/DVD presentation folio that holds two disks and are suitable for safe, long-term storage.

Backdrop Outlet showed examples of their new Premiere Muslin line of 27 different abstract backgrounds having brighter colors and longer life. In addition, they have new reversible set systems that include columns and archways that are lightweight for easier set up and have a stone pattern on one side and brick on the other.

Denny Manufacturing Company's new introductions include scenic design sets in 3D, including a country cottage with modular steps and arch that can be used as a set or individually. The Veranda setup consists of steps with columns and a gate.
Denny Manufacturing Veranda setup
Some of the new items shown at Neil Enterprises that accept photo overlays or imprinted images include a glass coaster set, stainless steel travel mugs, and photo charm bracelets with a sports theme. Quite nice-looking cardboard paper photo frames are available in 4x6 and 5x7" sizes with many different patterns and designs. Prices start at $15.
Neil Enterprises Photo Frames
At the Memory Maker booth we saw their new line of Gallery necklaces that contain a slide-on birthstone along with a miniature photo. Depending upon the length of the necklace, they run $5-$10 plus $8 for each independent photo charm with birthstone. A new photo hands friendship bracelet costs $8.
Neil Enterprises photo charm bracelets
Umbra offers a broad range of photo frames and albums in very attractive wood and metal finishes. Several that caught my eye were the "fotofalls," a freestanding umbrella-like metal photo tree in floor and tabletop versions. At the bottom of the arcing ribs are clips onto which photos or notes can be attached. The large version is 55" high and holds 36 photos while the smaller desktop model is 17" tall and holds 18 photos.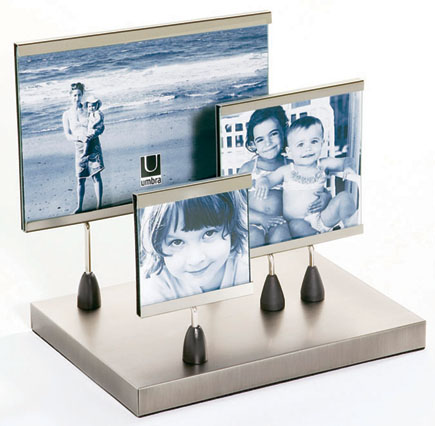 Umbra Fotofalls desktop model

LATEST VIDEO