New Camera Bag is Stylish, Protective and Durable: WotanCraft Pilot Travel Camera Bag Review
This is the best new bag I've seen in 2021, hands down. Innovative and functional design, great cosmetics and durable but light-weight material—and it offers practical modular expansion. Yep, this bag is definitely a keeper.
Specifications Background
This is a 7L (Liter) bag. One L equals 61 cubic inches, slightly smaller than a cube that's 4 x 4 x 4 inches. The volume of a standard half-gallon milk carton is about 2.2 L, so judge accordingly. The WotanCraft Pilot Travel Camera bag is available in 10L capacity also.
The Cordura fabric is 500D. D stands for Denier, an internationally used standard that denotes the linear mass density of fibers. The number equals the mass in grams per 9000 meters of the fiber. One single strand of silk is 1 Denier. Higher numbers are better (under most circumstances). Stitching thread is bonded 6/6 nylon, the strongest variation.
Optional modular components, which include the Zipper Pouch and Drawstring modules, come with shoulder straps and can be used as standalone packs. The bag is shipped with a divider for the tablet compartment, a pair of adjustable multifold dividers, shoulder strap and pad, all in a reusable, high quality, dustproof fabric bag.
How to Choose a Bag
How do we identify a great camera bag? In an article we ran a couple years back (link here) we listed 10 characteristics to consider when deciding the specific type of camera bag you need. The taxonomy might also alert you to some options you never thought about before. The list is arranged in no particular order because what's important to me may not be important to you at all, which is a significant fact of life when camera bag shopping.
Visual Tour
The WotanCraft Pilot Travel Camera bag exterior is made of thin but durable nylon that is waterproof and scratch resistant. Drawing on it with a fingernail leaves a faint mark—like on denim jeans—so the skin should display an attractive patina as it ages. Also, the overall look of the bag is covert—it is not obvious that it contains cameras.
The top flap cover has two straps in vee-shape that come together at the closure buckle. The optional Fidlock Slider Magnetic buckle is unique; it magnetically clamps securely shut without effort, but opens only by deliberating sliding the top to the side and away from the bottom. The Fidlock upgrade is $8 added cost, but clearly worth it (although the included metal buckle is servicable and attractive). At the very top, rear, there's a padded grab handle. The top flap cover can be folded back completely out of the way for even easier access to the gear inside.
The interior is softly lined with military green microfiber. Combined with the included multifold dividers, the bag offers ample protection for its contents. There is a separate slot at the back that holds a 9.7-inch iPad (latest model). Optional hook-and-eye (Velcro style) stick-on pockets and pouches—to stow keys, batteries or multi-tool—are available.
Outside, on the front, there's a large, billowed pocket that zips closed. Inside that there's a divided mesh pocket to hold small items. Behind the front pocket is hidden a zippered mesh pocket that measures about 5 x 7 inches. Candidly, I didn't find the hidden pocket for several days, which of course is a good thing.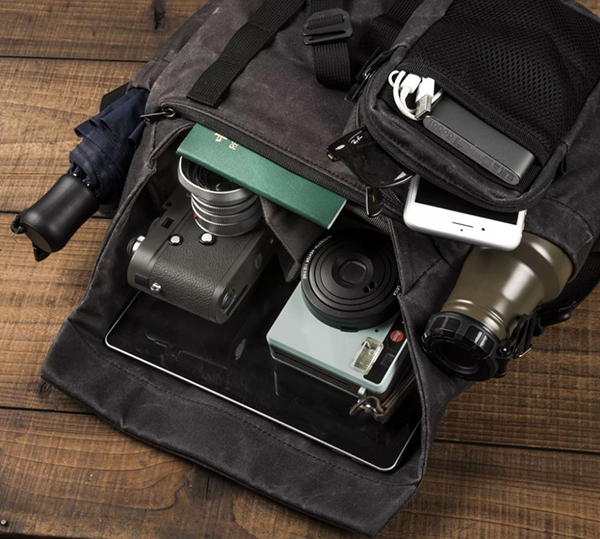 On the front of the WotanCraft Pilot bag there are three vertical rows of attachment loops. They are similar in function and appearance to Molle loops, but they run in the wrong direction (Molle loops are horizontal). You can neatly customize the bag by attaching the optional accessory modules to these loops. The modules come with straps, so they can be used independent of the bag as well.
On either end we find a pocket that closes tight at the neck via elastic. They are about the size of a fist, maybe a tad larger: 6 x 6 inches if folded flat (15 x 15cm) but they look smaller because the exterior fabric is ruffled. The pockets each accommodate a 500ml (or 16 ounce) water bottle.
The bottom has a pair of buckled lashings to attach a tripod, jacket or map case. A Peak Design Travel Tripod fits nicely. The bottom is not rubberized, but this is not the sort of bag that one would ordinarily set on the ground.
Turn the bag around and on the back we find a wide strap that can be slipped over the handle of luggage wheelies and a full-width pocket that closes by way of a waterproof YKK zipper.
The wide shoulder strap attaches using Duraflex Swivel Snaphooks. I've seen Duraflex clips on hundreds of items, mostly high-end products made by Patagonia and others. There's also a thickly-padded shoulder pad that has a high-friction surface that won't slip away from your shoulder, even if you're on the run.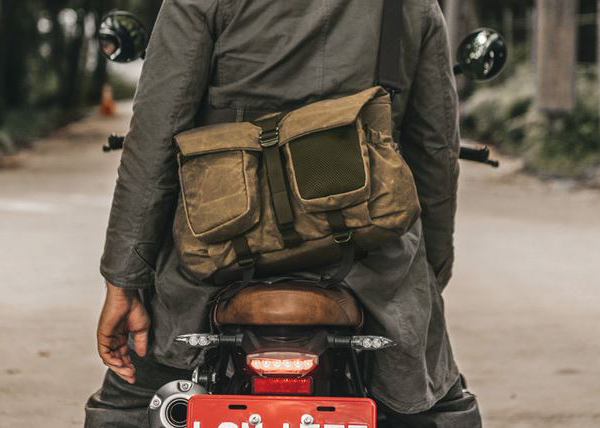 Conclusion
The construction of the WotanCraft Pilot camera bag is outstanding. The thread used is bonded nylon that's designed 6/6 signifying 6 threads with 6 cores each. Strong and worry free. The zippers are YKK (the best brand) and the attachment clips are the most modern Duraflex and optional Fidlock models for strength and light weight. It's very obvious that no corners were cut in the manufacturing process or choice of materials. In fact, it looks like the designers indulged with the latest top-end components.

I used the WotanCraft Pilot 7L Travel Camera Bag alone but mainly with the Zipper Pouch and Drawstring modules attached to the front. The Drawstring module holds a lens (or water bottle) and the Zipper pouch is great for a flash unit or can be used as a catch-all for lens caps, car keys, etc. I like the way that the top flap cover can be pulled over the tops of the modules and drawn tight for added protection.
In fact, there was nothing about this bag that I didn't like. It fulfills every requirement I have for a camera shoulder bag, and is handsome and stylish too. Highly recommended.
Other WotanCraft Photo Bags and Backpacks
WotanCraft has been making high quality products for about 12 years. They offer a rather complete lineup that includes other shoulder bags, backpacks, a bag for Brompton bicycles, sling packs, totes, a wide range of accessory pouches, watch bands (including one for designed for Apple Watch Series 6, SE and all previous versions of Apple Watch) and even nano silver fabric items that inhibit the growth and propagation of microorganisms. This is a brand you should know.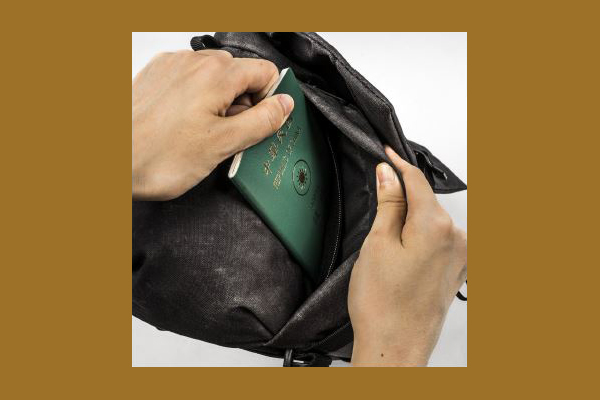 Price and Availability
The WotanCraft Pilot Travel Camera bag is available in khaki or charcoal black. The 7L model costs $159 and can be ordered directly from WotanCraft. The 10L model is priced at $199. Add $8 for the Fidlock buckle. The Zipper Pouch and Drawstring modules are $39 each. International shipping costs are included.
—Jon Sienkiewicz
(As an Amazon Associate, Shutterbug earns from qualifying purchases linked in this story.)
FEATURED VIDEO