Mountainsmith TAN Series Photo Backpack Review by The Bagman
If you're serious about climbing or hiking you're familiar with Mountainsmith. They've been a player in the outdoor equipment industry for nearly 40 years. The Mountainsmith TAN series, designed with help from world renowned photographer Chris Burkard, is their latest entry in the world of photo backpack carry solutions. What do they bring to the party? Innovative design, superior durability and products crafted from real-world experience.
The Mountainsmith TAN series, which stands for "Tough as Nails," was designed in collaboration with adventure photographer Chris Burkard. Based around the versatile Kit Cube, the new series includes five separate pieces that form an à la carte system suitable for just about any photo excursion you can imagine.
I've been a fan of compact Mountainsmith bags—like the Hobo FX—for years, so it came as no surprise to me that their newest products hold up to the severest scrutiny. The company was founded in 1979 by outdoorsman Patrick Smith who needed equipment that was optimized for his personal backcountry pursuits in the Rocky Mountains of Colorado. It seems that items born of an individual's private need are often the best. Smith's lumbar waist pack was awarded patent #5529230 by the USPTO and introduced the Delta Load Compression system of load leveling that is still used in Mountainsmith products today.
The TAN series consists of the Tanuck 40L Photo Backpack, Tanack 10L Lumbar Pack and three sizes of Kit Cubes. (That's not a typo—Tanuck vs. Tanack.) The number following the name indicates the approximate capacity in liters, in keeping with the current nomenclature trend.
Tanuck 40L Photo Backpack
Measuring 23.5 x 15 x 13 and weighing a scant 3.5 pounds empty, this rugged backpack is sewn from durable 610 denier Cordura and features YKK zippers throughout. (In my experience, virtually indestructible YKK zippers have always been a hallmark of high quality.)
The bag is made camera-friendly by inserting any of the three Kit Cubes to support your photo gear. It's a modular system that's easily customizable, depending on your immediate needs. There are deep side panel pockets for the ubiquitous water bottles and an internal hydration bladder sleeve with exit port. There's also a roomy laptop compartment (fits most 17-inch jobs) and front panel expansion pocket with interior organization and cord closure.
The suspension system features an EVA frame-sheet with an airy mesh back panel and dual density shoulder straps with load lifter suspension. The load can be stabilized, if necessary, via three removable compression straps. For the ultimate in comfort, there's a removable padded waist belt that's interchangeable with belt on the Lumbar Pack described below.
The reinforced, weather resistant bottom panel allows the bag to sit upright, and there's a high-vis yellow rain cover neatly tucked out of sight in a zippered pocket. Last but not least, on the sides you'll find MOLLE compatible webbing for universal attachment clip-on accessories.
Tanack 10L Lumbar Pack
Featuring three ways to carry (shoulder strap, dual haul handles or removable waist belt) the Tanack 10L includes a very useful interior accessory bag that can be detached when not needed. Used with or without the Tanuck (with a "u") Backpack, the Lumbar Pack can do a marsupial hideout inside the larger bag for even more carrying options.
The Tanack 10L is built using the same high quality materials found in its larger sibling and has its own removable rain cover. The belt can be adjusted from 28 to 48 inches, so it can be worn over a military-style field jacket if desired.
It also features dual side-mounted bottle holders and a front flap organizer pouch (of dubious value—but that's just my personal bias against all organizer flaps showing is ugly self again). Inside, to support your gear and keep it from banging together—you guessed it—a small Kit Cube (purchased separately).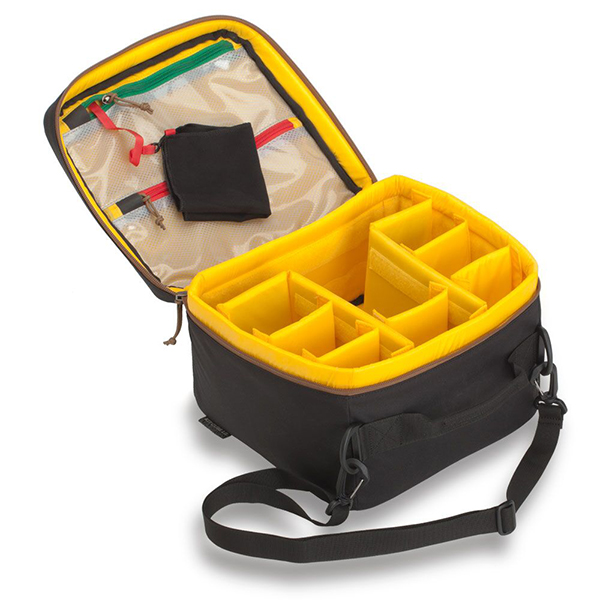 Large Kit Cube
Kit Cubes come in three sizes. Even if you don't go for the entire system, the large cube is extraordinarily functional by itself. Measuring 7 x 10 x 10 it's perfect for the passenger seat of your car or to convert your existing pack into a camera carrier. The yellow interior includes repositionable dividers and color-coded organizer pockets on the inside of the lid. On the front (or top, depending on your POV) there's a grab handle and quick-release shoulder strap.
Conclusion and Pricing
Mountainsmith products have proven themselves to me over and over as sturdy, light weight, lifetime camera carry options. The Chris Burkard collection is certainly all of that. Now available in tan (they call the color barley but you may know it as coyote) the Tanuck 40L Photo Backpack has an MSRP of $229, and the Lumbar Pack is $99. The Kit Cubes, sizes S through L, run $49, $59 and $69. The collection is available through many camera specialty stores and from outdoor retailers as well as directly from Mountainsmith.
—Jon Sienkiewicz
FEATURED VIDEO