Monochrome Made Easy: A Black-And-White Plug-In Sampler
Digital black and white has probably never been more popular than it is today. All of the major editing programs like Adobe's Photoshop and Lightroom and Apple's Aperture support black-and-white conversions natively, and at a much higher quality than just a few years ago. While all of these programs can do black and white you can take your monochrome imagery to the next level with plug-ins, specific task programs that use the architecture of the main program to get the work done. These plug-ins (which may be available as "stand-alones" as well) produce some amazing work, letting you emulate various film types, grain patterns, and more, usually working with "presets" (image looks) that can be modified with ease to customize every image. Combined with the improved output from recent inkjet printers, there has never been a better time to explore digital black and white than today.
All told, the results will be well worth the time you put into it, and you may find yourself thinking more in black and white while shooting than ever before. But keep in mind that this sampler is by no means exhaustive. There are other options available, including presets and actions that can be used that don't require separate software to use. I'm showing what I feel are some of the best options available to give you a starting point for your black-and-white work.
For more information, check out the websites of the various companies. And note that all of the plug-ins covered here have free trial versions available. I recommend downloading and trying them to see which works best for you.
Alien Skin Exposure
Now in Version 3, Exposure from Alien Skin Software (www.alienskin.com) works with both Photoshop (CS3 or later and Elements 7 or later), as well as Lightroom and as a stand-alone. The software offers more than just black-and-white effects, adding a number of color negative and transparency film types and a wide range of effects to simulate other looks, including toning, infrared, and "Lo-Fi" looks such as blurs, vignettes, and cross processing.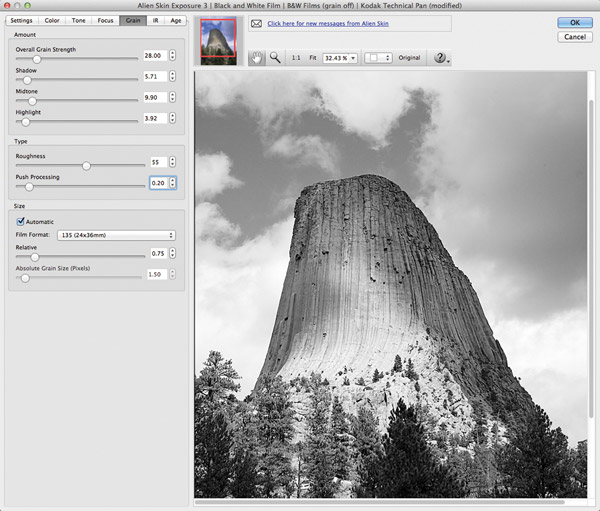 Exposure includes presets that emulate a range of black-and-white film types, including Agfa Scala and APX, Ilford Delta and HP5, and several Kodak films such as Panatomic-X, Tri-X, and Technical Pan. Each of these is a faithful reproduction of the look you'd get from the film in terms of contrast, tone, and density. Thanks to the way Alien Skin reproduces grain, the resulting images are very true to the originals. The grain scales realistically as you enlarge the image, and, like real film, tends to be more prominent in the mid tones of the image.
While not inexpensive at $249, with upgrade pricing available for previous versions, Exposure 3 has a wide range of features and delivers high-quality results. In particular, there is an extensive set of infrared looks, and some interesting options under the Lo-Fi settings to simulate Lomo and Holga cameras, as well as dust and scratch options to give it that real old feeling.
DxO FilmPack
Recently released, DxO FilmPack 3 (www.dxo.com), like Alien Skin Exposure, gives you both black-and-white and color film emulations. FilmPack 3 is available in two different versions—Essential, priced at $79, and Expert, priced at $129. The Essential version gives you 13 different black-and-white films, including Fuji Neopan, Kodak HIE and T-Max, Agfa APX, Polaroid 664, and several Ilford emulsions. The Expert version doubles the number of films, adding some seldom seen types like Rollei Ortho and IR to the mix.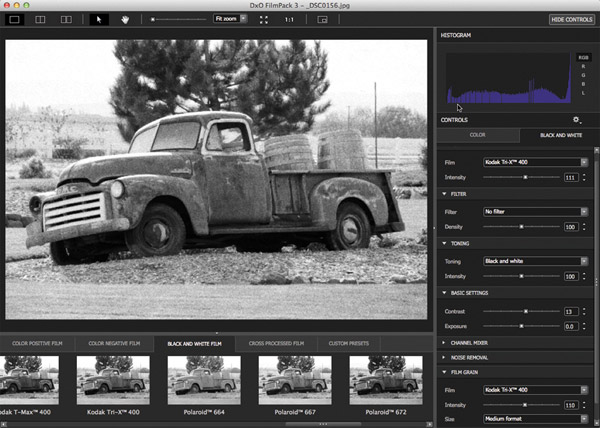 A grain tool lets you adjust the amount of grain that is applied to your image, and in the Expert version a denoising tool is available to reduce digital noise prior to adding grain, giving the image a more natural look than you might otherwise achieve, particularly in images with deep shadow. Also in the Expert version is the ability to create your own custom film types, saving them for use in the future.
DxO FilmPack 3 is available as a stand-alone product or works as a plug-in for Photoshop, Lightroom, and Aperture.
Nik Silver Efex Pro
Silver Efex Pro 2 (www.niksoftware.com) is the latest version of a well regarded plug-in that focuses exclusively on black-and-white conversions. Priced at $199 (upgrades from previous versions available), Silver Efex Pro 2 works with Photoshop (CS3 or later, and Elements 6 or later), Lightroom, and Aperture. Version 2 adds a number of new features that make this a more powerful plug-in. Along with a number of new presets, there is now control over structure, soft contrast, a history browser, and the addition of natural image borders to enhance the analog darkroom look. And Nik's U Point control, common across all the Nik products, allows you to selectively control where and how adjustments are made to your image, essentially masking areas to fine-tune the end result.
Included film types cover a range of options from Agfa, Fuji, Ilford, and Kodak with control over how the grain is applied, and the ability to adjust the curves for a film.
Silver Efex Pro 2 comes with a number of presets, and there is an active online community with more presets available to download.
Topaz B&W Effects
Topaz Labs (www.topazlabs.com) has had the very popular Topaz Adjust out for a while now, and have recently added Topaz B&W Effects to their portfolio.
At $59, it's the bargain of the group and offers a tremendous amount of flexibility for the price. As a plug-in, it works with Photoshop (CS3 or later, Elements 6 or later), and with the Topaz Fusion plug-in, it supports both Lightroom and Aperture.
Taking a different approach to how you work with your images, Topaz B&W Effects has their film types separated into various Collections—Traditional, Albumen, Toned, Platinum, and several others. Altogether, there are over 200 presets included, and you can modify to create your own unique presets.
The plug-in guides you through a specific four-stage process—Conversion, Creative Effects, Local Adjustments, and Finishing Touches. Each of these stages has a number of options available, including basic and adaptive exposure, a curve tool, and a brush tool to paint in effects like dodge, burn, selective color, and detail.
B&W Effects hides the film types under the Grain settings in the Finishing Touches stage of conversion. Here you'll find a more limited set of film types than the others, but there are some unique options, including Kentmere and Efke KB films. Finishing Touches also includes toning, border, and vignetting options.
FEATURED VIDEO