Meeting the Challenges of the Wild; Don Gale's Outdoor Photo Techniques
All photos by Don Gale
Have you ever embarked on an exciting wilderness adventure that promised great photo opportunities, only to be disappointed with your images after you got home? Maybe the skies in your pictures weren't as blue as you remembered them, or the colors as vivid. Perhaps the grand vistas you experienced appeared a little washed-out in your prints.

You're not alone. Although nature and landscapes are beautiful and would seem to translate easily to film or a memory card, you know from experience that it's not quite that simple. Because our eye perceives a scene very differently than a camera sees it, there's a lot to consider before taking your photo gear on that important outdoor trek.
A stunning tree silhouette against a colorful sunset sky.
A Love of the Outdoors
I discussed some of these wilderness challenges with Don Gale, who's come full circle as a nature photographer after his introduction to photography at age 15. Gale was given his first camera by the Boy's Club director in his home town of El Monte, California, and took his first pictures at Mammoth Lakes in the Eastern Sierra Nevada mountains. As his father was an outdoor enthusiast, Gale went on many camping trips, which began his lifelong love of nature and photography.
Since 1974, he's operated a very successful commercial photo studio in the San Gabriel Valley. However, for the past few years, Gale has redirected his photographic efforts outdoors. An avid hiker, he offers outdoor workshops "about every three weeks," which are limited to 12 students. He has two instructional photo videos to his credit--sponsored in part by Tamron--and his Wilderness Series notecards and prints are being marketed by REI recreational stores in several Southern California locations. He also teaches studio lighting, nature photography, and digital imaging at Tri Community Photo Center in Covina, California.
A Poppy close-up in Lancaster, California.
According to Gale, "What I love about photographing the outdoors is the subject matter, but I don't like having limited control over lighting. Unless you're working up close, you're at the whim of nature." Nonetheless, he says, he enjoys the challenge. "I enjoy doing research and planning a shoot--it's like a hunting trip."
A view of Death Valley at sunset.
He says that one of the most important tips for nature photographers "is to develop the ability to predict how a shot will look under particular lighting conditions." Gale notes that experience is the best teacher when deciding whether or not to shoot a scene. Obviously, it's a good idea not to shoot if the light is too contrasty (such as midday). Overcast lighting can be great for photography, he says, as long as you don't include the sky in your picture.

Unpredictable Weather
Weather, of course, is often very difficult to predict, especially when you have to plan a trip well in advance. Gale recounts a three-day Death Valley photo workshop he led that resulted in three days of rain. During that time, he went to Plan B, and gave slide presentations to the group. However, he says optimistically, "There's always the potential of a clearing storm and great light. Bad weather always gives you great conditions when it leaves." This took place on the morning of the fourth day, when the group was finally blessed with a clearing storm. Gale describes vapor that spread across the valley and was backlit at sunrise, resulting in some unique photo opportunities.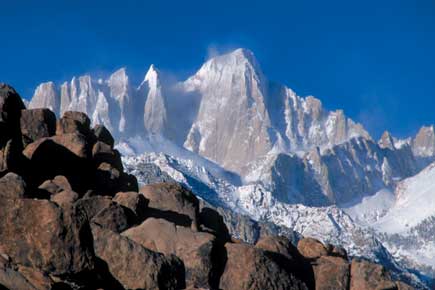 Majestic Mount Whitney in California's Sierra Nevada region.
"For the outdoor shooter, the weather is always an issue," Gale comments. "You've got to take more than your camera and tripod." For example, he says that he often brings a large golf umbrella to protect his photo setup when it's snowing. "But if it's windy, you can't use an umbrella; it becomes a sail."
LATEST VIDEO