Margaret Bourke-White: The Photography of Design 1927-1936
The first major exhibition devoted to the critical early years in the life and work of photographer Margaret Bourke-White is on view at The Phillips Collection in Washington, DC, through May 11. "Margaret Bourke-White: The Photography of Design, 1927--1936," comprising approximately 140 photographs, will be the first exhibition to explore fully her important early images.

Bourke-White was born on June 14, 1904 in New York, and was raised in Bound Brook, New Jersey. Her father, Joseph White, was an avid amateur photographer who developed his prints in the family bathtub and hung them around the house. Bourke-White's fascination with the industrial world also dated from her youth and was learned from her father, an inventor and engineer for a printing press manufacturer. Around 1912 he took her inside a foundry and the drama and excitement of this scene stayed in her mind for years.
Diversion Tunnel, a 1936 image.
© Margaret Bourke-White/TimePix
Bourke-White enrolled at Columbia University in the fall of 1921 and in the spring took a photography class with Clarence H. White, one of the greatest photographers of the period. Through his class, she encountered Arthur Wesley Dow's theories of composition, which focused on modern design and principles of abstraction. During college she discovered that her photography could generate income, and she subsequently built her career not only on her talent as a photographer, but also on her understanding of what her images could do for corporate identity. Bourke-White moved to Cleveland in 1927, at a time when the city was experiencing expansive industrial and economic growth. Other women photographers at the time--Berenice Abbott, Imogen Cunningham and Dorothea Lange--had begun their careers as portrait photographers; but Bourke-White recognized early on the power of the industrial photograph, both as an aesthetic medium and a lucrative source of income.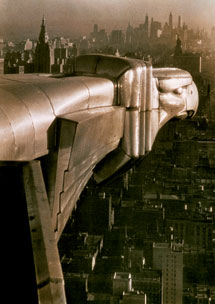 Bourke-White made her famous image of the Chrysler Building in New York City in 1930.
© Estate Margaret Bourke-White
By 1928, Bourke-White's photographs were appearing in newspapers and magazines across the United States. In 1929, Bourke-White was invited to become the "star photographer" for the new Luce publication, Fortune magazine. Luce's plan was to use photography to document all aspects of business and industry, an idea that had never been tried before. Bourke-White's career is unimaginable without her relationship with Luce's media empire. Her swashbuckling style, her ingenious and relentless self-promotion in an age that admired self-made men and their fortunes, her reverence for industry itself, and her photographic homage to capitalism and technology made her the perfect lens for Luce's vision.

Bourke-White moved to New York City in 1930 and later that year was sent abroad to capture the rapidly growing German industry. Greater ambitions for this trip took her to the Soviet Union with her husband Erskine Caldwell, where no foreign journalist had previously been allowed to document the country's progress. The Soviet Union had built more than 1500 factories since 1928 under a rapid industrialization plan, and Bourke-White was intent on capturing its growth on film.
Bourke-White photographed women peeling onions to be used for Campbell's Soup in 1935.
© Margaret Bourke-White/TimePix
Bourke White returned to the United States with a greater sympathy for the suffering of the American worker. In July 1935 she discussed her desire to develop "a candid camera technique" with Fortune's editor, explaining "While it is very important to get a striking picture of a line of smoke stacks or a row of dynamos, it is becoming more and more important to reflect the life that goes on behind these photographs."

Eager to combine her skills in photography with a growing social conscience, her new partnership with Luce in 1936 provided just the outlet, and Bourke-White became one of four photographers on the staff of Life. The new Life magazine took a human interest angle, and Bourke-White's first assignment, in October 1936, was to photograph the construction of the Fort Peck Dam in New Deal, Montana. The inaugural issue used Bourke-White's photograph of the Dam on its cover, and Bourke-White's photographs set the tone for the magazine for years to come.
The propellors of Pan American Airlines' Sikorsky S-42 airplanes, an image made in 1934.
© Estate Margaret Bourke-White
In 1956, Bourke-White was diagnosed with Parkinson's Disease and gradually withdrew from professional photography. She died in Connecticut on August 21, 1971, from complications brought on by a fall.
Margaret Bourke-White: The Photography of Design, 1927-1936, on view through May 11 at The Phillips Collection, 1600 21st Street NW, Washington, DC 20009-1090. For more information, call 202/387-2151, or visit www.phillipscollection.org.
FEATURED VIDEO