Lowepro's DryZone Rover; The Outdoor Photographer's Dream Daypack—With Hydration System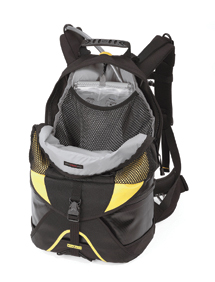 On a recent trip to Curacao, Netherlands Antilles, I had a choice of several of Lowepro's photo backpacks. I would load one up, try it on, and do the same with each in turn. Even though I received the DryZone Rover for the express purpose of testing it, I wasn't about to sacrifice my trip and take a bag ill-suited to the task. Among the bags at my disposal were the Nature Trekker AW II, the weather-resistant backpack I used for an Asheville, North Carolina, hiking adventure. That bag was a contender--I was hardly aware of the 20 or so pounds on my back through hours of hiking over several mountain trails. I also considered a Micro Trekker 200, small enough to fit on a puddle jumper. I also thought about the new and very fetching CompuDaypack, which holds a laptop in a padded upper compartment.

But what especially interested me about the water-resistant DryZone Rover was the hydration system that's part of the package. Was it something I ended up using to help me cope with the semi-arid climate of Curacao? Hmm, we'll get to that in a moment.
One Pack On The Clamshell
The DryZone Rover is of the clamshell design. That means that the upper section normally holds binoculars, maps and papers, camera manuals, a sandwich and snacks, windbreaker or slicker, and assorted odds and ends. The lower half is largely reserved for camera gear, housing a densely padded, removable insert. Padded dividers are adjustable, up to a point, and one "cubicle" within this compartment is designed with added supports to hold the camera with lens attached, pointing downward so you can grab it easily--definitely a handy way to store/access the camera. The insert also has a zippered lid, to further keep unwanted elements out.
Because of the insert's considerable depth, the Rover is well suited to such lenses as the Canon EF 70-200mm f/4L. An EOS 5D with the EF 24-105mm f/4L IS or the 100mm macro attached also went in comfortably. The 300mm f/4L IS, while it fit, was really stretching things a bit, so it stayed home. Still, there is only so much you can stuff into this compartment. I had to leave my fancy Sekonic L-558 exposure meter home and take the smaller L-358 instead. Even then, I had to move the meter to the bag's upper level when things got tight. And with everything else that went into the upper level, I had to be careful not to overfill that compartment--especially if I'd planned to use the hydration system, which resides here as well. And I had to consider that making the bag top-heavy would make it a bit unwieldy when trying to get at the camera below.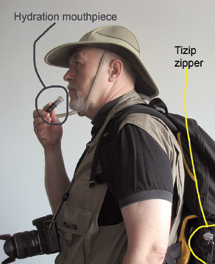 All Photos © 2006, Simon van Rooyen and Jack Neubart, All Rights Reserved
More Bark Or More Bite?
Without question, Rover has plenty of bite. And numerous sets of teeth--well, zippers. One key feature is the Tizip zipper that grants access to the camera compartment. The Tizip zipper is designed to prevent dust, moisture, rain, and anything else from getting in. It is so tight in fact that you first have to lubricate it (lubricant included) and work the zipper a number of times. Even then, it is pretty resistant and takes some muscle to open and close. That's why you may choose to leave it open once you've arrived at a certain spot. An exterior buckle is used to fasten the two tiers shut (with or without the Tizip closed). The upper level still has to be zipped shut separately, and I'd recommend you zip the insert for added assurance. If you're crisscrossing rugged terrain, you'd want to zip the Tizip all the way for added security. You might have gathered that the Rover is not ideally designed for getting at gear for a grab shot when on the trails.
Lowepro cautions that "the DryZone is waterproof but not intended to be submerged for any period of time." If saltwater gets on the bag, rinse it off and sponge off dirt with mild soap and water. Don't let sand or dirt get in the teeth of the Tizip, or it will compromise the zipper. In fact, Lowepro recommends keeping the bag away from sandy beaches and blowing out any dust and sand that has gotten caught in the teeth with a large airbulb blower. Personally, this didn't stop me from taking the bag to one windy beach after another. It was either that or let my gear bake in the car. The company also points out: "Do not use the DryZone as a personal flotation device." Thankfully, I never got to test that.


FEATURED VIDEO