Long Exposure Noise Reduction: Use it or Lose it? (VIDEO)
Long Exposure Noise Reduction is very helpful feature available in most modern digital cameras, including interchangeable lens models and many full-featured compacts. But as you'll see in the following tutorial from the Photo Genius YouTube channel, leaving this setting turned on by default will hold you back in certain situations.
This feature is regularly used by landscape photographers and others when shooting in low light (and other situations that call for extremely slow shutter speeds) to minimize artifacts that often occur. It typically delivers cleaner results, albeit with a small loss in image detail. However, as you'll see, there's a penalty that's often ignored and it's one you should understand.
Instructor Paul Farris is an Australian pro who regularly posts simple lessons to help others get the most out of whatever cameras they use. In this five-minute episode he explains how Long Exposure Noise Reduction works, when you should use it, and the situations under which you may want to turn it off.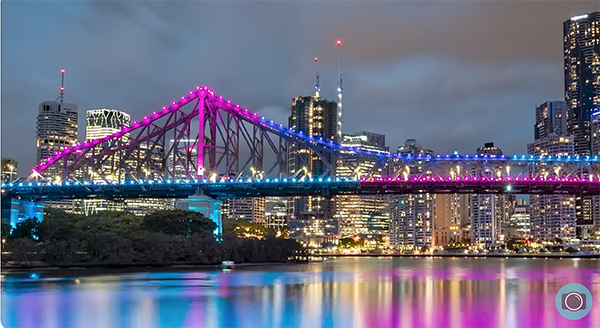 The image above may look really good, until you zoom in and notice a bunch of small, ugly imperfections. Whether these distractions are hot pixels or noise, they clearly detract from the quality of the image. This shot of an iconic bridge in Brisbane is a great example of when noise reduction can come to the rescue because the photo was captured with a 30-second exposure.
Cameras that feature Long Exposure Reduction often provide a choice of four different options: Low, Medium, High and Off. Farris explains that this function works by the camera capturing two shots of the scene—the first being the actual image, and another known as a "dark frame" that's used to eliminate imperfections.
Farris explains where to find this setting on cameras of different brands, and this feature does an impressive job to improve his Brisbane Bridge photo. But here's the rub: His 30-second exposure is followed by an additional 30-seconds to process the noise. Hence you're unable to shoot another photo for a total one minute.
Farris notes that a 60-second wait may not be a huge problem when photographing static subjects, but other times it's simply out of the question because the time it takes the camera to perform noise reduction is equal to the shutter speed. So even with a 10-second exposure your camera is on hold for a total of 20 seconds.
One example in which long wait times are counterproductive is when photographing fireworks displays, when you want to capture as many images as possible. Farris explains that in these and similar situations "with Long Exposure Noise Reduction turned on your shooting time is effectively halved."
Bottom line: This feature can be a great tool to improve the quality of long-exposure images and save effort in post processing. But it's important to be mindful of the aforementioned concern, as well as the additional drain on your camera's battery. After watching this video head over to the Photo Genius YouTube channel for more helpful advice.
We also recommend watching the tutorial we recently posted from another pro, explaining how to create eye-catching landscape photos by adding a pro-quality vignette in Lightroom.