Leica Unveils M Edition 60 Digital Rangefinder with No LCD Screen on Back
Leica turned back the clock (again) on its digital rangefinders today, announcing the M Edition 60 model that has no LCD screen on back, just a dial to adjust ISO. The limited edition camera (there will only be 600 made), which celebrates the 60th anniversary of Leica's M series rangefinders, was unveiled by Dr. Andreas Kaufmann, Leica's chairman, at a press conference at the photokina show in Germany this morning.
"The M 60 requires the same exact attention to detail as required when shooting film," Kauffman said. "So you, the photographer, can concentrate on the key parameters like focal length, aperture, and shutter speed [and be] ready for the decisive moment."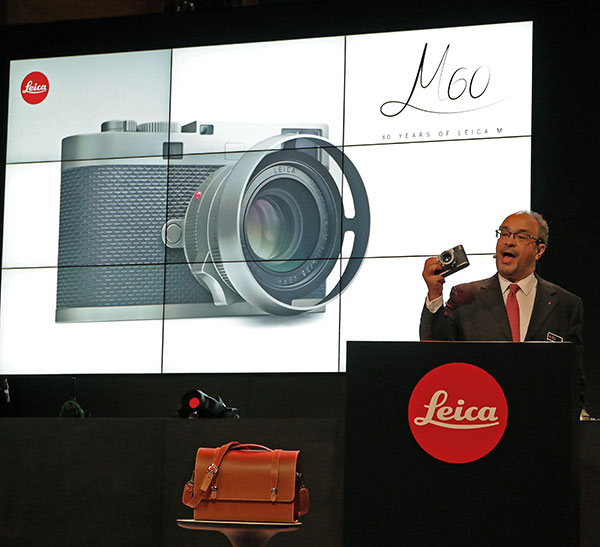 And in a press release to announce the M Edition 60, here's how Leica describes the reasoning behind the somewhat quixotic decision to offer no LCD screen on back: "Instead of the constant distraction of technical features and the checking of menu settings and controls, [photographers] enjoy the freedom to concentrate completely on their subjects.
This decidedly retro camera from Leica is bound to cause controversy, a sentiment Kauffman addressed in his introductory remarks. "You either love Leica or hate Leica. There is no lukewarm," he said.
This isn't the first time Leica has courted controversy with its products. A few years ago, the company launched the M Monochrom rangefinder camera, which can only capture black-and-white digital photos.
Few other details about the M Edition 60 were released today but from the looks of product photos of the camera (and from seeing it in person at the press conference), there do not appear to be any digital ports (USB etc.) for connecting it to computer or for transferring images. Details about the camera's sensor and resolution were not released, at press time, though it's expected to have the same 24-megapixel CMOS chip as in Leica's M-P digital rangefinder.
Like many of Leica's products, the M Edition 60 has a striking and classic design. With stainless steel, a material Leica says is difficult to work with, applied to the exterior of the camera and lens, the M 60 looks durable and elegant. There's also special anthracite-colored, leather trim on the camera body.
The Leica M Edition 60 goes on sale in October, as a kit, with the Summilux-M 35 mm f/1.4 ASPH.
The price for this limited edition camera? Leica's not saying yet. But, as the old saying goes: "If you have to ask, you probably can't afford it."
FEATURED VIDEO