Leica M-E (Typ 240) Full-Frame Digital Rangefinder Camera Review
Leica recently announced the latest M-Series camera, a stunning anthracite gray full-frame digital rangefinder based on the Leica M which launched in September of 2012. The new Leica M-E (Typ 240) has a few welcomed upgrades and a nice surprise—a lower price. In fact, the new Leica M-E, priced at $3995 (body only), is the lowest-price full-frame Leica camera on the market.
I recently got to test out the Leica M-E (Typ 240). Read what I think about this new "affordable" Leica camera in the following review.
Here's how it betters the original Leica M (Typ 240).
In addition to the exclusive gray paint finish—which looks and feels both unique and luxurious—the new Leica M-E has real leather body covers and an enlarged (2GB) shot buffer. The leather enhances the overall tactile enjoyment while the increased buffer size enables longer burst shooting.
Here's a rundown of the key features.
• 24-megapixel full-frame CMOS sensor
• Leica Maestro image processor
• Magnesium alloy body
• Brass top plate and baseplate
• Splashproof body construction
• 3-inch, 920k dot LCD monitor
• Live View
• Optical 0.68x-magnification viewfinder
• Full HD 1080p video recording
• ISO 200-6400
• 2GB shot buffer
• DNG Raw plus JPEG
• Integrated level
• Anthracite finish
• Black leather trim
• Weight: 1.5 pound (680g) with battery
• Dimensions: 5.5 x 1.65 x 3.15 inches (138.6 x 42 x 80 mm)
• Every Leica M-E is handcrafted in Germany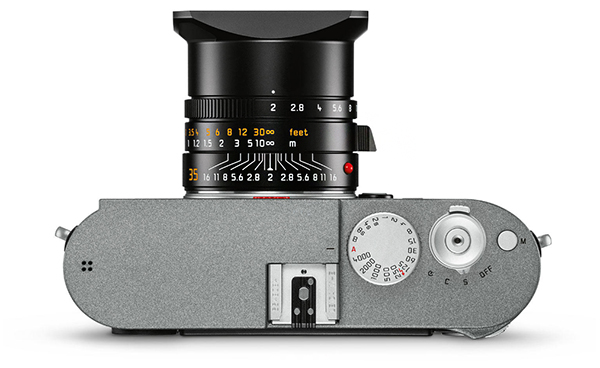 Does the E in M-E stand for "Entry Level?"
Let's unpack the cost. Clearly, the $3995 sum is not a casual purchase except for the very few. But compared to the cost of a comparable used Leica full-frame digital camera, it's competitive.
Consider the price within historical context. About 50 years ago, the Leica M4 film camera was arguably the finest 35mm rangefinder ever made. In the minds of many, it still is the best, even though it's been discontinued for decades. According to my sources, the M4 (body only) sold for $550 in 1970.
That sounds about right because I confirmed that a Minolta SR-T 101 with 50mm f/1.7 MC Rokkor was $199 ($219 with an f/1.4) at Altman's in Chicago around that time. A similarly outfitted Canon FTb cost about the same.
Adjusted for inflation, the Leica M4 body that cost $550 in '70 equates to about $3,630 in 2019 dollars, according to several online inflation calculators.
Now remember that the Leica M4 was not digital, did not have a Live View LCD panel on the back and—hell, it didn't even have a light meter built in! Forget about ISO 6400 and Aperture Priority auto exposure. To set the correct exposure you needed a handheld meter or a clip-on Leica MR4 meter that occupied the flash shoe and captured the shutter speed dial.
What's the point? At $3995 the Leica M-E Typ 240 is a bargain.
Product Review
The Leica Typ 240 platform has been covered in the media many times, inasmuch as it's been around for nearly seven years, so there's no need to drill down to every single detail in this review. I wrote of my shooting experience with the antecedent Leica M (Typ 240) on these pages in 2014 in a brief two-part story (you'll find the second short part here).
Construction
Like every Leica rangefinder I've ever handled, the Leica M-E is solid, smooth and precise. It feels a tad toward the heavy side at a pound-and-a-half (a Nikon D850 weighs 2 pounds, so it's not unreasonable). But it feels great in the hand, is beautifully balanced and is a pleasure to use.
The painted anthracite gray finish is dramatically different, and the genuine leather trim is both handsome and functional.
According to the specifications, the Leica M-E is splashproof, and I'm sure that's correct. But remember that a (large) part of the pleasure of owning a Leica digital rangefinder camera is the ability to use old Leica M-mount lenses. And even old Leica screw-mount lenses with an adapter. So don't get in a habit of relying too heavily on the water resistant feature. Those old lenses are not splashproof, and neither are many of the new lenses.
The 3-inch Live View LCD panel on the back allows you to compose creatively, and you can use it to focus too, of course. But holding a Leica RF at arm's length and focusing feels foreign, sort of like driving a Lamborghini to deliver the mail. It works fine, but it seems weird.
The red Leica medallion is prominent on the front and the script Leica logo is sharply embossed. It's a badge of honor, to be sure, but you may want to cover it with plastic tape when street shooting.
Operation
In many ways, the process of using a Leica M-E (Typ 240) closely parallels the operation of a film-based Leica. To change the battery or SD card, remove the entire bottom plate. Focus is manual via a bright convergent-image style rangefinder, and the field of view is marked by bright lines superimposed inside the viewfinder.
The Leica M-E offers both Manual and Aperture Priority exposure modes. Menu driven functions are easy to follow and major features can be invoked intuitively.
Images can be stored in DNG Raw (lossless compressed or uncompressed), JPEG or both simultaneously. In some instances I was able to extract wider dynamic range from the DNG file than was present in the camera-produced JPEG. This isn't that unusual. Remember that JPEGs are processed following the aesthetic preferences of an engineer you've never met. JPEG results are generally very good, but they may not be exactly what you had in mind.
Image Quality
I'll say the same thing I said about the original Leica M Typ 240. Image quality is outstanding and to a large extent dependent on the superb Leica lenses. The Leica Maestro image processor and accompanying signal processing firmware deliver image quality that matches the maximum potential of the glass in front of them.
Since we tested one of the first Leica M-E samples available in the US, we were able to use it for just a few days. That limited the number of hoops we could make it leap through but we're satisfied that we saw enough to validate our conclusions.
Conclusion
When I first learned that Leica was introducing an entry level digital rangefinder configured from the Typ 240 platform, my mind raced to speculate what features they might leave out. The original Leica M does not have an overabundance of frills to begin with. What could Leica delete?
To my delight, instead of removing features, Leica added a larger buffer, leather trim and a cool, unique finish. And all for a price below $4k.
The Leica M-E Typ 240 makes sense if you have always wanted a full-frame Leica digital rangefinder but were scared off by the price. Or if you've considered buying a used Leica because secondhand costs less. It makes even more sense if you already own a Leica M-mount lens or two, but haven't used them since you ceased shooting film.
There is a distinct feeling of pleasure that comes from owning a brand new Leica camera. I can't adequately describe it, but Leica owners know what I mean. It's a certain pride of ownership that transcends the value of the dollars you paid for it. If you've wanted to scratch that itch, the Leica M-E might be right Leica for you.
—Jon Sienkiewicz
FEATURED VIDEO