Konica Minolta DiMAGE Z3; First Z-Series Digicam With IS Plus New High Tech Features
All Photos © 2004, Peter K. Burian, All Rights Reserved
Konica Minolta DiMAGE Z3 Quick Look
· 4 million effective pixels
· CCD-shift Anti-Shake function
· $499 US street price
Further Information
Konica Minolta DiMAGE Z3
http://www.konica.com
In Konica Minolta digital cameras, I generally prefer to work with the high-end A-series DiMAGE models because they're loaded with all of the latest technology. But recently, the company released a Z-series model that's every bit as desirable. The 4-megapixel DiMAGE Z3 incorporates a wealth of high-tech features that make it a fine choice for serious shooting. These include a newly developed 35-420mm (equivalent) optical zoom, the latest processor for great speed and image quality, a new Rapid Autofocus system and the Anti-Shake function that acts as an image stabilizer for sharper photos.
Most digital cameras include a 3x optical zoom lens, generally with a focal length no longer than a 120mm equivalent for a modest telephoto effect as in image A. The 12x zoom available with the DiMAGE Z3 is substantially more powerful, great for frame-filling photos of distant subjects as in image B. (ISO 100; f/5.6 at 1/250 sec; HOYA polarizer.) .
A moderately large camera with an oversized handgrip that allows for a firm grasp, the Z3 is lightweight for a model with such a long optical zoom lens. Surprisingly, the LCD monitor is quite small (1.5") but it provides a clear, crisp, contrasty view. Although loaded with capabilities, the camera is easy to operate, thanks to the well-marked analog controls that minimize the need to access the electronic menu. In addition to the usual buttons for flash, macro, exposure compensation, delete, and menu selection, there's a large mode selector dial with 11 options. The electronic viewfinder (EVF), common in all digicams with a long lens, provides a bright view, great framing accuracy, and full data on camera settings.
Valuable Technology
While exploring the Bluegrass Country in Kentucky, attending a baseball game and a county fair, I made hundreds of images in order to test the usefulness of the technology packed into the DiMAGE Z3. The powerful APO GT zoom lens includes two aspheric elements, a low dispersion glass element plus multi-layer coatings. Essential in a wide angle to super telephoto lens for superior image quality, these measures correct optical aberrations (flaws), distortion and flare. Even photos made at the 420mm equivalent exhibit high edge-to-edge sharpness, particularly at f/8, the optimal setting. Some purple fringing is visible in scenes with ultrahigh contrast, but that's typical for a camera with a long, built-in lens.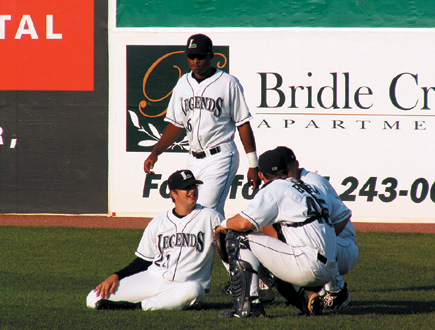 Thanks to the high-tech optical formula of the APO GT lens, images made at long focal lengths are quite impressive, with high resolution even at the edges of the frame, freedom from vignetting, and excellent overall sharpness. Slight purple fringing around high-contrast edges (the lettering) is obvious only at high magnification. (At 420mm; f/5.6; ISO 50.)
During a pro baseball game one evening, I used the long focal lengths for tight shots of distant players. With most cameras, I would not have been able to get sharp telephoto shots without using a high ISO setting for fast shutter speeds. The Anti-Shake function, previously available only in some A-series DiMAGE cameras, certainly came in handy. It allowed me to shoot at ISO 100 for superior image quality--with minimal digital noise--until after sunset. This unique system employs sensors that detect the direction and speed of camera shake. The data is sent to a microcomputer that shifts the entire CCD sensor to compensate for camera movement, providing a two to three shutter speed step advantage.

In practical terms, the Anti-Shake function allowed me to consistently make blur-free images at 1/100 sec (instead of 1/400 sec) at the longest focal length. Even a 1/45 sec exposure produced some critically sharp photos. Like any image stabilizer, the CCD-shift system does not compensate for subject movement. Hence, much faster shutter speeds are required to freeze any motion, calling for a higher ISO setting in action photography. Still, the Anti-Shake feature is a valuable amenity that makes this camera particularly desirable.
Because the Anti-Shake system cannot be disabled, I was not able to make Before/After shots to graphically illustrate its value. However, as this razor sharp image indicates, the CDD-shift amenity is certainly effective in compensating for camera shake. (At 420mm; f/4.5 at 1/100 sec; ISO 160.)
The new Rapid Autofocus system is billed as "the fastest in its class." The system consists of lens drive function that moves focusing elements twice as fast as in previous Z-series models plus ultra fast data reading from the CCD sensor. That, plus the passive five-point AF sensor (the type used in SLR cameras), made the Z3 very quick and reliable in outdoor shooting. Focus acquisition was almost instantaneous. The Continuous AF system is quite advanced too, featuring true tracking ability for follow-focusing on a moving subject. Surprisingly, it always produced unsharp images of static subjects but worked quite well with trotting horses, for example.

Of course, shooting a series of action images is easier said than done. That's because the view through the electronic viewfinder--and the external LCD monitor--blacks out momentarily between frames. This common problem, (not unique to this camera), makes it difficult to keep a moving subject properly framed when trying to shoot a series of images. Digicams with an optical viewfinder would be more useful for such photography, but they do not include the long lenses required for distant subjects. The ideal solution is an SLR camera with a telephoto lens, but not everyone wants larger/heavier/more expensive equipment.
The Z3 incorporates a true tracking focus Continuous AF system using "predictive" technology to calculate a moving subject's probable location at the instant of exposure. Focus is then set for the predicted location, increasing the odds of a sharp image. (At f/7.1 at 1/640 sec; ISO 50; 270mm equivalent.)
FEATURED VIDEO