Imaging Software: Color Control & Image Management
CES is not a big imaging software show as evidenced by the short list of new products, though we did find a new camera profiling tool, updated monitor calibration tools, an old favorite Raw converter brought back to life under a new name, and software for editing on the fly and sharing photos.
ArcSoft introduced a Mac version of Perfect365. This software uses advanced facial recognition technology for one-click portrait touch-ups, letting you effortlessly adjust up to 21 individual facial features. Perfect365 allows you to add creative effects such as eye shadows, blushes, lipsticks, colored contact lenses, under-eye circle removal, and blemish removal. The software is available as a free download (www.perfect365.com) or in a premium edition ($39).
Argraph Corp. expanded the QP lineup by adding the new QPcard 203 ($69) and QPcalibration software (free download) for digital camera profiling with Raw capture, for use with Adobe Photoshop or Lightroom. According to Argraph, a custom camera and light profile is created in less than 10 seconds. The QPcard 203 is pocket-size, with heavy-duty cardboard covers protecting 35 color patches, including gray scale, on one side, an 18 percent gray card on the other.
Remember Bibble Pro software? Well, this Raw converter and workflow app has been reincarnated by Corel and released as Corel AfterShot Pro ($99)—for Windows, Mac, and Linux. It is multithreaded and optimized for multi-core and multi-CPU computers for speed and efficiency. The software offers nondestructive editing and even adds support for layers. We'll be following up with a review soon.
Datacolor launched Spyder4, which updates this company's suite of color management tools. Spyder4 combines an easy-to-use interface and colorimeter with a seven-channel sensor to ensure color accuracy on your computer monitor or other display device, from normal to wide gamut. All models feature a simple install wizard, and deliver what the company says is an average of 26 percent more accuracy and improved low luminance performance over previous Spyder3 technology. Spyder4 Express ($119) is available as the more economical and basic model. Spyder4 Pro ($169) is for those who want tighter control over light and color management, offering ambient light measurement and the ability to calibrate multiple displays, as well as iOS devices. Spyder4 Elite ($249), with the highest level of customization, is for multiple displays and even digital projectors, and especially useful for high-end video shooters.
Nik Software introduced Snapseed ($19) to mobile devices, and now brings this user-friendly image editor to the Mac (available through the Mac App Store). With it you can easily correct, enhance, transform, add effects and borders, and share photo content.
Topaz Labs announced Topaz Star Effects ($29), a plug-in that uses an advanced detection algorithm to convincingly create star effects from point light sources. The software is customizable, with adjustments such as star type, glow, ring flare, and color controls, letting you add realistic and imaginative effects. It also lets you create effects from realistic sun flares and glowing water. Star Effects works with Photoshop, Photoshop Elements, Lightroom, Aperture, and iPhoto.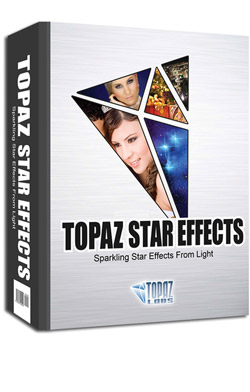 Contacts
ArcSoft: www.arcsoft.com; www.perfect365.com
Argraph Corp.: www.argraph.com
Corel: www.corel.com/aftershotpro
Datacolor: www.datacolor.com
Nik Software: www.niksoftware.com; www.snapseed.com
Topaz Labs: www.topazlabs.com
FEATURED VIDEO