Photo Bag Review: The Gillis London Trafalgar Leather Camera Bag Collection
There is something about genuine leather that says durable and luxurious. The Trafalgar Camera Bag Collection from Gillis London is that and more. For a camera bag that is timeless and distinctive, look no further.
Some luxury camera bags from England are stuffy and old fashioned. That persona appeals to some folks, but many of us want a bag that is more in tune with the times. If that bag also can be under the radar and inconspicuous, that's a huge plus. The Trafalgar bags from Gillis London are as comfortable and modern as a friendly pair of jeans, and as tough and strong as a my authentic A2 leather flight jacket. And they don't scream "cameras inside."
Currently there are 17 products in the Trafalgar Collection. Gillis London also offers a wide selection of everyday bags, purses, packs and personal leather items. I tested two products, the Trafalgar Hands Free Bag (No. 7738) and the Trafalgar Duffle Camera Bag (No. 7701T).
Gillis London uses unique, specially designed hardware on all of their bags. All snaps, swivels, zipper pulls, etc., comply with strict European regulations and are free of nickel, lead, cobalt and radioactive particles. I mention this specifically because some nameless camera bags found online from Far Eastern suppliers do not necessarily observe these standards. Gillis uses only YKK zippers and based on my nondestructive testing, every component is strong and high quality.
Gillis London's factory is BSCI (Business Social Compliance Initiative) audited and certified. BSCI certification delineates a code of conduct that applies to all partners along the supply chain. It monitors 11 core labor rights which participants and their business partners commit to implementing within their supply chains in a step-by-step development approach. No sweatshop or child labor tactics here.
Trafalgar Hands Free Bag
The Trafalgar Hands Free Bag measures 8.3 x 7.1 x 3.9 inches (21 x 18 x 10 cm) and is made of brown vintage leather. The bag I reviewed was brand new, but after several weeks it should develop a satisfying, one-of-a-kind patina on the surface that is the hallmark of real leather.
Two zippered compartments on the top provide ample storage for a compact or mirrorless camera and accessories. The inside is nicely padded and lined with a durable fabric. There is a belt loop on the back, and although the bag is a bit too large to wear on the belt every day, I have been in situations where having the added security of a belt tether was desirable.
The Trafalgar Hands Free comes with a fully adjustable strap that is long enough to enable cross-body or shoulder carry. Of note, the leather tabs that secure the D-ring hardware where the strap snaps attach run the full height of the bag, thereby providing lifetime durability.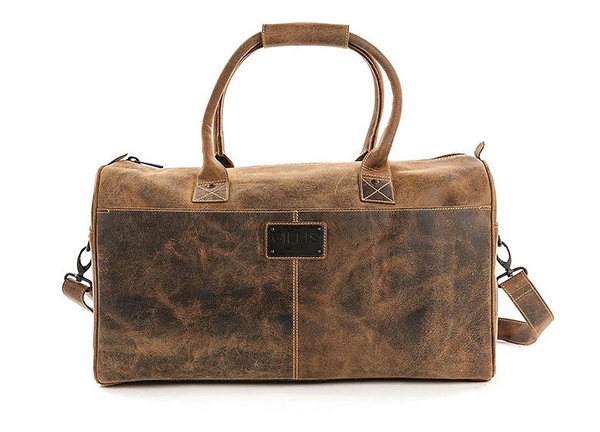 Trafalgar Duffle Camera Bag
The Trafalgar Duffle Camera Bag has something of a dual personality in that it transforms into a stylish general purpose valise suitable for everyday travel simply by removing the padded tray. It measures 11 x 20 x 8.3 inches (28 x 51 x 21 cm) and therefore is legal for carry-on in the US. Most airlines limit carry-on to 14 x 22 x 9; however, this restriction varies per airline, so check with your carrier if in doubt.
The top of the Trafalgar Duffle Camera Bag opens like a doctor's satchel and is flanked by two zippered pockets. There are large open pouches on either end as well. Inside there are multiple pockets that can store a protected tablet or small laptop as well as grab items like tickets, a phone, magazines, and so forth.
The removable tray includes padded dividers that can be positioned as desired. There is an enormous amount of space in this duffle, enough that I was able to comfortably stow Sony A99 and Sony A900 DSLRs (with battery grips) plus five classic Minolta AF lenses and a smattering of accessories.
The adjustable leather strap is a bit more than 1.5-inches wide and long enough to be worn on the shoulder or cross-body. It includes a sliding shoulder pad and very heavy-duty snaps.
Gillis London photo bags are available from B&H.
Gillis London Trafalgar Rucksack
While I did not personally test the Gillis London Trafalgar Rucksack (No. 7752) it nonetheless deserves mention here because of the universal popularity of backpacks among folks of all ages. Measuring 16.9 x 13 x 5.9 inches (43 x 32 x 15 cm) the Trafalgar Rucksack is the perfect gift for the person in your life who has everything.
The Rucksack has a unique pull-out padded camera sleeve that is accessible from the side and fits a DSLR with zoom lens attached. It also has two separate compartments, both secured by YKK zippers. One of these compartments is suitable for laptop storage and the other features a lift-out padded tray. Even for non-photographers, this all-leather pack is awesome.
Conclusion
Real leather is special. It is truly timeless and distinctive. The entire Trafalgar collection from Gillis London is handcrafted with care and high-quality materials, and rugged enough to last a lifetime. The advantage of a removable, lift-out camera tray turns the Duffle or Rucksack into general purpose luggage for high-class travel.
These are heirloom bags that can be passed down in the family for generations. If you think leather-trimmed is nice, wait until you see the real thing.
—Jon Sienkiewicz
FEATURED VIDEO