Fujifilm Unveils X100F and X-T20 Cameras, Plus a Fujinon XF 50mm F/2.0 Lens
It's late at night, but Fujifilm just unveiled two new X-Series cameras and a sweet, compact 50mm f/2.0 lens and we didn't want to wait until morning to share the news. Included in the late-night introductions are the cutting edge X100F rangefinder-style mirrorless camera, an X-T20 interchangeable-lens camera targeted at enthusiasts, and the compact Fujinon XF 50mm f/2.0 R WR lens.
Pro Level Fujifilm X100F Camera
The eagerly anticipated Fujifilm X100F is the latest pro-level model in Fujifilm's trend-setting X-Series line of advanced, fixed-lens digital cameras offering pro-level features, a sleek rangefinder-style design, and a revolutionary hybrid viewfinder that combines the advanced capabilities of an electronic viewfinder with the versatility of an optical viewfinder that has an electronic overlay displaying key information.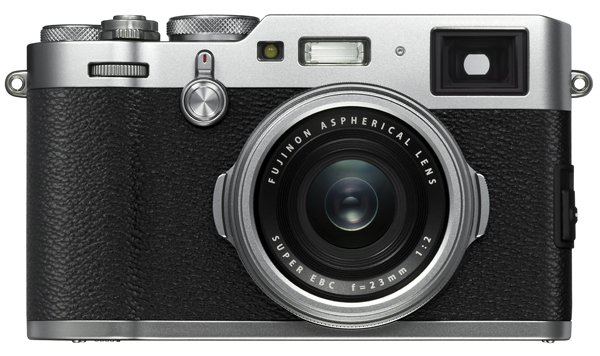 Fujifilm says the new X100F boasts enhanced AF speed and precision with several autofocus modes including Single Point, Zone mode, and Wide-Tracking modes for both AF-C for moving subjects and AF-S for stationary subjects. The number of focus points has been significantly increased to 91—almost double the 49 points in previous models. As a result, Fujifilm says the X100F has an enhanced ability for focusing on points of light as well as low-contrast subjects.
The X100F employs Fujifilm's latest 24.3-megapixel X-Trans III APC-C image sensor, and the highly acclaimed, built-in Fujinon 23mm f/2 lens that's equivalent to 35mm in the 35mm format. Another new feature is the ACROS film-simulation mode offering deep blacks and smooth gradation for monochrome images.
The Fujifilm X100F will be available next month in both black and silver for $1,300.
Fujifilm X-T20 Interchangeable-Lens Camera
A successor to the popular X-T10 interchangeable-lens compact digital camera, the new Fujifilm X-T20 boasts an updated APS-C sized 24.3-megapixel sensor, a new image-processing engine, and enhanced AF performance for tracking moving subjects.
The folks at Fujifilm say the X-T20's new sensor boasts enhanced signal-processing technology that significantly reduces noise at higher ISO settings, even at the camera's top sensitivity of ISO 12,800.
Like the new X100F, the Fujifilm X-T20 offers enhanced AF performance with 91 focusing points, and boasts an AF speed of only 0.4 seconds. There's also an AF-C custom setting that enhances AF tracking performance when shooting in the continuous AF mode.
Other features of the new X-T20 include a sleek, durable magnesium body, precision-milled aluminum dials, a 3-inch touchscreen tilting LCD monitor, built-in Wi-Fi, and an integrated pop-up flash that automatically adjusts light output for foolproof flash photography.
The new Fujifilm X-T20 will be available in black and silver next month for $900.
Fujinon XF 50mm f/2.0 R WR Lens
Last on the list of tonight's introductions is the compact Fujinon XF 50mm f/2.0 R WR lens. A perfect lightweight, mid-telephoto for travel photography, this new lens is sealed for weather and dust resistance and is compatible with all Fujifilm X-Series interchangeable-lens cameras.
Weighing just a hair over seven ounces, the compact and lightweight Fujinon 50mm f/2.0 utilizes an inner focusing AF system with a stepping motor for fast, silent AF performance. With nine elements in seven groups (including one aspherical element), the new lens features Fujifilm's Super Electronic Beam Coating to reduce flare and ghosting
The new Fujinon XF 50mm f/2.0 R WR lens will be available next month for $450 with a choice of either silver or black. You can read more details on all of these new products on Fujifilm's website.
FEATURED VIDEO