Fujifilm MX-2900 Zoom
Taking tourist-type pictures using the automated default settings and mid-level compression quality and sharpness settings, results in images which produce quite detailed and fully toned letter-sized prints made with a photo-realistic ink jet.
Photos © 1999, David B. Brooks, All Rights Reserved
Photography as an activity can be divided into three easily defined areas: the snapshot, with the purpose of recording events, people, and places in our lives; the professional, providing illustrative services from pictures for catalogs to portraits of high school seniors; and as a serious hobby or interest, the visual folk art of this century. Digital cameras have been produced for snapshooters and professionals, but not for the serious enthusiast until very recently. One of the first digital cameras to have the features demanded by and also in the price range of a serious photo enthusiast is the new Fujifilm MX-2900 Zoom. That this Fuji camera is different is most apparent in the fact it looks like a camera. The feature list, however, is quite similar to many of the recent crop of 2 plus megapixel digital cameras in the under $1000 price bracket. Its serious nature is in the details.

The MX-2900 Zoom has a 2.3Mp CCD sensor which creates 1800x1200 pixel images, the same aspect ratio as a 35mm camera. It has a 3x optical zoom lens and adds a 2.5x digital telephoto zoom to that. This optical zoom range is the equivalent of 35-105mm with a 35mm camera. There is also a macro mode which allows focus down to 9.8". It has a zoom optical viewfinder and a LCD panel which provides a live view of what the camera lens sees, as well as menus for the control of the camera functions. Images captured with the camera can be stored in several quality grades of JPEG compression as well as uncompressed TIFF files. The image storage is via Smartmedia, now available up to 32MB in size. Computer access is via a serial connection. There is a built-in pop-up flash and a hot shoe for external flash.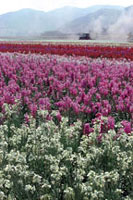 The fields of flowers around my home have always been a favorite subject and an ideal test of color reproduction accuracy and saturation. On this shot the Fujifilm
MX-2900 captured the breadth of this field with acute sharpness, precise rendition of slightly tinted off-whites, middle tints, and richly saturated almost pure color, against the neutral gray dust kicked up by the tractor and the receding blue of distant hills.
The serious side of the Fujifilm MX-2900 is in the controls provided to use the camera manually or semiautomatically. First of all, similar to many 35mm SLRs there is a dial on top which has several modes, including automatic and manual shooting, setup to set the primary controls like sharpness and recording quality and flash on/off, etc., playback, self-timer, and PC for connection to a computer. With the dial set on manual the lcd screen provides very direct access using a four way control toggle button array to its right. The LCD displays white balance offering auto, daylight, shade, tungsten, etc. settings; exposure compensation adjustment; aperture or shutter priority and full manual control of exposure; flash mode including built-in or external; selection of metering mode between spot, average, and multi; and the selection of single or continuous shooting modes. Other "serious" features include the ability to use 43mm filters, as well as an effective 28mm wide angle accessory lens.

The Fujifilm MX-2900 Zoom In Use. In the beginning to get used to the camera I carried it with me on errands and other non-related activities taking pictures occasionally when an opportunity arose, and in automatic mode at the default quality and sharpness settings. This involved a variety of subjects and lighting conditions with exposures made at various times of day. Having three Smartmedia cards with a total of 56MB of storage I shot the equivalent of several rolls of film before downloading the images. I soon learned using the serial connection is the slow way to download, and using the Fujifilm FD-A2 Floppy Disk Adapter for SmartMedia is many times faster. Fast or slow, the quality of the results I found amazingly consistent requiring very minor software adjustment if any.
The Fujifilm software for the downloading of pictures from the MX-2900 Zoom camera includes the Picture Shuttle utility that opens a page of thumbnail images identifying each file stored on the SmartMedia card in the camera. From Picture Shuttle a thumbnail can be selected and then click the open button and a full-size version of the image file is presented in the EZTouch application.
Before getting really "serious" with the MX-2900, I did some further tests with the exposure and white balance on automatic but with sharpness turned up a notch, and at the finest quality level of JPEG compression. I happen to live in an area where flowers are commercially grown in open fields for seed as well as for sale to the cut flower markets. For testing color response and sharpness, as well as lens distortion, these fields are ideal subjects. After downloading I was again impressed by the consistency and accuracy of the MX-2900's automatic exposure and white balance controls. In addition, I further established that what one reader thought was a weakness of digital cameras is not true; they do record various shades of purple quite richly and accurately.
Having a car to sell and advertising it on the web was made very easy with the Fujifilm MX-2900 Zoom. I was quite incredulous after downloading the page in which my ad appeared that the MX-2900 photo of my car looked just about the same as it did fresh from the camera, although much reduced in size and resolution.
My final, and most crucial, shooting trial of the MX-2900 was using it with multiple electronic flash studio lighting. My subjects were a family, the stepson, daughter-in-law, and 2-year-old granddaughter of a dear friend--the kind of subject I almost never photograph, a family portrait at home. I set up three lights, a shoot-through umbrella main light, a soft flood fill, and a background light. I set the MX-2900 at f/8 for 1/90 sec, and adjusted the flash light level to match measuring the illumination level with a flash meter. (I also shot a roll of color negative film as back-up). I only took a dozen or so shots with the MX-2900 before the 2-year-old had had enough. After downloading, and finding one out of three where all my subjects had a nice expression, I printed the best with an Epson Stylus Photo 1200 on letter-sized photo paper.
Being able to successfully do a family portrait in a home with a three light studio flash with the Fujifilm MX-2900 Zoom established its credentials for me as a serious camera. The manual capabilities for controlling exposure along with the ability to use external flash of different kinds, even including a ringlight to do close-ups, makes the MX-2900 adaptable to many of the special photographic applications serious enthusiasts pursue and enjoy
After tweaking the color balance a bit in Photoshop the image looked good, so why not see how far I can take it. So I used Photoshop's bicubic interpolation and resized the image up almost 200 percent to make a print on 11x17" paper. But, not just ordinary photo paper, Liege fine art paper went into the printer. The result was much better than I imagined it could be. My friend, grandfather of the 2-year-old, and a very competent, experienced photo enthusiast, was blown away.

Evaluation And Recommendation. Did Fujifilm succeed in making a digital camera for the serious photo enthusiast in what is offered in the MX-2900 Zoom? From the results I obtained in automatic and manual mode, in all available light situations as well as with external flash, I would have to say yes on all counts. I would not be quite so enthusiastic if it were not for the fine job Fujifilm did in designing the controls making access to all of the functions direct and sensible to the way a photographer would expect based on experience with film cameras. My only reservation, having all too many years behind me and wearing glasses, is the optical viewfinder is less accurate than I would like even with the diopter adjustment provided. However, to obtain really precise, tight picture framing you can also refer to the TTL view provided by the LCD screen as long as the ambient light is not blazing sunlight.

The picture quality of the images I made with the MX-2900 were all consistently high in quality resulting in excellent letter-sized print images accurately reproducing the subject colors. The only significant color adjustments I made in Photoshop after the images were downloaded involved the family portraits. The manual daylight white balance setting is apparently quite a bit cooler than the 5500°K my studio lights produce. So, the bottom line is 99 percent positive in my book, of this first "serious enthusiast" digital camera to come my way. I will be surprised if it isn't very well received by photographers like the readers of this magazine. For more information, call (800) 800-3854 or visit their web site at: www.fujifilm.com.
Technical Specifications
CCD: 2.3Mp, 1/1.7" size
CCD ISO Rating: 125
Focal Length: 35-105mm zoom
Zoom/Telephoto: Digital 2.5x telephoto
Macro Mode: 9.8"
Focus System: Auto and manual
Lens Speed: (W) 3.3./f/7.6 (T) f/5/f/11
Shutter Speeds: 3-1/2000 sec
White Balance: Auto/manual plus seven modes
Exposure Modes: Program AE, aperture priority, and full shutter control
Exposure Meter: 64 point zone TTL, spot/average/multi
Flash Modes: Auto, redeye reduction, forced flash, suppressed flash, slow synch, external hot shoe mount
Recording Media: SmartMedia
Recording Modes: Fine/normal/basic JPEG compression plus uncompressed TIFF
Image Resolution: 1800x1200/640x480 pixels
LCD: 2", 130,000 pixels
Computer Interfaces: Serial/PC Card, Floppy Disk Adapter, USB Card Reader
Video Output (NTSC): Yes
Power Source: Rechargeable Lithium-ion battery
Playback Modes: Auto playback, 9-up, zoom, resize, DPOF
SRP: $899