Fall Updates Make Zoner Photo Studio X Much Faster & Easier to Use
Zoner has updated Zoner Photo Studio X and the watchword is SPEED. The updates significantly enhance performance by utilizing your graphics card, enriching the experience on lower-powered PCs, improving ease of navigation, and much more. Already established as a top features-for-dollar photo and video editor, Zoner Photo Studio X continues to get better and better with every upgrade. Plus you get a ton of extras and all for the same very affordable price.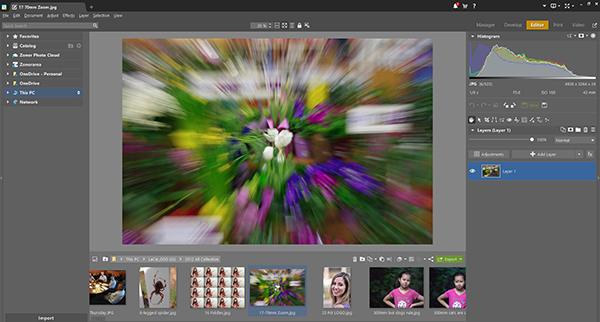 If you're not currently a Zoner Photo Studio X user, scroll down to the bottom of this story to get a quick overview of what makes ZPS X so desirable. Then download the full version of ZPS X for Windows 10 and 11 PCs and try it for 7 days absolutely free and with no obligation.
What's New in the ZPS X Fall Upgrade?
The list of enhancements is extensive and has the emphasis on speed and ease-of-use. One of the best features of every ZPS X upgrade is that owners do not have to do anything to activate or access the improvements. Like all ZPS X upgrades, these new features appear in your software automatically.
GPU Acceleration Cuts Processing Time in Half
ZPS X now fully utilizes your PC's Graphics Processing Unit (GPU) to deliver faster editing. In a nutshell, a GPU works in parallel with your PC's CPU for faster and more efficient throughput. ZPS X makes the most of the power of your GPU so you can edit at lightning speed. Editing in the Develop module is now up to 2X faster.
Optimized for Even Lower-powered PCs
It would be nice if everyone owned the latest and most powerful computer, but that's just not the case. ZPS X has been optimized so users with older or less powerful machines can still edit their photos fast. Enjoy smoother editing without sacrificing quality on older or entry-level hardware.
Support for 3D LUTs
ZPS X users can now more easily perform advanced color work and discover color toning using 3D LUTs (Look Up Tables). Often used in filmmaking and similar to (but more powerful than) simple presets, 3D LUTs help you change and set the color and tone of your images and easily manipulate select hues in a controlled, consistent and repeatable way. Zoner Photo Studio X supports all LUT formats and allows adjustment of effect intensity. You can download custom LUTs online from multiple sources or create your own custom LUTs and thereby accelerate your workflow. See this exciting feature in action on Zoner's YouTube channel.
New Navigation Panel and Toolbar
The enhanced, easier-to-use ZPS X user interface is available in all ZPS X modules, making browsing your photos easier. With the new workspace, you can have the functions you use most often at your fingertips. In addition, the toolbar is completely customizable—once again, adding speed and complete control to your editing sessions.
[local tools]
Enhanced Local Adjustments
All tools can now be used locally—which means that all adjustments can now be applied to a specific part of the photo. ZPS X has added settings to the Radial Filter, Filter Brush, and Gradient Filter so they have all the popular functions of the Develop module.
Customizable Default Settings for Raw Files
You can improve your Raw file processing procedure and achieve more shot-to-shot uniformity by establishing custom default settings for processing Raw files. Instead of making the same adjustments over and over again, you can set default adjustments from the Develop module for each of your cameras—and never have to do them manually again. The default adjustments are saved even when you reset additional adjustments.
…and there's more!
Once-over-lightly, here are more of the new enhancements and features.
Speed ramping for videos gives you seamless control your video's speed using keyframes. You can even go back in time.
Keyframing has been simplified so you may easily select and change multiple keyframes at once.
Live editing for the Print module—adjustments made in the Develop module are immediately reflected in your projects in progress.
More natural vignetting effect in your images' corners in the Develop module.
Curves selection for Raw processing. If you want to be in control of everything when processing Raw files you can use linear curves.
To see concise videos of the new features in action, check our Zoner's YouTube channel.
Why People Love Zoner Photo Studio X
Zoner Photo Studio X is an affordably priced but extremely powerful Windows PC software tool for browsing, managing, enhancing, editing and printing photo and video files, including Raw format.
Want to see more for yourself right now? Download the full version of ZPS X for Windows 10 and 11 PCs and try it for 7 days absolutely free and with no obligation.
Zoner Photo Studio X provides five interface modules found as tabs labeled Manager, Develop, Editor, Print and Video. They're easy to navigate and intuitive to use. You can conveniently switch from one module to another without leaving the ZPS X program—a huge timesaver. There are flexible workspace layout choices, too. And you can select the Browser view and see all images in a specific folder—without leaving the Zoner Photo Studio X workspace.
You can print photos and photo gift items directly from ZPS X; plus, you receive 15 free 4 x 6 inch (10 x 15cm) prints as a gift each year.
Use ZPS X to edit JPEG and Raw images (including use of Layers and Masks) and perform all cropping, blemish removal, cloning and other photo tricks with ease. The unique retouching brush and the Facial Features tool in the Liquify submenu make portrait enhancement a snap.
Edit video. Turn your photos into a video, a presentation, or a time-lapse without switching software. Enjoy creative presets. Change a photo's entire mood with just one click (one of the best-loved features in ZPS X). Catalog your images for easy organization and retrieval. Browse them by date, shot location, keywords, or folders.
ZPS X Pricing & Extra Benefits
Edit your photos and videos in Zoner Photo Studio X for only $59 per year. As part of your subscription, all updates are automatic and free. A Family Plan is also available. And anytime new features are added—including the collection described here—they automatically appear in your ZPS X.
Each license comes with 20GB of storage on the Zoner Photo Cloud and synchronization with Zonerama Premium, Zoner's elite online photo sharing and storage gallery where you can upload photos directly from ZPS X and get unlimited space for 4k videos. Note that Zonerama standard version is FREE and an unrivaled online gallery even for those who don't have a ZPS X license.
And you can access ZPS X from anywhere. Once you purchase a ZPS X license, you can log in to your account from any computer. Access ZPS X from home, work, or even on vacation.
Try the full version of Zoner Photo Studio X for 7 days with no obligation. Download for Windows 10 and 11 here. Or click here to purchase for $59.
∞ Shutterbug Staff