Epsons Stylus Pro 5500
Is This The Ultimate Ink Jet Photo Printer
What is the color of a snowstorm? It is both the coolness of cold and the warmth of light late one afternoon as a storm settles in over Bodie, California. The Epson 5500 print of this scene of ancient, weathered wood, rusted iron, and a bit of brick is brought out in stark contrast against the tints of color in the last glimmers of light in a snow-filled sky.
Photos © 2001, David B. Brooks, All Rights Reserved
In one sense ink jet photo printers are very much like 35mm SLR cameras. There are a number of mass-produced, relatively inexpensive models that target the amateur and enthusiast photographers, and then there is a high-performance model specifically designed and produced to meet the demands of professionals. The Epson Stylus Pro 5500 ink jet printer, as the Pro in the name implies, is Epson's top of the line ink jet in the 13" wide print format. And like a pro camera, it offers precision engineering and construction, top performance in both quality and speed of operation, as well as the ruggedness and durability to produce high quality results over a long period of time. It is most closely related to Epson's first "archival" ink jet printer, the Stylus Photo 2000P, as the 5500 also uses pigment inks, but a next generation of more refined ink and an advanced print head with an even finer jet size for smoother, sharper print images.
So who should be interested in the new Epson Stylus Pro 5500? Any photographer who wants the best printer and can afford the best. Plus, any photographer who makes a lot of prints for sale or exhibition, because you can't afford not to choose the Pro 5500. In addition to being more refined, with pigment inks that are milled finer and a print head to match, with more and finer jets, the 5500's superior quality is achieved with a printing speed that takes as little as a 1/4 of the time to output, compared to a 2000P. This is in part due to the new ink's faster drying attributes, but also because the print head is not encumbered by the weight of ink cartridges. In the 5500, the cartridges are stored in the front of the printer's chassis, so the print head speed of movement can be much faster. The ink cartridges for the Epson Stylus Pro 5500 are several times larger than typical in consumer printers, and there are four of them--one black, one yellow, and a two-chambered cartridge holding both the light and standard magenta and cyan inks. Although the cost of a full set of four cartridges may be shockingly high to some, the ink cost per print produced is a fraction of what it costs in a 2000P. That's why, along with its speed, you can't afford not to use the 5500 if you sell prints or make a lot of them.
Landscapes in full sun can include a range of color from subtle neutral shades to the most intensely saturated values. All of these values are faithfully reproduced in prints made by the Epson Stylus Pro 5500.
Metamerism Be Gone
Another reason to consider the 5500 is the fact that the metamerism effect of the pigment inks used by the 2000P have been virtually eliminated with the new generation inks for the 5500. No longer do the prints change noticeably in color when viewed with different sources of illumination. In addition, the higher 2880dpi resolution maximum of the 5500 supports making black and white prints on any of the RC papers using black ink only, the quality of which will astound even the most sophisticated black and white wet darkroom experts.
This may seem to be an exaggerated claim, but there is another Epson paper available for use with the 5500 called Professional Glossy. Intended for CMYK proof printing, it supports 130 percent ink application (black ink only at 2880dpi) when the paper is selected in the driver. When black and white images are printed on archival 100 percent fiber (cotton) matte papers, all of the ink colors can be used by converting a gray scale to RGB, and adding just a bit (20-30 percent transparency) of cool brown from the Photoshop Swatch Palette. This produces a warm black monochrome print that has a comparable or greater density range than a "wet" silver-based black and white matte print. In other words, besides providing high quality archival color printing at a high print speed, the Epson Stylus Pro is equally well suited to reproducing top quality black and white prints on either fiber or RC papers stocks.
One of photography's most abundant subjects are the millions of faces captured by cameras. The Epson Stylus Pro 5500 excels in this medium providing the accuracy and precise performance to render skin tones realistically while also reproducing contrasting colors, tones, and textures with equal fidelity. This portrait of beauty was a test of both delicacy and bold strength of color.
Bigger Footprint
The Epson Stylus Pro 5500 is over twice the size and weight of a 13" wide consumer model like the 2000P. This is in part because the 5500 has an auto-feed paper drawer as well as two ways to feed papers one sheet at a time manually. A second paper drawer can be added below at extra cost. The 5500 is differentiated in other ways as well. It can be fitted with a card that provides a FireWire interface for the fastest printer input response, or the interface card can be substituted with a network card so the printer can be shared by more than one computer on a network. A hybrid of this setup that I found to be ideal and fast was to use the FireWire card and connect the 5500 to an older blue and white Mac G3, which is networked to a new G4. If I am working with the G4, I can send a print to this now "shared" printer, and as soon as the print file is received by the G3 it takes over the processing and drives the printer, freeing up the G4 for other work. This might include sending a number of print jobs to the G3 that are then stacked in the print queue, and the 5500 will then print one after another with hardly a pause between prints.
Printing With The Epson Stylus Pro 5500
The circumstances of my test schedule, which is often feast or famine, and Epson's patience and generosity was fortuitous, making this evaluation more of a long-term evaluation than usual. Much of my first month using the printer was a learning period, finding out exactly how to use it most effectively. Like any very finely tuned instrument, how it is used demands equal precision. Although I have gotten pretty good at color correction and producing close to optimum quality scanned image files, the wide range of subjects and photographic styles often precludes printing each image the same way. If I want print characteristics that best reproduce the subject, using the same print driver setting to reproduce a contrasty, sunlit, and highly saturated landscape will not apply to a high key portrait of a fashion model. The result is usually too saturated with harsh contrast. There are at least a dozen different options available to drive the Epson 5500.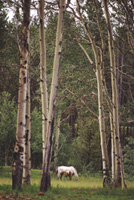 A low key natural outdoor scene taken at dusk contained subtle natural colors across a narrow spectrum of dark values that contrasted with the main subjects of the scene, a mare and her colt. The Stylus Pro 5500 inks and printing precision provided the subtle distinctions crucial to the mood of the scene.
For instance, for some fine arts and commercial illustration printing, use the Profile To Profile Photoshop workflow. This uses the Adobe color management engine, an ideal choice. It would not be so for a portrait and wedding photographer, as the printed skin tones would likely be too florid, and the print contrast too strong.
For high quantity retail print sales, choose a more forgiving option and one that requires less precise attention. There are a couple of potential options. One is to select the Auto adjust setting and the Gamma: 1.5, 1.8, or 2.2. Another is to select PhotoEnhance 4 in the driver and the sub selection of "standard" or "people." The latter "people" option, under PhotoEnhance 4, may be ideal for wedding pictures, as it renders tones that are softer and lighter. In Auto, the 1.8 Gamma setting, or the "standard" option for PhotoEnhance 4, would be appropriate for general portraiture. Among the PhotoEnhance 4 options, you can even select a Sepia option (useful to anyone who is doing photo restoration and then apply it to an antique black and white print scan), as well as an option that makes a driver compensation suited to printing from digital camera files.
Another variable that involved some learning was how the driver settings relate to particular paper selections, whether one of the Epson papers or third-party fine arts papers. The Epson Stylus Pro 5500 inks are unique in the way they respond to different paper characteristics. The 5500 inks absorb into matte fiber-based papers more than the 2000P pigment ink, but not as much as a dye ink. The two Epson fiber papers, Archival Matte and Watercolor Radiant White, are both neutral toned and have a fairly absorbent coating, providing good print response for a wide range of subjects. Some independent papers, like Concord Rag, which is a paper with a hard finish and very warm tone, will accept more ink and can be printed using the Epson Premium Semi-Gloss setting to reproduce unusually deep blacks.
Ink jet printers have, in the past, not provided an effective, direct and simple means to print black and white (gray scale) images without some compromise and extra manual effort. The Epson Stylus Pro 5500 provides an easy way to reproduce very high quality output of black and white images. Simply set the driver to black ink only and set the resolution to 2880dpi. This will reproduce a full range of values on either Premium Semi-Gloss or Premium Luster. To obtain even more range and extremely dense blacks, print with black ink only at 2880dpi using Epson's Professional Glossy paper. In addition to producing great black and white print quality easily, these prints will last as long if not longer than a wet darkroom black and white on a silver-based RC paper.
Over the two months I was printing with the Epson Stylus Pro 5500 I made close to 300 13x19" prints and about 100 letter-sized prints. Looking through these, the ones made last had definitely better image qualities due to what I learned along the way. I also realized that the ink cost per print is much less than it is printing with the 2000P or even a 1280 printer, and by a significant factor. Many of the print images I was most satisfied with were also made on a quite economical paper. I estimated the print cost for both paper and ink was just over $3 for a 13x19" size. This paper is DOTworks private label Fiber Heavy Weight Matte with the designation FHM. This DOTworks heavyweight matte paper is carried by many professional photo supply stores. To obtain the name of a store near you visit the DOTworks web site at: www.dotworks.com and click on the "Shutterbug Reader" label to take you to the store listing page. In addition, the DOTworks site has free downloadable printer profiles for their papers for most popular printers.
Evaluation And Recommendation
To revisit the professional 35mm SLR camera analogy, the Epson Stylus Pro 5500 is a refined, precision heavy-duty instrument. It provides a wide range of options to produce prints specifically adjusted to the subject and the print purpose, and it does it reliably and predictably. Used to make quality prints quickly and efficiently and in sufficient numbers, the higher initial cost will be returned over time by a significantly lower material (ink) cost per print. However, economics aside, the combination of printing speed and the ability to reproduce both color and black and white images on a full range of paper media with unmatched image quality in tone, color, and detail sharpness, is more than sufficient reason to justify the cost, even if the quantity of prints made is modest. In other words, I would buy the printer just for its capabilities, efficiency, and superb print image potential alone, regardless of any other consideration.
Epson printer drivers do not support 2880dpi printing resolution with fiber papers like Archival Matte or Watercolor Radiant White. To print black and white images on matte fiber papers I've used the technique of adding a little color after converting a gray scale file to RGB mode. This was not a successful technique with the 2000P because etamerism would shift the color of the print in different kinds of viewing illumination. That is now a negligible consideration with the new inks used by the 5500, and adding just 20-30 percent transparency of a mid-tone cool brown in a layer from the Photoshop Swatch Palette results in prints with a black and white image of close to neutral warm black tones.
For any photographer who is producing photographs to be sold as prints, the Epson Stylus Pro 5500 has at least two and likely more advantages over the traditional practice of having printing done by an outside lab. The first and most obvious is the cost efficiency of the 5500, providing a potentially higher margin of gross profit from the sales through reduced reproduction costs and lower lab bills. The second factor is the print life advantage of pigment ink prints, claimed to be up to 200 years on archival fiber papers. The quality and choice of the papers in this category is ever increasing, and many offer greater print life than conventional silver prints on similar RC papers. And there is one other advantage you can't put a number to--you have control over image interpretation and quality, so you do not have to depend on others "to get it right."
My experience is that the Epson Stylus Pro 5500 will provide the best performance and quality print output, regardless of paper media and whether the image is color or black and white. I would also recommend the accessory FireWire interface card. Although a RIP (Raster Image Processor) is offered, in fact in two models, it is not recommended for photographers who are printing from gray scale or RGB color image files.
The RIPs are only required for CMYK output for proofing, which emulates an offset press. Full speed and efficiency is supported with the printer driven by either an Apple Mac or PC Windows computer (see Technical Specifications for minimum requirements). To obtain the greatest efficiency in workflow when the Stylus Pro 5500 is used with a two or more computer network, allow the 5500 to be driven by a relatively modest computer (even an iMac that's much less costly than a RIP) using the FireWire interface with the computer networked to your main workstation, using the 5500 driver set as a shared printer. As soon as the image is opened on your workstation, and sent to the shared 5500, the computer that is the host for the 5500 does all of the print processing and drives the printer, freeing up the primary workstation immediately. I found this works great--it's efficient and productive on the highest possible quality level.
For more information about the Epson Stylus Pro 5500 ink jet archival printer call (800) 463-7766, or visit the Epson web site at: www.epson.com.
Epson's new professional archival ink jet printer, the Stylus Pro 5500, has a substantial appearance, but in reality requires little more desk space than consumer 13" wide printers. As pictured with the second accessory and optional paper drawer, paper in all standard sizes up to the 13x19 size may be fed from the drawers. This provides the choice of different papers or different sizes ready for printing at any time. In addition manual single-sheet loading is available at both the front and back of the printer. The rear manual paper feed is required for Epson's Watercolor Radiant White and all heavier weight coated papers.
Printing Method: Ink jet with six-color ink system including cyan, magenta, yellow, light cyan, light magenta, and black
Droplet Technology: Smallest droplet size: 3 picoliter
Resolution: 2880x720dpi; 1440x720dpi; 720x720dpi; 360x360dpi
Print Engine Speed: Produces a single 8.5x11" print; prints from 0:29 min:sec to 11:11 min:sec. Produces a single 13x19" print; prints from 1:10 min:sec to 24:33 min:sec.
Operating Systems Supported: PC Windows 95, 98, 2000, Me, or NT 4.0; Macintosh OS 8.5.1 or higher
Windows Minimum System Requirements: PC with Pentium II equivalent processor or higher, 256MB RAM recommended. Parallel: Bidirectional Parallel port equipped systems with Windows 95, 98, 2000, Me. USB: USB port equipped systems with Windows 98 (factory preinstalled), 2000, or Me. IEEE 1394 FireWire: FireWire port equipped systems with Windows 2000 or Me. 10/100 BaseT Ethernet: Systems equipped with 10/100 BaseT Ethernet support with Windows 95, 98, 2000, Me, and NT 4.0.
Macintosh Minimum System Requirements: PowerPC G3 or higher, 256MB RAM recommended. USB: iMac, G3, G4 system with Mac OS 8.5.1 or later. IEEE 1394 FireWire: iMac DV, G3, G4 system with Mac OS 8.6 with FireWire Update 2.1 or later. 10/100 BaseT Ethernet: iMac, G3, G4 system with Mac OS 7.61 or higher.
Printable Area: Maximum printable area (13x19" media) 12.69x18.33"
Ink Cartridge Print Capacity (360dpi at 5 percent duty): Black: 3200 pages/A4; Cyan/Light Cyan: 3000 pages/A4; Magenta/Light Magenta: 3000 pages/A4; Yellow: 3200 pages/A4. Ink cartridge capacity 110ml total per cartridge. Ink type Epson Archival Ink (pigment based).
Printer Dimensions: Standard model 25.20x17.28x8.82"; optional lower tray installed 25.20x23x12.52"
List Price: $3495
FEATURED VIDEO