Epson Expression 800 Scanner
The Epson Expression 800 Professional comes with the full version 4 of LaserSoft SilverFast, an easy to use yet sophisticated professional image scanning Photoshop plug-in.
Photos © 1999, David B. Brooks, All Rights Reserved
Epson seems to have an uncanny sense for putting together product specifications that make their offerings ideal choices for the digital darkroom. The Epson Expression 800 is a prime example. Its combination of reasonably high optical resolution (800x3200dpi), 36-bit color depth, and 3.3 dynamic range, coupled with an effective transparency unit and LaserSoft SilverFast 4 software to support photo scanning, and all for under $1000--what can I say? Well there is more, including of course software to support business document scanning and OCR character recognition, Monaco Profiler Lite color management, as well as Adobe Photoshop 5.0LE. For photographers just getting into digital who have not purchased Photoshop, upgrading from the LE version to the full Photoshop 5.0.2 version is considerably less costly than buying a full version outright even from the lowest cost discount outlet.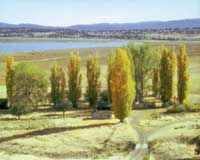 The interpretation of color negative images, calculating the effect of the dye mask, and inverting to a positive image has been the weakest part of affordable film scanning solutions. The SilverFast 4 software bundled with the Expression 800 is much improved, and is able to handle a wide variety of different color negative images dynamically with the option of supporting a user to adjust, if necessary, the GrayRGB color balance by altering the values for each channel. This allowed scanning to obtain a good representation of this Northern California ranch scene with all of its very subtle fall color variations of similar tints and hues. This was possible even though I was naive enough to use Kodak's Commercial color negative film that's primarily intended for studio illustration to make the shot.
The Epson Expression 800 is a rather standard configuration flat-bed scanner, that essentially replaces the venerable Expression 636. It is sold in three distinct model packages for different markets, including: the Executive home/office at $699 with LaserSoft SilverFast Lite; the Artist model at $799 with the full SilverFast 4, as well as Monaco profiler Lite; and the Professional model I tested at $999, which adds the transparency unit. The Professional package will do everything from business document scanning to reflective photo printing, as well as all types of film scanning. The high optical resolution needed for film scanning of 800x3200 is achieved in this modest cost scanner by Micro Step Technology, a method of making up to four times as many readings along the length of an image as the 800 per inch maximum pixel count across. In addition to this, further increases in resolution to 12,800dpi are available by software interpolation. All three models are now shipped with support for Mac and Windows, including an Adaptec 2902E PCI SCSI interface card.

Using The Expression 800 Professional. Although I found occasion to do some document scanning as well as scanning some photo prints, most of my testing involved using the Transparency Unit and the SilverFast 4 software. I of course wanted to see if the higher resolution was a benefit, and scanned some very sharp 6x4.5 and 6x7 black and white negatives. Incidentally, I found scanning black and white as if it is a color negative produces a much better image file (although larger) for reproduction with an ink jet if you want really rich looking prints. With this encouragement, I also scanned a number of 4x5 black and white negatives, with excellent results even from old stuff that was not ideally exposed or developed. Color negatives are the toughest to scan effectively, and thanks to the latest SilverFast software bundled with the Expression 800, I got some very successful scans of images recorded on some films no longer available, thankfully. And, of course I scanned a good selection of transparencies from 6x4.5 to 4x5. Not to forget by the way, one of the great advantages of a flat-bed with a TPU like this Expression 800, is you can put a whole roll of film, 35mm or 120, on the scan surface and quickly make a proofsheet feeding the scan directly to your printer.
One of my first set of scans were of some 6x4.5 and 6x7 120 black and white negatives of finely detailed subjects. This one of Bryce Canyon in the winter particularly revealed the Expression 800 can scan and reproduce fine detail quite sharply. The SilverFast software also supports very precise adjustment of the application of unsharp masking to adjust sharpness. This must be critically set using the advanced Unsharp Mask dialog with its high magnification preview to avoid applying too much sharpening to make fine diagonal lines stairstep revealing the lateral interpolation in high-resolution scanning.
Monaco Profiler Lite And Color Management. Epson's Monaco Pro-filer Lite is a software package with a 5x7 print IT-8 reference image included. Its purpose is to be able to produce custom profiles of your monitor (by calibrating it), scanner, and printer. The function of these profiles is to provide color matching between what you acquire with your scanner, matching its characteristics with those of the monitor, to display accurately on screen. Then any color adjustments made based on your perception of the image will be more accurate. On the printer side, its profile in conjunction with the profile of the monitor (colorspace) produces a match so you will produce really WYSIWYG prints, closely matching the expectations you have based on an image's on-screen appearance.

This Monaco software utility is exceedingly easy to use. Just follow the on-screen instructions and its Wizard programming will take you through the process effortlessly. Initially the most important value of using Monaco Profiler Lite is to calibrate and create a profile for your monitor, it is the perceptual core reference of an accurately color managed system. With a new scanner I found no immediate advantage to profiling it as the profiles supplied by Epson are extremely good. This will eventually, as the scanner ages and its performance changes, become valuable. On the printer side, if you are using a photo-realistic ink jet like one of the Epson Stylus Photo models, Monaco Profiler Lite can have a double value. Besides compensating for any effects of age and wear if you've had your printer for a while, you can create separate profiles for nonproprietary media (like sized watercolor or fine arts paper, and archival ink sets that are just beginning to become available).
I really test this stuff, this time with another unfortunate film choice; I took Kodachrome 120 to Maui on a speaking engagement and to do some travel shots. If you're familiar with "tropical" photography, you know it's most likely the lighting contrast will be excessive. So regardless, I made a shot of this unusual six sided chapel that's pointed white with very pale pink trim during a long lunch break. The resulting 6x4.5 transparency was too much of a brick to even make an R print from it at the time, but now I was able to get a good 25MB scan of the image with just a bit of noise in the darkest shadows. I was impressed.
Evaluation And Recommendation. Coming to this test of the Expression 800 after having a very satisfactory relationship with the previous 636 model, my expectations were high. I was not disappointed. The hardware improvements showed up positively in all of my scans, and the new version 4 of LaserSoft SilverFast supported even finer color correction and adjustment, largely precluding the need for any post-scan editing other than retouching dust spots and film flaws. Almost as significant as the 800's quality and performance advantage alone, is the combination with Epson's latest Stylus Photo 750 ink jet, with the aid of Monaco Profiler Lite, creating a color managed system which produced effective performance and results running under Windows 98. The same goes for using both products together with my new G3 Mac, with the added control advantage of Apple Colorsync. The only negative exception I find with the 800 is a minor one involving the carry-over of the quite inadequate film holders that also came with the Expression 636.

For anyone with or contemplating a digital darkroom, the Epson Expression 800 Professional scanner package will provide quite professional quality results. I believe this new Epson scanner model provides very solid performance in every respect for a quite modest cost. For more information, call Epson at (800) 463-7766, or visit their web site at: www.epson.com.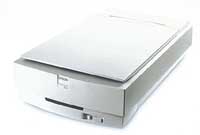 Monaco System's Profiler Lite, bundled with the Expression 800, supports effective custom profile creation for monitor, scanner, and printer to assure high quality WYSIWYG color output.
Technical Specifications
Type: Flat-bed single-pass color scanner
Optical Resolution: 800x3200 with Micro Step Technology
Interpolated Resolution: 12,800dpi
Dmax: 3.3
Color Depth: 36 bits (internal/external)
Performance Features: ColorTrue imaging; text enhancement; auto area segmentation; color management system; OCR/document management; batch scanning
Scanning Speed: Approximately 7.5 msec/line color
Interface: SCSI-2
Compatibility: Windows 95,98, NT, TWAIN compliant; Mac OS 7.5 and newer
Light Source: Xenon cold cathode fluorescent lamp
Maximum Scan Area: 8.5x11.7"

LATEST VIDEO