Enhance Fall Colors in Landscape Photos with These Photoshop Tips (VIDEO)
Regardless of the type of images you shoot most throughout the year, the gorgeous warm tones of autumn landscape scenes are simply too good to pass up. If you've tried before, you know that certain lighting conditions can make beautiful fall colors appear less intense than you'd like.
This Photoshop tutorial from Phlog Photography makes it easy to rehabilitate bland autumn images with a simple editing method you'll definitely want to try. And there's a link to the demonstration image in the description beneath the video so you can follow along as the episode progresses.
German landscape pro Christian Mohrle demonstrates his straightforward editing method in barely 10 minutes, and after comparing his before/after images we think you'll be convinced. Mohrle's goal is to accentuate the warm tones of fall in a very intense manner, but you can always back off on the adjustments a bit for a more subtle approach. In addition to pumping up the foliage in his pretty landscape scene, he also increases contrast to create the look he's after.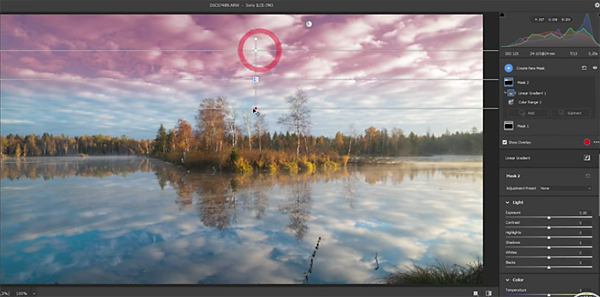 The editing begins with several simple global adjustments to create a solid base for the selective enhancements that follow. Mohrle changes the profile to Adobe Landscape for an immediate bump in saturation. He then fixes the excessive brightness of the scene by dropping exposure in the shadows and blacks, raising whites for more contrast, and increasing overall texture and vibrance.
Now it's time for Mohrle's masking methods that create the real magic. He uses a linear gradient over the sky where he earlier dropped exposure. A second liner gradient is placed over the water for more texture and clarity to enhance reflections.
All that's left is some simple color grading to make the autumn colors really POP! Mohrle uses Photoshop's HSL tab to drop green and yellow tones to accentuate the intense orange in the foliage. A couple more saturation adjustments and the striking effect is complete.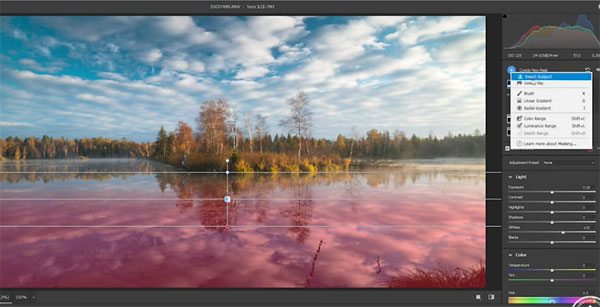 You can find a variety of landscape editing tips on Mohrle's YouTube channel, so be to take a look.
And check out the powerful tutorial we posted recently, with a beginners guide to nature and wildlife photography.
FEATURED VIDEO