DIRECT SUN Shooting & Editing Tips: FREE Presets Included (VIDEO)
We've all been taught to avoid shooting in direct sunlight whenever possible, to avoid blown-out highlights, harsh contrast, washed-out colors, unflattering shadows, and models with squinty eyes. In the shooting and editing tutorial below, you'll earn how to meet these challenges and achieve beautiful photos.
Justin Laurens is a professional portrait photographer and retouching expert who has developed a foolproof system for capturing stunning images in direct sun. In the tutorial below Laurens reveals his favorite tips for shooting under these conditions, and then he demonstrates how to edit the images in Photoshop for a very flattering result.
While this episode concentrates on portrait photography, much of Laurens' advice will prove helpful for other outdoor subjects—so keep that in mind as you listen to his tips. He also demonstrates how create a preset for faster processing, and there's a link beneath the video for downloading the free presets he created for editing direct-sunlight portraits.
Laurens believes rules are meant to be broken if you want to capture images that stand out from the crowd. As he explains, "When done correctly, shooting in direct sun can create dramatic, bold portraits with depth and dimension." He says this approach can also enhance the mood by making your subject appear stronger and more powerful.
In essence, this method involves shooting from the proper camera angle relative to the sun, achieving a correct exposure, and using the easy Photoshop editing technique he recommends. You'll also pick up a few helpful posing tips along the way.
Laurens manages to clearly convey all this information in less than 12 minutes. So take a close look and make this your weekend photo assignment.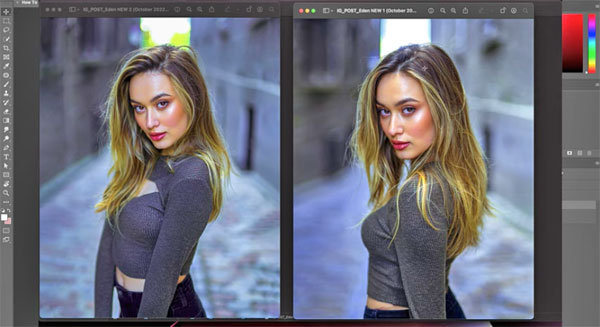 There many more portraiture tips on Laurens' YouTube channel, so pay a visit and subscribe.
And check out the tutorial we posted from another pro recently, explaining how to "shape light" in Photoshop for outdoor photos that amaze.