Customize Your Shooting Space: Backdrops & Floors By WHCC
"It's worth noting that the backdrop is not just a repeat pattern; there are areas of 'highlight' and 'shadow' that can be used strategically to add the appearance of a vignette behind the model."
One of the challenges to home or professional photographersthese days is trying to keep every portrait set from looking the same. In a world where "freshness" counts a lot, being able to mix things up from one session to another, from season to season, all without jumping through too many hoops to change the set, is an advantage for many. A current trend is the ability to not only change backdrops but flooring as well, and with that in mind we recently had the opportunity to work with products from a division of the pro lab White House Custom Colour called "Backdrops by WHCC." They have a wide range of interesting offerings in both fabric backdrops and rugged "rubberized" studio flooring.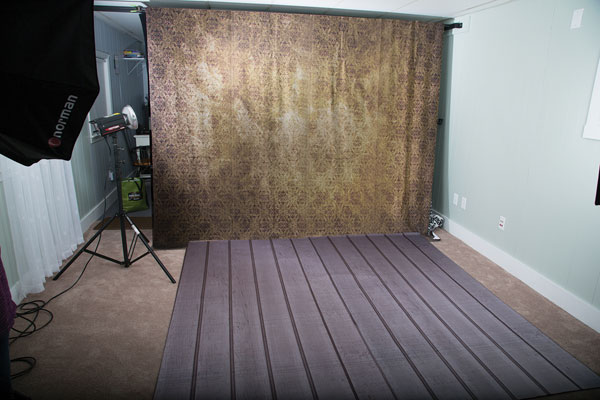 To complete the package we complemented the backdrop with their "William Wide Gray" pattern roll-out studio 8'x8' floor. This size arrives in two pieces for easier handling. A bit of care is needed to ensure that the floor pieces adjoin correctly, and more importantly, face the same direction. They have a "grain" that, if placed by error in opposing directions, could be very visible when photographed.
The floor material can be thought of like a heavy-duty "computer mouse pad." A durable printed polyester layer is bonded to a neoprene backing. While an initial strong rubber odor was observed when first unpacking the floor, time out in the air quickly minimized it. Floors clean with mild soap and warm water, and can even be machine washed if necessary. Floors are available in three sizes: 4'x8', 8'x8', and 12'x8'. Our tested 8'x8' size retails for $430.
The backdrop and flooring were tested in my friend Vickie's studio, which has a thick carpet flooring. Vickie's daughter Tori worked as our lovely model, and we intentionally had Tori wear some high-heeled shoes to see how the rolled flooring would stand up, especially when over a soft surface like the carpeting. The heavy backing of the rolled flooring minimized any indents from her heels. On a more conventional hard-surfaced studio floor the indentations would be invisible.
It's worth noting that the backdrop is not just a repeat pattern; there are areas of "highlight" and "shadow" that can be used strategically to add the appearance of a vignette behind the model.
Their website (http://backdrops.whcc.com) illustrates the wide range of colors and patterns they have to offer. Ordering is easy from a clean and well-organized website, and unlike the WHCC photographic processing side, it is not necessary to establish an account to order.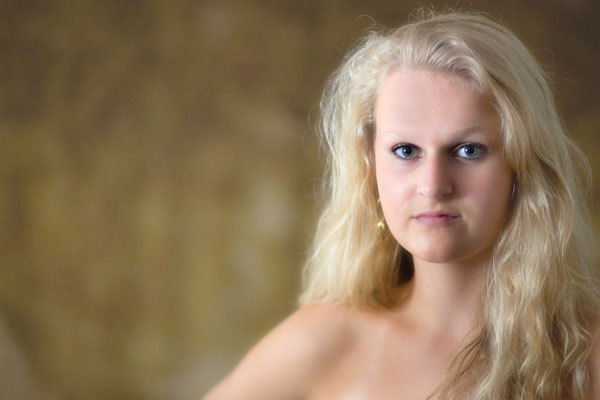 We also noted that the website eludes to an interesting future possibility, that they may someday be able to create backdrops from customer-submitted files…the possibilities here are not just endless, but very intriguing as well.
Russell Caron is a wedding and food photographer and workshop instructor based in southern Maine. See his wedding work at www.wed-pix.com.
FEATURED VIDEO