Covering The Photo Beat; Lighting Special
In keeping with our lighting theme this month, our Roundup entries cover the lighting gear and accessories beat. Keep in mind that Roundup is not a test report per se, but a place where we get to provide information supplied by manufacturers on new products and services.—Editor

Flashpoint Monolights
The "M" series is the latest addition to Adorama's Flashpoint line of durable, lightweight monolights. The 320M and 620M are AC operational and have additional circuitry that allows them to be operated with the Flashpoint 2 portable battery power pack. The 320M is 150 ws and has a guide number of 118; the 620M is 300 ws with a guide number of 192. Both models feature a built-in cooling fan and offer a power setting range from full to 1⁄32. Recycle times vary according to the amount of power being used, starting at 0.5 seconds to 1.5 seconds when used as an AC light and 1.5 seconds to 2.5 seconds when used as a battery-operated light. Both models feature a ready light and audio signal with modeling light. They come with a 15-foot sync cord, a test button for flash, a slave sensor, plus they work with a radio trigger and can be powered with an eco-friendly non-memory Ni-MH battery.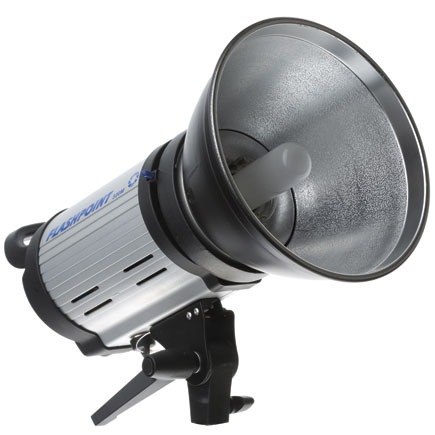 Contact: Adorama Camera, Inc., 42 West 18th St., New York, NY 10011; (800) 223-2500; www.adorama.com.

Aurora Orion Digital Flash
The lightweight, portable Aurora Orion 200 ws and 400 ws models feature a modern design and durable reinforced plastic construction. The units offer external shock protection with overheat/overcharge functions, rapid recycle time, short flash duration, and a one-touch Uni-Lever mounting system for a reflector or softbox. They have accurate exposure over five f/stops, 1⁄10 f/stop power increments, a sync on/off and modeling light "track" feature, and come with a flash tube, power cord, grid/umbrella reflector, and sync cord.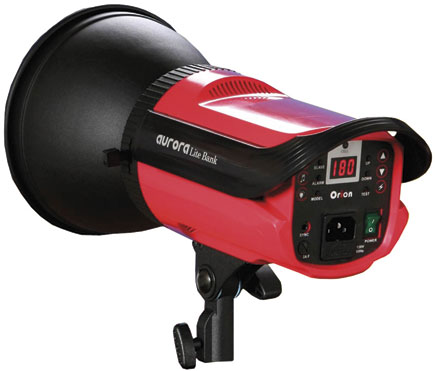 Contact: Booth Photographic Limited, 1145 Nicholson Rd., Unit 3, Newmarket, Ontario, L3Y 9C3 Canada; (905) 830-6036; http://us.boothphoto.com.

Bowens Streamlite 330 And 530 Light Units
The easy-to-use Streamlite units were created to provide a constant, directional stream of daylight-balanced light. The Streamlite 330 features three 30w fluorescent bulbs that provide a light output equivalent of up to 330w of tungsten light. The 530 model has five 30w fluorescent bulbs that provide a light output equivalent of up to 550w of tungsten light. These light units also feature a large detachable reflector with a brilliant white surface.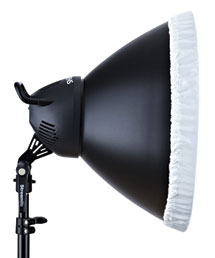 Contact: Bowens USA, PO Box 310, West Hyannisport, MA 02672; (508) 862-9274; www.bowensusa.com.

Bower SFD52 Flash Unit
Bower's SFD52 incorporates both a fully dedicated digital TTL flash and an add-on macro ringlight. The basic flash is a stand-alone unit that has fast recycling circuitry; a bounce, swivel, and zoom head; an AF assistance beam; an auto check indicator; rear curtain sync; and redeye reduction. Add the macro ringlight for even more versatility.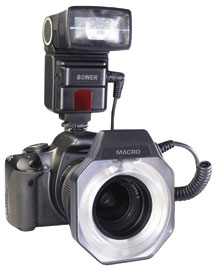 Contact: S. Bower Inc., 46-24 28th St., Long Island City, NY 11101; (800) 446-7244; www.bowerusa.com.

The Genesis 300 B Flash Unit And Genesis B Power Port
The Genesis 300 B is an affordable, portable self-contained flash unit. This AC/DC unit offers variable flash power, a built-in adjustable photo cell sensor, a user-changeable flash tube, digital controls, 4.3v sync voltage for digital cameras, proportional modeling lamps, and an easy-lock reflector mount. The Genesis 300 B is also fan cooled and features a one-year warranty at a retail price of $269.99.

The Genesis B Power Port is a 12v DC battery system created for use with the Genesis 300 B flash unit. It features an LED battery charge indicator, a low-voltage protection alarm, a battery charger indication lamp, a built-in shoulder strap, and a car charger adapter. The Genesis B Power Port has a one-year warranty and a retail price of $189.99.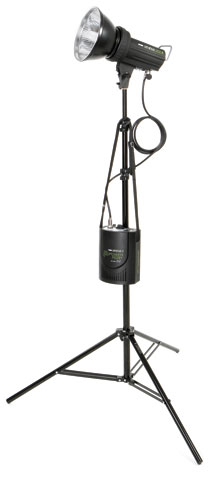 Contact: Calumet Photographic, 890 Supreme Dr., Bensenville, IL 60106; (800) 225-8638; www.calumetphoto.com.

CHIMERA Radio Slave Bracket
This easy to install accessory Slave Bracket (#2688) was designed for use with Canon and Nikon flash units plus CHIMERA's #2620, #2630, #2790, #2795, and #2785M on-camera Speed Rings. The bracket extends another accessory shoe to the side or behind the mounted flash unit and allows you to remotely trigger the flash with a standard shoe-based IR or radio slave unit. The list price is $40.
Contact: CHIMERA, 1812 Valtec Ln., Boulder, CO 80301; (888) 444-1812; www.chimeralighting.com.

Cool-Lux SL3000LS Light And Sound Kit
The SL3000LS is an on-camera location interview kit for use with HD D-SLR or professional-quality HD video production up to 1080p. It features the SL3000 AC/DC SoftLight/BroadLight, SL100DC 100w DC lamp, BC3054 L-7 XLR Battery Pack with a charger, MD3000 Light and Sound Bracket, and SL3600 Combo Gel Pack. The versatile SL3000 high-intensity broad light becomes a lightweight, 100w soft light when the hood is attached. When the high-grade aluminum Cool-Lux MD3000 Light and Sound Bracket is attached to your camera's accessory shoe it provides mounting points for the SL3000 and a microphone. The suggested retail price for the kit is $399.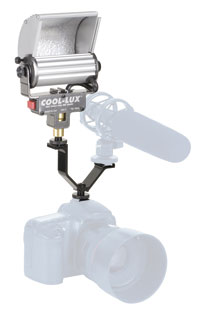 Contact: Cool-Lux (a division of PromarkBRANDS), 1268 Humbracht Cir., Bartlett, IL 60103; (800) 223-2589; www.cool-lux.com.

New Dynalite Power Packs
Dynalite recently added 400, 800, and 1600 ws power packs to both their popular Road and Roadmax lines. These new models are smaller, lighter, and recycle faster, making them ideal for location shoots. The 400 ws power pack is available in the Road Series as the RP4-400 or as the MP4-400 in the Roadmax Series, which has built-in, 32-channel PocketWizard technology. The RP8-800 (Road Series) and MP8-800 (Roadmax Series) are lightweight, compact, powerful, and have a recycle time of just 1.2 seconds. The RP16-1600 (Road Series) and MP16-1600 (Roadmax Series) offer a power increase of 60 percent from the 1000 ws model, yet the unit is not much larger in size or weight.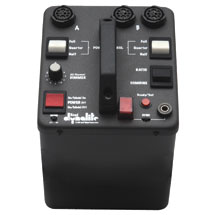 Contact: Dynalite, Inc., 1050 Commerce Ave., Union, NJ 07083; (800) 722-6638; www.dynalite.com.

Gary Fong PowerSnoot
The Gary Fong PowerSnoot is a portable chrome-plated, long snoot with a grid that allows you to achieve dramatic lighting effects with standard speedlight equipment. It maximizes the efficiency of the flash and gives you more directional control. The device can be mounted on- or off-camera for model shoots, sports, and wildlife. The suggested retail price is $59.99.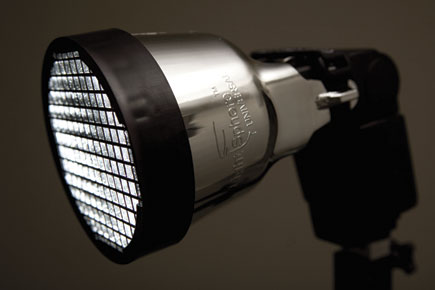 Contact: Gary Fong, Inc., 228 Park Ave. South, Ste. 74641, New York, NY 10003; (800) 906-6447; www.garyfongestore.com.

Super Cool-lite 4 And Twin Softbox Lamp Kits
The Super Cool-lite 4 single head kit includes a Super Cool-lite unit with four compact daylight-balanced, energy-efficient 28w bulbs, a 16" high-contrast reflector, and a 24" square softbox. The Twin Softbox 55w lamp kit offers the equivalent of 900w per head of tungsten light. The kit includes two 27" Octoboxes and an instructional DVD to guide you through the proper setup and use of the equipment.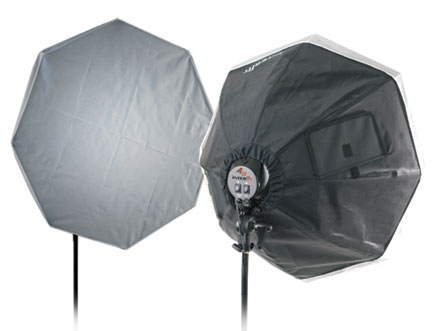 Contact: Interfit Photographic Limited, 420 Industrial Ct. West, Villa Rica, GA 30180; (866) 947-9796; www.interfitphotographic.com.

JTL Compact LED Light
JTL is now offering a versatile compact LED light that features 36w light output, 110/220v AC and 7.2v DC, and 2160 Lux, and weighs just 1.2 lbs. The life of the LED light is over 10,000 hours and it has a remote and manual on/off switch. The light comes with an AC cable, a padded carrying case, two detachable filters, two barn doors, and a recharge wire with an AC/DC adapter.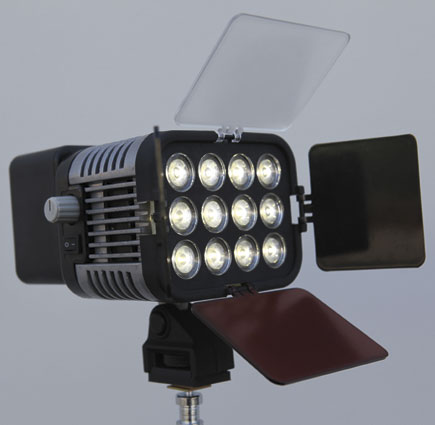 Contact: JTL Corporation, 14747 Artesia Blvd., #3G, La Mirada, CA 90638; (714) 670-6626; www.jtlcorp.com.

Joker Lights And The Crossover Adapter From K5600 Inc.
K5600's Joker light units include 200, 400, and 800w models that provide flicker-free daylight-balanced lighting, making them ideal tools for both still and motion capture. By adding the Crossover Adapter to the 400 and 800w Jokers, you're able to use various types of light shapers and put them to work in a new way.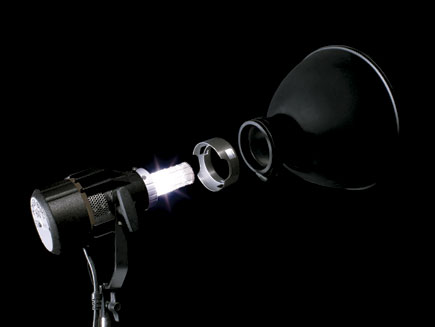 Contact: K5600, Inc., 10434 Burbank Blvd., North Hollywood, CA 91601; (800) 662-5756; www.K5600.com.

Larson Rigid Reflector
This sturdy, heavy-duty rigid reflector is available in 3x4' and 4x6' sizes. The fabric features special pockets created to accommodate the two long side poles that are slightly curved near the ends. The reflector is held rigid by the end poles while the kickstand accessory holds it upright. The reflector was designed for indoor or outdoor use and is available in a variety of fabrics, each offering a different specular light. It can be used to create directional light or to diffuse bright light from the sun or a strobe.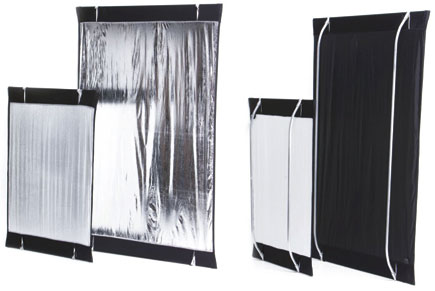 Contact: Larson Enterprises, 2185 Alicia St., Fort Myers, FL 33901; (800) 351-2158; www.larson-ent.com.

The MicroPro Hybrid From Litepanels
The MicroPro Hybrid is a professional-quality LED light that combines continuous output and a flash feature in a single fixture. The Continuous mode offers luminous, wraparound soft light, perfect for video capture, while the Flash mode produces a 400 percent brighter burst of light for still shots. The MicroPro Hybrid uses six standard or rechargeable AA batteries to provide 1.5 hours of continuous output or 5-6 hours from Energizer e2 lithium cells. Compatible with DV or D-SLR cameras, the unit measures 5.5x3.75x1.5", weighs 10.5 oz, and features an integrated dimmer for instant 100 percent to zero dimming with minimal color shift. It also has an integrated filter holder that allows you to easily use color/diffusion gels.
Contact: Litepanels, Inc., 16152 Saticoy St., Van Nuys, CA 91406; (818) 752-7009; www.litepanels.com.

FEATURED VIDEO