Covering The Photo Beat; Camera Bags, Monoball Heads, And A baLens Cap
The EZDigiMagic DM220-P08
The EZDigiMagic model DM220-P08 portable memory card back-up device allows you to burn files directly from a memory card to a CD or DVD. You may preview the images on the unit's 2" color TFT screen and view multiple images or use the zoom in/out feature. The EZDigiMagic has a USB Host Function for downloading images and videos from cameras, camcorders, or USB flash drives. It has a video-out capability that allows you to connect the device to your TV to view image files and videos. The suggested retail price is $399. Contact: EZPnP, 1855 Northwestern Dr., El Paso, TX 79912; (800) 828-6475; www.ezpnp-usa.com.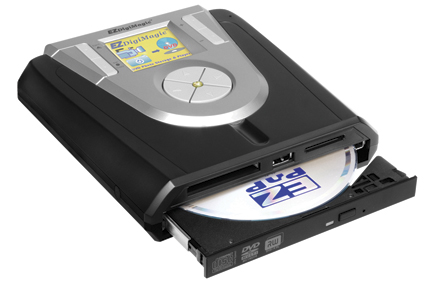 The XOTOPRO QMM1 & The Tumax Macro Twin Flash Package
XOTOPRO Photographic Equipment Ltd. has introduced the QMM1 macro twin flash mount system. This system is designed to be durable, compact, flexible, and easy to use either handheld or mounted on a tripod. The QMM1 base plate is made from aircraft-grade aluminum and has a 1⁄4-20 camera screw in the base plate that allows you to mount the device to any D-SLR. It weighs over 1 lb and has a retail value of $259.95.

Tumax recently introduced the DMF880 TTL flash unit with built-in macro controller. This dual-purpose flash unit can act as a medium power TTL flash unit or as the control unit for the DMT twin flash set. The DMF880's flash head can tilt up to 90? and has a guide number of 104. It weighs just 8.82 oz and is powered by four AA batteries. The recycle time is 0.3-7 seconds and the flash duration is 1/500-1/3000 sec. The DMT twin flash units each have a guide number of 19.7 and a flash duration of 1/2000-1/40,000 sec. The list price for the DMF880 and the DMT twin flash units is $299.95. The QMM1 works in conjunction with the DMF880 and the DMT units. Note: The pictured camera is not included. Contact: XOTOPRO Photographic Equipment Ltd.; www.xotopro.com.
The Tenba Skooba Checkthrough Bag
Airport checkpoint-friendly, the durable Checkthrough Bag was designed with the traveling photographer in mind. It measures 17x13x7.5" and features an easy-to-open zippered center compartment with hinges that can accommodate a 15-17" laptop computer. The retail price is $139.95. Contact: Tenba, 8 Westchester Plaza, Elmsford, NY 10523; (914) 347-3300; www.tenba.com
The baLens Cap From HP Marketing Corp.
The baLens Cap changes the way your camera sees color better than using automatic white balance or an in camera preset white balance. Easy to use, simply squeeze the side tabs to safely mount or remove the cap from your camera. The baLens Cap is available in the following sizes: 52, 55, 58, 62, 67, 72, and 77mm. Contact: HP Marketing Corp., PO Box 715, Pine Brook, NJ 07057; (800) 735-4373; www.hpmarketingcorp.com.
Tamron's Ultra-Wide Angle Zoom Lens
The SP AF10-24mm F/3.5-4.5 Di II LD Aspherical (IF) is an ultra-wide angle zoom lens that was designed for use with both Canon and Nikon D-SLRs. It offers a 2.4x zoom ratio and a focal length range with the 35mm equivalent of 16mm ultra-wide angle to 37mm semi-wide angle. Tamron used a high-precision, large-aperture glass-molded aspherical lens element and three hybrid aspherical elements to minimize distortion and internal surface coatings to reduce ghosting and flare. Contact: Tamron Lenses USA, Inc., 10 Austin Blvd., Commack, NY 11725; (800) 827-8880; www.tamron.com.
FEATURED VIDEO