Canon's i9100 Photo Printer
Newest 13x19 Ink Jet Is A Serious Contender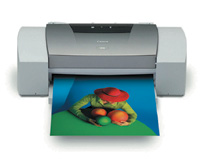 With its leading influence and stature in photography Canon should have a photo printer of equal merit. The new Canon i9100 Photo Printer satisfies that expectation and improves upon and replaces on the already well-received S9000 model, providing excellent photo reproduction with a wide range of media in a fast, easy to use product.
Photos © 2003, David B. Brooks, All Rights Reserved
In the weeks before I requested the loan of their newest top of the line photo printer, I'd been hearing good things about Canon's photo ink jet printing from possibly the most critical of sources, my contacts in the color management business. Over a year ago I wrote about Canon's S9000 13x19 six-color photo printer, which I found worth recommending with few exceptions. The new i9100 is a replacement of the S9000 with improvements mostly affecting the fineness of the ink image and the speed with which it makes a 13x19" print. After purchasing one of the first Canon EOS Digital Rebel cameras myself, I think it particularly appropriate for Canon to also provide the means to make the best prints possible from what you might capture with that camera, or from scanned film.

Besides its 13" maximum print width, the Canon i9100 features over 3000 ink jet nozzles and resolution up to 4800x1200dpi, as well as the advantage of individual ink tanks. The printer is USB and support is provided for both Windows and Mac computers. The software bundle, besides the driver for the supported operating systems, also contains a User's Guide, Easy-PhotoPrint application (a browser file management utility for both Windows and Mac), as well as PhotoStitch. It also includes Easy-WebPrint for Windows. Although the printer is capable of utilizing a wide range of media from plain paper to expensive fine-art materials, Canon's own selection of papers is quite limited, although there are three different variations of glossy Canon photo papers.
The new ColorVision/Pantone PrintFIX hardware and software solution takes a fine performing printer like the Canon i9100 to the top of its potential. This first of a kind affordable and user-friendly printer profiling solution consists of a USB interface and powered color patch chart reader and two software packages; the Photoshop plug-ins to print, read, and profile color patch charts, and ColorVision's DoctorPRO, another Photoshop plug-in which supports an easy method of editing .ICC/.ICM profile files to fine-tune printer output performance. The entire PrintFIX solution package has a $339 price tag and can be ordered directly via the Internet at www.colorvision.com, or it may be seen and purchased at authorized professional photo stores.
Using The Canon i9100 Photo Printer
The goal of my print tests for the Canon i9100 were the same as I have used to evaluate other printers, which is to find out just how good the quality of reproduction can be using a wide variety of paper on a large selection of varying photo images and subjects. As mentioned, Canon has a quite limited selection of papers, so I had to rely predominantly on independent paper suppliers from my own stock as well as obtaining samples from a supplier I had not previously tried.
Profile Simplicity?
After getting the feel of the printer by doing some of the more mundane printing tasks I do day to day--making thumbnail pages and new image proofs, using letter-size papers of various kinds, etc.--I got more serious and began making prints on 13x19" paper, with usually 12x18x300dpi image size. I soon found that of the paper selections provided by the Canon i9100 driver, "Photo Matte" works most effectively with all independent papers, including most resin-coated ones. This discovery, relative to my past experience, is rather unusual, and is even more so when you consider the fact that the Canon i9100 printer's installation puts just one single profile that applies to all paper types in your OS Color/ColorSync folder. From this I had to conclude that Canon formulated their dye inks to be unusually independent of the affects on color of different paper media, necessarily including a wide range of independent types.

Regardless, my knowledge and experience with color management required me to think that a custom profile for each different independent paper should yield a better color match to the on-screen image. Fortunately I was provided with a new product from ColorVision (www.colorvision.com) called PrintFIX, which is an affordable hardware and software print calibration and profiling system. The hardware is a USB connected and powered "patch reader," sort of like a small scanner, that measures the color patches printed by the PrintFIX software (a Photoshop plug-in) on your choice of paper for the printer you want to profile. Then the PrintFIX reader, again driven by a Photoshop plug-in, measures this color patch target. The result is an image of the color patch target that is opened in Photoshop from which the PrintFIX plug-in responds by calculating and generating an .ICC/.ICM profile that you are asked to name and is then filed in your system's folder of color management profiles.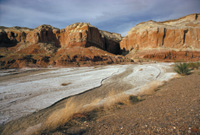 In a desolate area close by the location of one of Clint Eastwood's most memorable westerns, a dry river wash was traced in almost blinding white by the dried salts and alkali that had been leached out of the landscape in the background. The richness of the cliff's reds and the faint yellow tint of dry grass were reproduced faithfully by the Canon i9100 Photo Printer.
I then proceeded to custom profile some of the papers I was printing with the Canon i9100 Photo Printer. I was then able to compare print results using the custom profile with prints made with the generic Canon profile for the printer.
Moab Paper Company
The new supplier of papers for my Canon printer tests was the Moab Paper Company. They have a medley of quality papers and seem to be more affordable than many competing brands and are sold directly via the Internet. The variety of papers Moab offers is quite extensive, including their Entrada Fine Art line, which includes both white and natural stock in both 190 and 300 mil weights. In addition, Moab includes several resin-coated papers including Kokopelli Photo Gloss and Photo Satin, as well as Lasal Photo SemiGloss. An economical 170 mil weight synthetic fiber Lasal Photo Matte is offered as is their Anasazi Art Canvas. Both the Entrada and Kokopelli papers are dual sided, thus coated for printing on both sides. Access to information about Moab Paper Company and direct purchase is facilitated by their website, www.inkjetgoodies.com.
Although a deceptively simple scene, this favorite view of a California mission near my home had always been difficult to reproduce with all its subtleties and the contrasts. The Canon i9100 yielded a completely satisfying print and resolved my previous frustrations.
Evaluation And Recommendation
Assessing the print results made with the Canon i9100 Photo Printer, I was quite impressed with the close consistency of very good quality prints made using just about all of the paper media I had available, including Canon's Photo Paper Pro (glossy) and all but one of the Moab papers (the i9100 printer could not handle the Anasazi Art Canvas). It also did very well with a variety of both modest cost brand name photo matte papers and some pricey fine art selections. The consistency of good results using the "Photo Matte" setting and Canon's single BJ printer profile was surprising.

Compared to the Canon S9000 I tested and reported on last year, which was a fast printer, the i9100 is even speedier, making 13x19 prints in no more than 4 minutes. It reproduced subtleties like skin tones more realistically, while still yielding plenty of intensity in more saturated colors, like the S9000.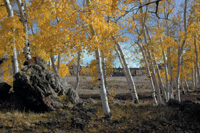 In days long past, when I tested new films, off-color results too often spoiled a shot that would have otherwise pleased me. After many attempts to scan this view of fall aspens in Utah, with its terrible cyan color cast, I finally obtained a digital file that cleanly revealed why I made the exposure in the first place. The Canon i9100 confirmed my success, recovering the image in a fine print after so many years of disappointment.
Gray Scale Results
For the critical photographer/user the Canon i9100 has considerable potential when used in conjunction with the ColorVision PrintFIX to custom profile a few high quality, fiber matte papers. The difference is in the use of a custom profile to reproduce all the fine nuances of color. In addition, although the Canon i9100 driver has a "gray scale" selection printing option, which provides quite neutral black and white tones with Canon papers and some independent matte photo papers, a better neutrality and range of tones can be achieved with independent paper choices if they are custom profiled and gray scale is printed as if it is color with the custom profile.

The Canon i9100 works effectively with a wide variety of paper media right out of the box and does so with exceptional printing speed. This is enough for me to recommend the printer. Its potential is even greater when used with custom paper/printer profiles. The one characteristic of the i9100 that should be considered is the fact that it is a dye-ink printer. In terms of print life, the views expressed by Henry Wilhelm in an article on page 128 of the November 2003 issue of Shutterbug should be weighed.

With an MSRP of $499 the Canon i9100 is competitive for a top of the line, large format photo ink jet printer.
A "happy accident" for a photographer is stumbling onto a subject of rare enchantment. For me it was often a flower in an unlikely locale. This unusual wild tree blossom was reproduced with unusual vibrancy and enchantment in a print made with the Canon i9100.
Technical Specifications
Resolution: Up to 4800x1200dpi
Print Resolution: Up to 4800x1200dpi in black; 4800x1200dpi in color
Print Speed (up to 74 million droplets per second): 4x6 color photo--approximately 37 seconds (borderless); 8x10 color photo--approximately 1 minute (borderless)
OS Compatibility: Windows XP, Windows 2000/Me/98; Mac OS 8.6 to 9.x and Mac OS X Version 10.2.1 to 10.2.x (see www.canontechsupport.com for updated compatibility)
Ink Compatibility (six individual ink tanks): BCI-6Bk Black Ink Tank, BCI-6C Cyan Ink Tank, BCI-6M Magenta Ink Tank, BCI-6Y Yellow Ink Tank, BCI-6PC Photo Cyan Ink Tank, BCI-6PM Photo Magenta Ink Tank
Black and white photographs have presented photographers a challenge to reproduce successfully with neutral image tones. The Canon i9100 supports gray scale printing and with many papers reproduces both neutral grays and a full range of tones in sharply rendered images.
Paper Sizes (13x19" edge-to-edge true borderless photos): Letter, legal, A3+ (13x19"), ledger (11x17"), A4, A5, 4x6", 5x7", US #10 or European envelopes
Paper Compatibility: Plain paper, envelopes, Canon Specialty Papers--Glossy Photo Paper, High Resolution Paper, Matte Photo Paper, Photo Paper Plus Glossy, Photo Paper Plus Glossy For Borderless Printing, Photo Paper Pro, Photo Paper Pro For Borderless Printing, Transparencies, T-Shirt Transfers
Paper Handling: Built-in sheet feeder
Physical Dimensions: 22.5x13.1x7.7"
Weight: 17.6 lbs
Software Included: Setup software and User's Guide CD-ROM including: Printer Driver, electronic User's Guide and electronic Photo Application Guide, Easy-PhotoPrint (Windows/Mac), PhotoRecord (Windows), ZoomBrowser EX (Windows), ImageBrowser (Mac), PhotoStitch (Windows/Mac), Easy-WebPrint (Windows, requires Microsoft Internet Explorer Version 5.5, Version 6.0 recommended)
MSRP: $499

For more information, visit the Canon website at: www.usa.canon.com.

LATEST VIDEO