Canon M Mirrorless Camera Review
The Canon M is Canon's first mirrorless system camera. It uses an APS-C-sized sensor (slightly smaller than APS-C, just like all Canon "APS-C" cameras) with 18MP resolution. The camera doesn't offer an optical or electronic viewfinder; the photographer has to use the large (3") LCD screen on the back that offers a remarkably high resolution of 1,040,000 RGB dots. While it offers a very crisp and clear image, an additional viewfinder, for shooting under bright light conditions, would have been welcome. The monitor is "fixed" and does not offer swiveling, or articulation. It is, however, a "touchscreen" type, which is fully integrated into the operational concept of the camera.
The Canon M has no mode dial. Instead, the photographer has to use the touchscreen and the menu to change between standard modes such as P, S, A, and M. For menu navigation and setting up image parameters, the Canon M offers a cursor field encircled by a dial. The handy combination of two dials, joysticks, and cursor field commonly used for Canon's SLR systems is missing. Instead, it offers a Q button ("Quick menu") and an "INFO" button, the combination of which offers fast and efficient set up of most functions. Taking a cue from smartphones and tablets, in review mode the photographer can use gesture controls, such as spreading fingers across the image to zoom in.
The camera uses a brand-new lens mount system. As of this writing Canon offers only two lenses for the new "EF-M" mount: a standard zoom lens (EF-M 18-55mm f/3.5-5.6 IS STM) and a fixed focal length (EF-M 22mm f/2 STM). The standard zoom lens offers an optical image stabilizer system. The image stabilizer showed a very good performance in our tests. It allowed us to shoot images with a shutter speed of 1/10 sec (55mm setting on the lens) without motion blur. In addition to the new EF-M lenses the photographer can mount standard EF lenses by using the optional EF Mount Adapter "EF-EOS M."
The camera has no internal flash system. It is supplied with a small external flash (Speedlite 90EX) which can be mounted on the hot shoe. The Canon M is also compatible with all Canon external flash systems like the Speedlite 270EX II or 320EX. The Canon M supports E-TTL II flash modes and with the 90EX it can be used as a master system for wireless flash control.
The camera is able to record Full HD video. It offers standard modes with 29.97 (30p), 25p, and 23.97 (24p) frames per second. It records videos in MOV format with H.264 compression and allows for use of manual settings in video mode. In addition, the user can set up the audio level manually and use an external microphone for better sound quality. The camera offers a "Video snapshot" mode which allows for recording a 4-second-long video clip when pressing the additional video recording button on the back. These clips are combined automatically to a single file which contains the full movie. The camera doesn't offer a Wi-Fi system (like the new Canon EOS 6D), but supports Eye-Fi cards for wireless data transfer to a PC system.
Image Quality
Color: The color reproduction is very good. The images show only minor oversaturation (100.7 percent). The automatic white balance system causes a shift into the blue direction, with darker gray tones showing a more noticeable shift; brighter nuances show a less intense shift effect. Nevertheless, the reproduction of the gray background in our test shot is nearly perfect.
The skin tone reproduction is very good; brighter skin tones show a slight shift toward magenta. This is noticeable on the cheeks of our model in the portrait shot. Red colors have a somewhat high yellow rate; the darker blue nuances show a higher magenta rate (intended, we assume, to boost these colors and create higher saturation).
Sharpness: The Canon M and its new kit lens showed a good performance in our resolution tests: the camera reproduced the ISO test chart with a maximum of 3209 lines per picture height, nearly the nominal resolution. This result is an effect of an intense sharpness filtering. The overshot factor is 22.2 percent, which is a little high for a system or SLR camera. It is, however, on the same level as images taken with the Nikon 1 V2.
The standard test box shot and the portrait shot show the crisp look of the Canon M images. The differentiation of red colors (T-shirt) is good, because the camera reproduced this scene with only very slight oversaturation. Details like the structure of the hair and the eyelashes look crisp with only a slight "artificial sharpness" (by filtering).
Noise: The Canon M keeps the luminance noise on a very low level—just like nearly all Canon SLR systems. The noise at ISO 100 remains low all the way to ISO 1600. The color noise filtering is very good: the characteristics of the RGB graphs in "Pixel noise" show some difference in images taken in ISO 100 to ISO 800 mode, but overall color noise becomes visible in images taken at ISO 800 and higher. It remains on a low level up to ISO 6400. At ISO 12,800 it is still acceptable, especially when compared to compact cameras shot at these high settings. The dynamic range results are very good in lower ISO speed settings: the camera gains a maximum of 11.5 f/stops and keeps this high level between the ISO 100 and ISO 800 settings. Using higher ISO speed settings will decrease dynamic range (under 9 f/stops in ISO 3200 mode and higher).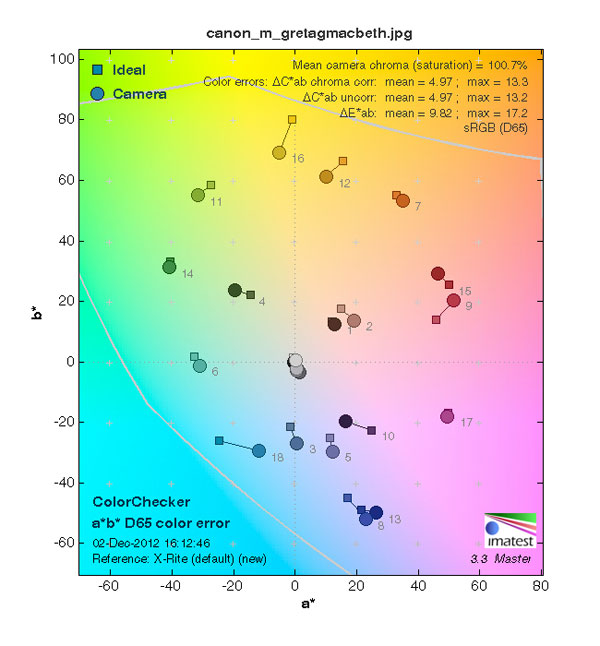 Scorecard
Pro
+ Compact system camera with large (APS-C-sized) sensor
+ Easy handling for beginners
+ Full HD video recording; additional microphone jack for better sound recording
Con
- Missing optical or electronic viewfinder
- Missing swivel monitor
- No internal flash system (but accessory flash system is supplied)
Lab results and test images by BetterNet, our TIPA-affiliated testing lab. Edited by George Schaub.
The Canon M with the EF-M 22mm f/2 STM kit lens has a list price of $599. For more information, visit www.usa.canon.com.
FEATURED VIDEO