Canon EOS M5 Mirrorless Camera Review
(Editor's Note: Lab Review lab tests and comments are supplied by BetterNet, Shutterbug's TIPA-affiliated testing lab and edited by George Schaub. Shutterbug is the sole U.S. representative within TIPA, a worldwide association of photo and imaging magazines. Check out this hands-on video we shot with the Canon EOS M5 at PhotoPlus Expo.)
The new Canon EOS M5 is Canon's first M-system mirrorless camera with an integrated EVF. The new EVF of the EOS M5 is based on OLED technology and offers a bright and brilliant image. With a frame rate of 120 Hertz it can refresh rapidly enough to cover even very fast moving objects.
The resolution of 2.36 million RGB dots corresponds to the viewfinder resolution of professional mirrorless cameras like the Sony A7R II. The new Canon EOS M5 mirrorless camera also offers helpful EVF functions for manual focusing like "focus peaking" and "magnifier" function.
Features, Build & Handling
The Canon EOS M5 uses an APS-C sized sensor with a nominal resolution of 24MP. This "Dual Pixel CMOS AF" sensor offers a hybrid AF system which combines phase detection and contrast metering. The camera offers 49 AF areas in a 7 x 7 matrix; it allows for use of a single AF sensor or AF areas and is easily configurable.
The Canon M5 has a large LCD screen (3.2 inch) which is touch sensitive. Working with the EVF and still active LCD allows for AF area setup even while looking into the EVF. This helps avoid the problem of misplaced AF target areas caused by the photographer pressing their nose against the LCD screen when sighting through the EVF.
Canon solved this problem in a very elegant way. The user can define the active "touch area" of the screen in the menu: for instance, just the lower right quarter of the screen. This area can be defined as an "absolute" or "relative" touch area. The photographer can choose and activate an AF area in the upper left, for example, and then, by using swiping gestures, move the AF indicator into the upper right quarter.
In contrast to previous M-series mirrorless cameras, the Canon M5 has a lot of functional elements and dials. Nearly every area of the body has some functional elements that overall provide very intuitive and professional handling.
In addition to the two parameter dials on the top it has a third dial on the back (which also serves as the 4-way cursor field) of the Canon M5 and an EV compensation dial on the top (+/- 3 EV stops). There is also a Quick menu button and a handy button/switch on the top (DIAL FUNC) that allows the user to toggle between white balance/ and ISO speed settings.
The LCD screen of the new Canon M5 can be flipped up and downwards, but isn't fully articulated. It can flipped upwards by 45 degrees and 180 degrees downwards. In its downward position it can be used for selfies, although this is unhandy when using the camera on a tripod.
The Canon M5 offers a small built-in flash system which can be used for portrait shots in backlight situations. An accessory shoe allows for use of external flash units like Canon's EX Speedlite systems: this provides access to Canon's E-TTL II system.
Comments on Image Quality:
Color: The Canon EOS M5 performed very well in our color tests. The GretagMacbeth chart was reproduced with 105.2 percent saturation, which is an excellent result. The white balance system did a very good job and showed a tendency into cooler nuances for gray and nearly black neutral tones; the white test pattern was shifted into the warmer and yellowish area of the color space. Colors in our standard test images look very good. Skin tones are reproduced nearly perfectly; they do show a very slight shift into the more yellowish area of the color space. The massive red nuances of the test chart are exaggerated. The red color in the portrait shot is highly saturated, but nicely differentiated and not as oversaturated as the red pattern of the test chart might indicate.
Sharpness: The results of the resolution tests for the Canon M5 are a little disappointing. The camera achieved a maximum of 3,322 of 4000 lines per picture height when using the Canon EF-S 18-135mm f/3.5-5.6 IS lens with the EF adapter, which was part of the test kit. In addition, we took sample shots with the EF-M 28mm 1:3,5 Makro IS STM (mount compatible with the M5) and got a result that was 100 lines per picture height lower. The reason for this is that, compared to other APS-C cameras, the M5 does not have as intense a sharpness filtration applied by the image processor. (Note: The test images were taken in default picture style mode, which is "AUTO" instead of "STANDARD". Some other Canon cameras use the "STANDARD" mode as default mode.
The less intense sharpness filtertration is one reason for the natural look of the images. Fine structures like the hair of the model and some elements in the standard test box look very natural because they don't show the artifical/very crisp look created by many other digital cameras.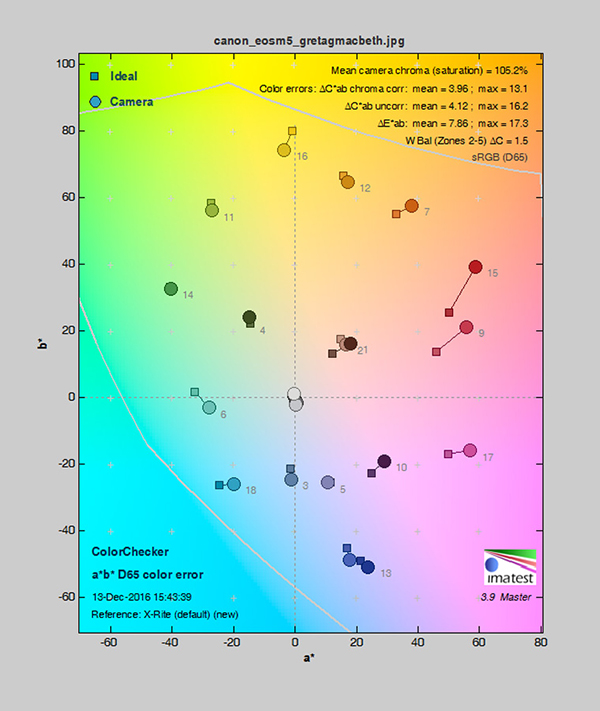 Noise: At lower ISO speed settings the Canon M5 creates images with a bit higher luminance noise factor than other APS-C camera. This behavior is based on lower or less intense anti-noise filtering. Images taken at ISO 100 and 200 showed a little higher y-factor of 0.61 percent in ImaTest. Color noise is nearly invisible in images taken with ISO 100 to ISO 800. At ISO 1600 color noise gets visible and the anti-noise filtering gets more intense, but is still on a low level. At ISO 6400 film grain effects become visible, but the color noise is still very low. At ISO 12,800 and especially at ISO 25,600 the combination of color noise effects and anti noise filtering create the typical impressionist filter look and reduce detail reproduction drastically.
The dynamic range results of the EOS M5 are very good. The camera showed very good results at lower ISO speed settings and achieved a maximum of 11.2 f-tops. It keeps a high level of close to 11 f-stops up to ISO 3200. When using higher ISO speed settings the dynamic range drops drastically.
Video Format and Handling
In contrast to many other current mirrorless systems, the new Canon EOS M5 offers only standard video capabilities. It records movie clips in Full HD resolution of 1920 x 1080 pixels. In addition, the camera offers video modes with reduced resolution (1280 x720 and VGA mode with 640 x 480 pixels).
The Canon M5 can record with a maximum frame rate of 60 frames per second (50 frames in PAL mode) and offers Blu-ray compatible frame rates with 24 frames per second. Videos are recorded in MP4 file format with H.264 compression. The camera allows users to record video clips with a maximum length of 29 minutes, 59 seconds or a maximum file size of 4 GB. The bit rate is 24 Mb/s and can be compared to AVCHD 2.0 recording by standard camcorders.
The EOS M5 has a dedicated start/stop button for recording videos on its back. This button has to be used even when switching the mode dial on the top to movie mode. The camera offers two basic video recording modes: Standard mode is a full auto mode, which will set up aperture size and shutter speed automatically. The second mode allows the use of manual settings for both aperture and shutter speed and to change ISO. ISO speed is limited to a maximum of ISO 6400 when recording videos. The camera doesn't offer A or S semi-automatic modes when recording videos.
The Canon M5 allows automatic setup of audio level , manual setup or the capability to disable audio recording completely. For better sound quality it offers a 3.5 mm jack for external microphones.
Comments on Video Quality
The new Canon EOS M5 performed very well in our resolution tests. Full HD video was recorded with 920 of 1080 lines per picture height. The "edge profile" shows that this high sharpness result is in part due to intense sharpness filtering/digital contrast enhancement. Thus, videos taken by the EOS M5 have a very crisp look.
Color results are very good. The camera showed a somewhat unusual shift into the higher magenta rate area on our GretagMacbeth chart. A tendency to a "warmer" reproduction is also noticeable in our video sample shots. Unfortunately the camera doesn't offer special LOG video styles, which could be calibrated in post production.
Dynamic range results in video mode aren't as high as in photo mode. The Canon EOS M5 reproduced the Stouffer 4110 chart with a maximum of 10 f-stops. Noise results are excellent: Due to "Pixel Binning" the camera samples more than one sensor pixel for every video pixel. It reproduced the test charts with very low luminance noise (y-factor in ISO 100 mode is only 0.23 percent). Videos start to show "noise flickering" at ISO 1600 and higher settings to its maximum of ISO 6400.
Pros
+ Fully equipped with hi-res EVF, large (swivel) LCD, WiFi and more
+ Very compact camera with professional handling
+ Light, but very handy and well balanced body
+ Fast AF system (which we did note sometimes has issues in low light situations)
+ Supplied with an adapter for EF lenses
Cons
- Only 7 native EF-M lenses available, but adapter opens door to full Canon lineup
- Missing 4K recording in video mode
The Canon EOS M5 mirrorless camera sells for $979.99, body only. It is also sold as part of a body-and-lens kit with the EF-M 15-45mm/F3.5-6.3 IS STM zoom kit lens for $1,099. The Canon M5 also sells as a kit with the new EF-M 18-150mm f/3.5-6.3 IS STM lens for $1,479.
(Lab Review is where we publish web-exclusive lab reports on cameras. To read more Lab Reviews, click on the Reviews tab on the top navigation bar of this page. New photo gear reports are published frequently, so check Reviews for more equipment evaluations from Shutterbug writers.)
FEATURED VIDEO