Canon Bubble Jet S9000 Photo Printer
New Six-Color Wide Format Ink Jet Produces Quality Images Fast
The brightest contrast and deepest color saturation is reproduced by the Canon S9000 Photo Printer on premium super glossy Canon Photo Paper Pro.
Photos © 2002, David B. Brooks, All Rights Reserved
Canon Bubble Jet has been a mainstay of personal computer color ink jet printing from the beginning. After what seemed like periods of mercurial enthusiasm supporting digital photography in the past, Canon has made a major commitment with new six-color dye ink Photo Printer models, with the 13" wide format S9000 Photo Printer model at the top of the line-up. Now offering Micro Fine Droplet Technology, new high intensity, longer lasting inks, borderless printing, and 2400x1200dpi print resolution, Canon Bubble Jet is a formidable performer in quality photo printing at any size, from 4x6" snapshots to 13x19" wall prints. It even offers longer panorama photographic reproduction. Easy to use, the new Canon S9000 features six separate ink cartridges with sensors for on-screen ink level monitoring, as well as a four motor operation system that provides very fast printing speeds, even when the printer is set at maximum quality and resolution output.
Concurrent with the news of new Photo Printers that includes the S9000, Canon announced support for the latest industry standard for recording image information in the files output by digital cameras, Exif 2.2. Besides being supported by their current Canon digital camera models, Exif 2.2 is supported by the Canon Bubble Jet Photo Printers so by using the Exif 2.2 file information identifying exactly how the image was made they can produce prints that are a closer match to what was photographed.
Soft, subtle, variations in artificial manmade colors are reproduced with accuracy and good separation of faint tonal distinctions in the subject printed with the S9000 on standard glossy photo paper.
In addition to Exif 2.2 support, Canon provides users with three applications in addition to a printer driver that includes a wide range of optional adjustments to the printer's output, including: a browser that generates image file thumbnails to make it easier to visually identify image files, PhotoRecord for Windows which provides album support for multiple image print layouts, and PhotoStitch to put together multiple images to create a panoramic print. All of this software support, and particularly Exif 2.2, reminds me that a printer with the capabilities of this new Canon Bubble Jet S9000 would have not produced reliable, optimum print quality until recently because there was no operating system and application support, including color management, that exists today. Canon has taken full advantage of these facilities, providing the user who prints from any source to get results that match their highest expectations.
Printed on standard glossy photo paper the S9000 reproduced this finely detailed Kodachrome image with excellent sharpness and good fidelity to the colors
of the subject.
Using The Canon Bubble Jet S9000
Unpacking, setting up, and installing the new Canon Bubble Jet S9000 printer was made easy and efficient by its thorough instructions and well-designed software installation. About the only thing one could mess up is not getting the six ink cartridges installed in the correct order, and the Canon print driver's Monitor should warn you of such a mistake and provide a clear graphic of the right order of colors. The print driver user software interface provides a clear map of the print control options available and support for the selection of both Canon papers and generic types. There is, in addition to the Canon Bubble Jet print quality control selection, options to turn image printing control over to Windows ICM or Apple Colorsync color management, or to choose "no adjustment," which allows making a test chart to profile the printer for independent brand fine arts papers, for example.
To evaluate this new Canon S9000 printer I chose mostly from a selection of recently scanned film image files. But first, I just made a few prints on standard photo paper to be assured everything was functioning normally, which it was. I also tried a control option in the software, a small button to click on with the word "gray scale" next to it. For those of you like myself who have many black and white images, I'm pleased to report that by turning this gray scale printing button on very good quality black and white prints are produced. I am quite sure the software is directing the printer to use all or most of the ink colors to achieve this black and white print quality, as I noticed that the prints produced on glossy paper were a slightly warm black tone while the result was a little cooler black with matte paper.
The unusual juxtapositions of color contrasts in this image, shot many years ago of an old building in Telluride, Colorado, is most dramatically represented in a print made with the S9000 on Canon Photo Paper Pro super glossy paper.
I alternated between letter size and 13x19" paper sizes, and used the Canon papers supplied, as well as both third party consumer photo ink jet papers and some fine arts matte papers. Because there is a perception factor involved, some prints look better at a small size than the largest 13x19" print size. The Canon S9000, however, produced small and large prints that are as close a visual match as I have seen. The S9000 also produced the least difference in print image qualities between basically different paper types, glossy and matte. And, in addition, the Canon Bubble Jet S9000 produced a greater consistency of image color and contrast when using a variety of independent brands and types of papers. However, I did find that one of my favorite matte exhibition print papers produced disappointing results, which I assume is due to the particular and unusual coating used to produce this paper.
All of the fine detail of faintly distinguished tones of white in this Victorian greenhouse in San Francisco's Golden Gate Park are exactly recorded to contrast with the myriad shades of gray of foreground, foliage, and sky printed by the Canon S9000 on standard glossy photo paper.
Color Intensity
Generally, the Canon Bubble Jet S9000 Photo Printer produces a high level of color saturation relative to the subject file printed. My experience indicated this is most intense when printing using color adjustment by Windows ICM or Apple Colorsync. In fact, with some subjects, this setting's high color intensity may not be an advantage, such as portraits, and the Canon Bubble Jet (Bubble Jet Standard) color adjustment is more effective. So, there is a good reason why Canon describes their inks as "high intensity." The only negative potential of this otherwise advantageous performance attribute is that the image files printed need to be free of any color cast--in other words inadequate or sloppy color correction adjustment of the image file will be quite apparent in images made by this printer.
Other attributes associated with this new Canon Photo Printer include normally quiet operation with an additional feature of a "quiet mode" that may be selected to further subdue the sound of the printer. Of all of the consumer printers I have used, the Canon Bubble Jet S9000 is noticeably and definitely the fastest, and not just at a low-resolution setting, but in the highest SuperFine resolution mode as well.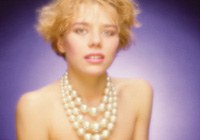 The subtleties of skin tones, hair, and even imitation pearls contrasted against a deep blue background reproduced ideally on photo matte paper printed with the new Canon Bubble Jet S9000 Photo Printer.
Another distinguishing feature for a dye ink six color printer is that each ink color cartridge is separate, not all ganged into one or two cartridges. This is a true advantage in the relatively short time I used it. I made over 100 prints and used just three "light" Photo Magenta ink cartridges, and almost as much "light" Photo Cyan ink, but was barely starting the second yellow ink cartridge while the original, regular magenta, cyan, and the black ink I started with were still not ready to be replaced. How this will play out over a lot of use over six months or a year will vary, of course, on what kind of printing is done with it, and the cost saving will also depend on where inks are purchased. That may be a problem that is no fault of Canon, as the least expensive ink sources I have found (a discount warehouse outlet) only sell full sets of all six colors cartridges in a sealed package, which of course defeats the basic individual color ink cartridge advantage.
Evaluation And Recommendation
The Canon Bubble Jet S9000 Photo Printer is a well conceived and executed product that from my experience matches or exceeds the print image qualities of printers I have tested in the recent past. In addition, it can produce greater image color saturation relative to the characteristics of the file printed than any dye ink jet printers I have used. The S9000's greatest advantage for many may be the noticeably faster speed that it prints, even at the highest printer resolution setting.
With a MSRP of $499 it is at the top of the consumer ink jet printer price range, yet is still an excellent value. If speedier printing and a taste for brilliantly colored images are important factors of choice, the Canon Bubble Jet S9000 must be seriously considered in the choice of a dye ink jet wide format printer. For more information call Canon at (800) 652-2666, or visit their web site at www.usa.canon.com/consumer.

· Print Method: Canon Proprietary Bubble Jet
· Print Resolution: 2400x1200 dpi (Default Resolution: 1200x1200dpi)
· Print Speed: 4x6 photo: approx. 30 sec; 8x10 photo: approx. 1 min
· Drop Size: 4-pl
· Ink Tank Specifications: BCI-6BK BCI-6C BCI-6M BCI-6Y BCI-6PC BCI-6PM
· Paper Weight: Plain paper: 17-28 lbs; Maximum based on Canon Photo Paper Pro PR-101 Letter: 65 lbs (A3+ weight: TBD)
· Paper Size: A3+, 13x19, A3, LDR+, LDR, 11x17, B4, A4, Letter, Legal, A5, B5, Envelopes (DL, COM10), Banner, Photo cards 4x6
· Interface: USB (Version 1.1)
· Operating Systems: Windows 98, Me, 2000, XP; Macintosh OS 8.6-9.x, OS X
· Bundled Software: Windows: PhotoRecord, ZoomBrowser, PhotoStitch , Easy PhotoPrint Exif Print compatible; Macintosh: ImageBrowser, PhotoStitch
· Printer Size: 22.5x13.1x7.7"
· Weight: 17.6 lbs
· MSRP: $499
FEATURED VIDEO