Books Reviews
Lighting and Photographing Transparent and Translucent Surfaces: A Comprehensive Guide to Photographing Glass, Water, and More; by Dr. Glenn Rand; Amherst Media; $34.95; (ISBN-13: 978-1-58428-244-0)
Dr. Glenn Rand is a professional photographer and professor of photography at the Brooks Institute. His years of experience have been transformed into a guide that offers top-quality advice on how to create stunning images using transparent and translucent surfaces. He shows you how to control reflections; get the proper exposure when photographing reflective subjects; how to create white-line and black-line effects; and techniques on how to make glass seem to disappear. The book also includes a variety of sample images and diagrams to make learning fast and easy.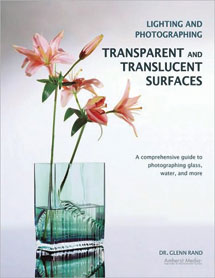 Light Fading: Reflections on the Imperiled Everglades; by Joel M. Curzon; Peter E. Randall Publisher; $60; (ISBN-13: 978-1-931807-28-9)
Photographer and writer Joel M. Curzon is your guide for this exciting and educational virtual tour of the Florida Everglades. Home to a wide selection of exotic wildlife, this vast expanse of rugged and often dangerous land is a nature photographer's dream come true. Curzon offers a stunning collection of over 250 full-color images that are certain to take your breath away and his text reveals the hardships that human encroachment has caused over the years.
FEATURED VIDEO