Book Reviews
The World's Top Photographers' Workshops: Celebrity & Performance; by Andy Steel; Voyageur Press; $35; (ISBN: 978-0-7603-3767-7)
This is a practical guide to capturing memorable images of celebrities in any situation. From candid portraits to movie set stills, author Andy Steel uses his professional experience to provide detailed advice on how to get the most from every shot. The 180 sample images provide inspiration while the informative captions explain how the image was created to give the reader an idea of how to achieve similar results with their own work.
To Love Is To Fly; images by Jonathan Chester, words by Patrick Regan; Andrews McMeel Publishing, LLC; $9.99; (ISBN: 978-0-7407-8510-8)
This tiny treasure explores the true meaning of love in a most unique and entertaining way. Patrick Regan's heartwarming words are playfully paired with Jonathan Chester's crystal-clear images of adorable penguins captured in affectionate poses. The index included at the back of the book provides detailed information about each image that adds an interesting touch of science to the romance.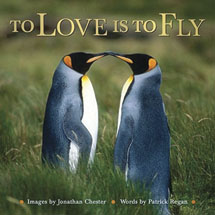 Pet Photography 101: Tips for Taking Better Photos of Your Dog or Cat; by Andrew Darlow; Focal Press; $14.95; (ISBN: 978-0-240-81215-1)
Creative pet portraits have become extremely popular recently and it's not uncommon for a client to request candid shots of their beloved dog or cat for the family album. With the aid of this handy guide, photographers of all skill levels can produce heartwarming shots that are certain to delight any pet parent. Andrew Darlow offers advice on composition, lighting, setting up fun shots, and printing the best quality images so you can produce top-quality work that will set you ahead of the pack.
Fireflies: Photographs of Children; by Keith Carter; University of Texas Press; $50; (ISBN: 978-0-292-72182-1)
Keith Carter's book offers an imaginative collection of black-and-white images that expertly capture the innocence and wonder of childhood. Each carefully constructed shot has a certain dreamlike quality, blending elements of fantasy with reality to give the viewer a sense that these are moments taken directly from a summer's daydream. It's this ethereal quality that makes Fireflies a rare gem worth adding to your personal library.
Arachnids; by Janet Beccaloni; University of California Press; $39.95; (ISBN: 978-0-520-26140-2)
Author Janet Beccaloni is the Curator of Arachnida and Myriapoda at the Natural History Museum in London, which explains why this book is overflowing with scientific data and crystal-clear images of strange insects that are certain to make your skin crawl. Free of myths and misconceptions, this book delivers the real facts on the diverse arachnid family which includes a wide variety of scorpions, ticks, mites, and over 38,000 species of spiders. They vary from bizarre to beautiful and a few are even deadly but all are interesting and sure to spark your imagination.
FEATURED VIDEO