Book Reviews
Headwaters: A Journey on Alabama Rivers; photographs by Beth Maynor Young, text by John C. Hall, foreword by Rick Middleton; University of Alabama Press; $39.95; (ISBN-10: 0-8173-1630-2)
If you would like to explore the hidden world of Alabama's rivers, simply pick up a copy of this book. Photographer Beth Maynor Young's collection of crystal-clear images and author John C. Hall's words work together in harmony to provide an educational glimpse at these beautiful and unspoiled ribbons of water.
Autumn in the Country; by Stan Trzoniec; Xlibris; $61.99; (ISBN: 1-4363-9735-9)
This beautiful coffee-table book contains a fine collection of images that expertly capture the crisp feel and vibrant colors of fall. From landscapes to wildlife, noted photographer, teacher, and author Stan Trzoniec's high level of technical skill is easy to spot as each shot tells a story all its own. Autumn in the Country is certain to be a treasured part of your personal library or a wonderful gift for a loved one.
Photojojo!: Insanely Great Photo Projects and DIY Ideas; by Amit Gupta with Kelly Jensen; Potter Craft; $21.99; (ISBN: 978-0-307-45142-2)
Photojojo! is an interesting guide that combines photography with crafts to create fun projects for all ages. The wild and wacky ideas range from refrigerator magnets to photo lampshades, handbags, frames and albums, a string monopod, a doggie cam, and a flash diffuser made out of a film canister. Each project is presented in a simple step-by-step format and includes information on all the items needed to complete the project. This is an excellent way to get the whole family, even the dog, excited about photography.
Jeff Smith's Guide to Head and Shoulders Portrait Photography; by Jeff Smith; Amherst Media; $34.95; (ISBN-13: 978-1-58428-256-3)
Professional portrait photographer and instructor Jeff Smith stresses the importance of not limiting yourself to just full-length portraits. His guide offers advice on creating winning head and shoulder shots that are certain to please your clients. He covers proper posing, lighting, fixing problem areas while emphasizing the subject's best features, and getting the perfect expression. Smith's guide will quickly prove to be a valuable resource that you will treasure.
Mathematicians: An Outer View of the Inner View; photographs by Mariana Cook; Princeton University Press; $35; (ISBN: 978-0-691-13951-7)
This book features 92 candid black-and-white portraits of today's most noted mathematicians. This collection is the brainchild of acclaimed photographer Mariana Cook whose high level of skill has the ability to draw the very essence of her subject to the forefront, offering us a revealing glimpse at their personality. Each image is accompanied by a one-page bio that provides in-depth information regarding their career and passion for mathematics.
The Photographs of Homer Page: The Guggenheim Year: New York, 1949-50; by Keith F. Davis; Yale University Press; $50; (ISBN: 978-0-300-15443-6)
Homer Page was a talented documentary photographer whose work sadly never received the level of recognition deserved during his lifetime. The primary focus of this book is a collection of 98 tritone images captured in New York between 1949 and '50 that expertly explore the depth of his artistic talent and keen eye for candid shots.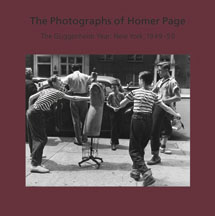 Faces of War: The Untold Story of Edward Steichen's WWII Photographers; by Mark D. Faram; Berkley Caliber Hardcover; $29.95; (ISBN: 978-0-425-22140-2)
Acclaimed photographer Edward Steichen is most often remembered for his fashion images and celebrity portraits but his talent was also put to good use by the US Navy during the Pacific campaign of WWII. This book contains a rarely seen collection of images captured by Steichen's Aviation Photographic Unit, a group of highly skilled men with backgrounds in journalism and commercial advertising who were charged with documenting the harsh reality of war both on the battlefields and on the ships.
How to Digitally Photograph Cars; by Jason Siu and Josh Mackey; CarTech Auto Books & Manuals; $24.95; (ISBN-13: 978-1-932494-99-0)
In this informative guide Jason Siu and Josh Mackey provide a wide selection of professional advice that is certain to improve the quality of your car photographs. They begin with choosing the right gear for the project while staying within your budget and then move on to understanding and using camera settings. Other chapters touch on lighting, composition, building photography rigs, using image-editing programs, and selling your work. The lessons include sample images and simple instructions that make learning fast and easy. The book can be ordered directly from the publisher by calling (800) 551-4754 or visiting www.cartechbooks.com.
Journey's End: Relics and ruins of Indiana's transportation legacy; by John Bower, foreword by Brian Byrn; Studio Indiana; $22; (ISBN: 978-0-9745186-5-7)
Hoosier photographer John Bower has a passion for the past so he searched his beloved state to find bits of Indiana's transportation history. He sought out rusting steam locomotives, cars, trucks, boats, abandoned factories, and garages in an effort to capture them on film before they vanish forever. This book contains a fine collection of 190 black-and-white images paired with informative text that draw the reader into Bower's adventure through time.
FEATURED VIDEO