Book Reviews
How to Photograph Absolutely Everything: Successful Pictures from Your Digital Camera; by Tom Ang; DK Publishing, Inc.; $24.95; (ISBN: 978-0-7566-4308-9)
Award-winning photographer and author Tom Ang uses his years of experience to provide a wealth of tips and tricks that are certain to greatly improve the quality of your work. The easy to understand step-by-step instructions include advice on choosing the right equipment, capturing great portraits and landscapes, photographing pets, and exploring the realm of artistic expression with still life images and special effects. You will never leave home without your pocket digital camera again.
The Art and Colour of General Motors; edited by Jonathan A. Stein; Coachbuilt Press; $100; (ISBN: 978-0-9779809-3-2)
This book marks the 100th anniversary of General Motors with a beautiful collection of over 286 images from noted photographer Michael Furman along with informative text by car historians and journalists. These images capture the innovative designs produced by General Motors; many of the automobiles are now in museums or private collections and have not been seen by the public for many years. The Art and Colour of General Motors would be a treasured tome for any car aficionado and I highly recommend it.
Digital Photography Boot Camp: A Step-By-Step Guide for Professional Wedding and Portrait Photographers, Second Edition; by Kevin Kubota; Amherst Media; $34.95; (ISBN-13: 978-1-58428-243-3)
This guide is based on Kevin Kubota's popular Digital Photographer's Bootcamp workshops. Designed for professionals, the course provides an in-depth look at how a digital studio functions. The guide offers easy-to-follow instructions on everything from camera set up to capture, organization, image enhancing, printing, and much more. Kubota's advice is certain to simplify your move to digital.
American Farmer: The Heart of Our Country; photographs by Paul Mobley, text by Katrina Fried, preface by Willard Scott, introduction by Michael Martin Murphey; Welcome Books; $50; (ISBN: 978-1-59962-047-3)
Photographer Paul Mobley began this intensive four-year long project with the assistance of the American Farm Bureau Federation. Traveling more than 100,000 miles across America from Alaska to Maine, he visited farms to capture candid portraits of the farmers, their families, and even a few pets. This book offers a beautiful collection of over 200 images that are accompanied by a well written yet brief essay that offers the reader a deeper look at the difficult yet rewarding life of American farmers.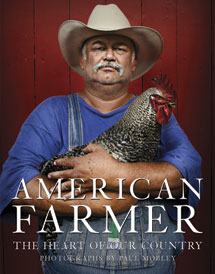 Extraordinary Leaves; by Stephen Green-Armytage and Dennis Schrader; Firefly Books; $45; (ISBN: 1-55407-387-1)
With the aid of over 225 color images, expert horticulturist Dennis Schrader and photographer Stephen Green-Armytage combined their talents to offer us a fresh view of leaves. Simply taking a close look at their color, shape, and texture reveals that these deceptively ordinary things are, in reality, extraordinary. Schrader provides the highly informative text while Green-Armytage fills each page with crisp and vivid images that are certain to spark your imagination.
FEATURED VIDEO