Batteries; Charge Up Your Gear

Duracell introduced their higher capacity 2650 mAh AA and 1000 mAh AAA rechargeable batteries, designed to meet the growing demands of high-drain devices. The Duracell 15 Minute Charger will charge one to four mAh AA cells in just 15 minutes. It will accept all standard AA or AAA Ni-MH batteries. The list price for the charger with four batteries is $40.
GP Batteries now offers 2700 mAh Ni-MH AA rechargeables and 1000 mAh Ni-MH AAA rechargeables. The GP PowerBank Express Charger will fully charge four AA or AAA Ni-MH batteries in just 15 minutes. It has a worldwide voltage capability of AC 100-240v and a 14v DC car charging function.

Energizer's e2 Lithium batteries in AA and AAA size are said to be the longest lasting batteries of these two sizes when used in all types of high-tech devices. In addition to longer life, they offer other advantages, such as being 33 percent lighter than their alkaline counterparts, performing well in extreme temperatures, and having a shelf life of 15 years vs. seven years with ordinary alkaline batteries.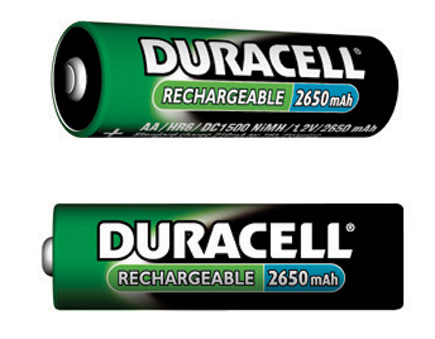 Duracell 2650 mAh Rechargeables
Duracell 15 Minute Charger
HP Marketing announced the Ansmann World Charger (adaptable for 120-200v) that's said to be the smallest available. It accepts both AA and AAA rechargeable batteries and has an MSRP of $70 with four cells. The Ansmann Energy Check LCD is a universal battery charge tester suitable for all types and sizes of batteries. What sets it apart is a large LCD read-out that gives the percentage of charge remaining in the battery rather than just using colored lights to indicate the charge. It has an MSRP of $70.
North American Battery Company, whose products are named UltraLast and Again & Again, introduced the UltraLast 3v Smart Charger for 123 size lithium batteries used in many film cameras. This AC-powered charger will charge two ULCR123R lithium ion rechargeable batteries overnight. A red LED changes to green when they are charged.

OSN has the BC 24, a universal lithium ion charger for most any digital camera and camcorder battery and can also be used for many cellular phones and similar rechargeable batteries. It's suitable for 3.6-7.6v lithium ion batteries, has adjustable terminal positions to fit most batteries, automatic voltage and polarity detection, and works on input voltage from 100-240v. Charging time ranges from 1.5-5 hours, depending upon the battery capacity. The MSRP is $60.
Panasonic announced new, improved Oxyride Extreme Power AA and AAA batteries, said to be the first major innovation in primary battery technology since the alkaline battery of 1965. In tests, the company claims that Oxyride batteries outperform alkaline by as much as 3.2 times and deliver longer battery life in digital still cameras.