The Bag Man Reviews the Bob Cut Medium Messenger Photo Bag from Barber Shop Bags
What's in a name? Would a luxury leather camera bag by any other name not feel as lavish? If it's beautifully styled and meticulously manufactured, does anyone really care what it's called?
I must admit, I don't get it. There must be something lacking in my education or experience that prevents me from understanding why such a truly fine collection of leather and leather-trimmed camera bags and accessories are named after—haircuts. (At least I think they're haircuts; I haven't finished Googling them.)
I'm talking about Barber Shop Bags. Make no mistake, these are outrageously awesome bags. They're manufactured by Plaber, Srl, which is located in Bassano del Grappa, a small town in northern Italy, in the province of Vicenza. And no, I did not misspell "SLR."
The lineup consists of five models, each available in a variety of colors and materials, and each named a la coiffure. Let's see, there's the Doctor Bag "Quiff," which does indeed look like a great home for a stethoscope and caduceus. Then we have the Backpack "Mop Top," very clever Convertible Bag "Undercut," Small Messenger "Page Boy," and finally the Medium Messenger, AKA the "Bob Cut." They also make wallets, passport cases, luxurious cross-bandolier camera straps called "Sideburns" and "Full Beard," wrist straps ("Razor Cut") and some other accessories.
The Medium Messenger Bag is an outstanding camera carrier, despite its hairy name "Bob Cut." The one I'm currently borrowing is finely crafted of black Cordura fabric and tastefully trimmed in black leather. All of the hardware is top notch and of course, it features YKK zippers.
The design is very simple and elegant. This top opener has one large compartment that holds a removable equipment cradle. The innards can be customized easily by repositioning the included padded dividers. The inside is finished like fine luggage—or more like a very high-end designer purse. Also inside is a pouch that will accommodate a 13-inch MacBook and another, smaller pocket that seals with a zipper.
On either end there are non-stretchable pockets, and on the back a wide pocket that can be unzipped and slipped over the handle of a rolling bag or wheelie. There's also a button-on patch that can be monogrammed. Neat. The shoulder strap and two-piece handle are well made and comfortable, but the closure on the front flap is wimpy—just a single snap that's smaller than the one you find on a decent pair of jeans. That's my only gripe, really, but that's a serious matter if you want to keep the bag closed.
My Fujifilm cameras and lenses found plenty of space inside. I had room left over after packing an XT-1, XE-1 body, X-Pro 1 and four lenses. It looks like it can carry a pair of regular DSLRs and at least three lenses, including a Canon 70-200mm f/2.8 zoom.
External dimensions run 14.2 x 10.2 x 5.5 inches (W x H x D) and the camera cradle inside mics out at 13.4 x 7.9 x 4.7. In other words, it's roomy. And it doesn't look like a camera bag at all, so it flies under the radar. And no, it doesn't scream "haircut," either.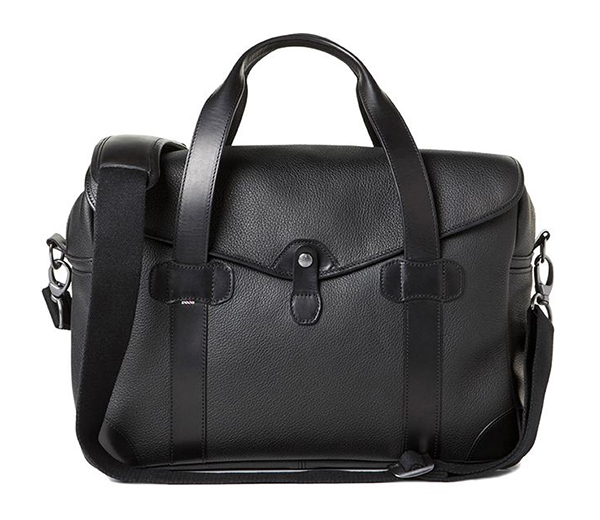 Six flavors of the Bob Cut Medium Messenger Bag are available, three leather and three cloth. Choose from two variations of brown leather (dark brown or a lighter grained brown) or black leather, two canvas models (brown or blue), or black Cordura fabric.
Leather styles are priced at $599 and the cloth versions $443. All six are available at Adorama, B&H and other fine retailers. All Barber Shop products are protected by a two year international warranty. Made in Italy.
—Jon Sienkiewicz
FEATURED VIDEO