The Bag Man Reviews the Able Archer Photo Rucksack & Talks To Head Designer Miguel Hurtado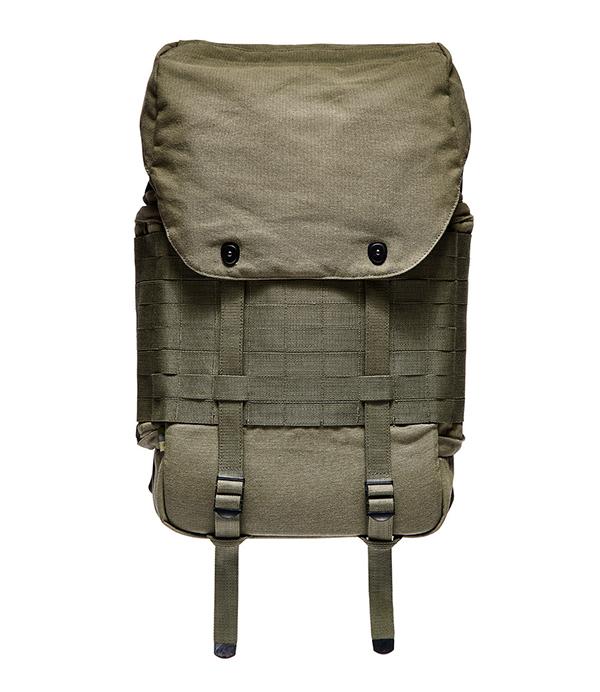 It's not very often that a photo bag or backpack can be fully understood from images alone. The new collection of high quality, military-style camera bags, pouches and backpacks from Able Archer needs very little explanation. One look tells you that they're durable, functional and great looking.
Able Archer offers a small but versatile assortment of photo backpacks, duffels, pouches and buttpacks. All feature that classic military appearance and score high marks for simplicity and design. Any piece in the lineup is useable for photo gear, but the Rucksack is most suitable. Like all other Able Archer bags, it's made from water-resistant canvas and features a no-scratch nylon lining. All zippers are heavy-duty and equipped with robust pull rings, including the one on the very top that allows access to contents without opening any snaps.
Measuring 22 inches tall and just under 12 inches wide, the Rucksack accommodates a notebook computer up to 17 inches. in its own neoprene lined compartment, a couple DSLRs and a few lenses—four or five, maybe more—depending on how you pack. A good selection of well-placed storage panels and stash pockets provides plenty of space for medium-size and smaller items.
The outside is strung with MOLLE-compatible webbing which makes it easy to attach Able Archer Multi-Pouches (they come in large or small) or other similar accessories. That's common—but here's a twist: Able Archer installed the Archer-Mount Webbing on the inside of the Rucksack too. That means you can attach pouches, knife sheaths, bottle holders—anything with a MOLLE-style clip—inside the bag for maximum organization.
In the field I found the Rucksack to be very comfortable for both one-shoulder and normal two-shoulder carry. The haul handle on top made it easy to retrieve from my car trunk (and airline overhead bin) and the padding on the back panel was much appreciated. I didn't take any 100-mile hikes—I used the Rucksack much like anyone would around the city—but I found the carry harness to be secure and functional.
Able Archer's website shows usage with the optional Multi-Pouches lashed to the shoulder straps, but after trying that I attached one on each side of the bag instead. The point is that the attachment system allows you to customize—and re-customize—the configuration until it suits you best.
Negatives? It's a bit heavy when empty, but not objectionably so.
With styling and looks that are at home on any metropolitan street plus beefy construction that could tackle the harshest jungle, the Able Archer Rucksack is in a class by itself. It's a unique combination of tough military functionality melded with a style that just fell out of Esquire magazine. It's such a remarkable composite that I decided to ask Able Archer's head designer, Miguel Hurtado, for some insight into how it came to be.
Shutterbug: What is the motivation behind the military styling?
Miguel Hurtado: The classic army/navy surplus look was deliberately chosen because it's rugged, functional and common the world over. We use canvas and metal that wears in characteristically like a vintage surplus bag, while hiding modern features like the MOLLE webbing and waterproof zippers.
Shutterbug: The Rucksack is obviously built to last a lifetime. Can you summarize the degree of weather protection it provides?
Hurtado: Our bags are made of military grade canvas with mil-spec water resistant coating, and lined with mil-spec water resistant nylon on the inside. We use waterproof zippers and neoprene for the laptop compartments, and dense but thin closed cell foam throughout.
Shutterbug: What brought you into bag making?
Hurtado: Necessity. On a photo trip to Brazil, I looked for a bag that could safely hold a camera but didn't look like a camera bag and was hard pressed to find one. I bought a familiar canvas camera bag and tried removing all the branding and distressing it, but the boxy shape and noisy Velcro kept giving it away. I was disappointed with the bag's accessibility and overspecialization, too. It could only be used for photo gear and nothing else, and that's just not how I travel. I wanted a modular, customizable bag that could be used for a variety of purposes in the field, without standing out. I couldn't find it, so I made it.

Available in four subdued colors (leaf, cement, sand and ash) the Able Archer Rucksack has an MSRP of $350 and is available directly from Able Archer and from other retailers.
—Jon Sienkiewicz
FEATURED VIDEO