Lowepro Photo Sport 200 AW II Camera Bag Review: The All New Version of an All Time Favorite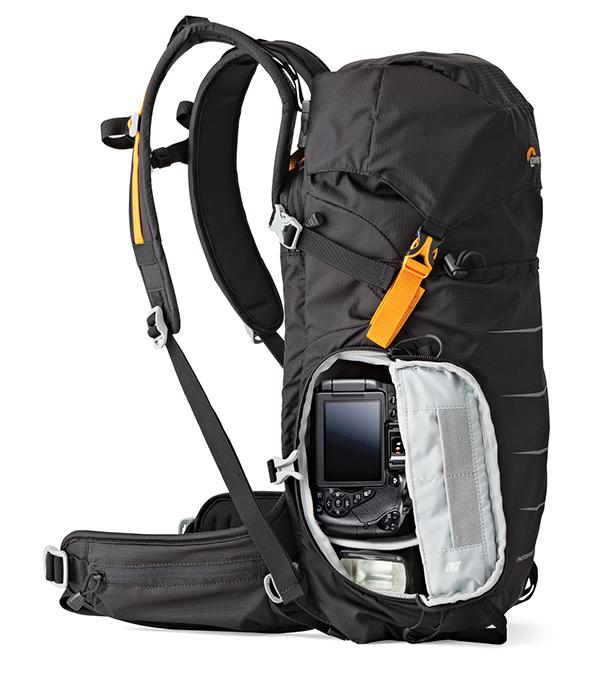 Gadget bags and photo backpacks comes and go. There are many reasons; styles change, materials improve; competitors rip off designs and build cheaper clones. Sometimes manufacturers develop "cost down" models to lower production costs and increase profits. But sometimes bags stick around for years and evolve into stronger, lighter, cooler and all-around better products. Lowepro decided to improve a very popular and good selling line, the Lowepro Photo Sport AW (All Weather) Backpack series. It takes a lot of nerve to try to improve upon a favorite. Did they succeed? Let's find out.
The Lowepro Photo Sport 200 AW Backpack first appeared about five years ago and became an immediate favorite with folks who mix their photography with vigorous activities like cycling, climbing, hiking and running. The pack was light, provided separate spaces for camera equipment and less essential things like food and clothing. It also supported an optional 2-liter hydration bladder. The design was reminiscent of Lowepro's slingpack (a bag category they created). It weighed less than three pounds empty and stood about 20-inches tall.
I've had the new model II for about a week now. All I can say is if you liked the original, you're going to love the update.
The best word to describe the new Lowepro Photo Sport 200 AW II is "tight." A system of cinch straps (Lowepro calls it UltraCinch) allows you to snug up just about every corner of the pack to make it feel more sleek and streamlined. It still features a side opening so that you can easily and quickly accesses a DSLR, and even that hatch has a strap to keep it extra secure and tight.
The top of the bag has a snap-down hood that neatly covers the drawstring closure of a roomy compartment that conceals a zippered mesh pocket large enough to store a phone, iPod and wallet—or a fat Minolta Autometer with room left over.
The bottom portion features side access and will hold a small DSLR or mirrorless camera and at least one more lens. The larger Photo Sport 300 AW II accommodates a large DSLR. On the opposite side of the hatch is a wide, deep pouch that smothers a good-sized water bottle or a 12-ounce bag of M&Ms (or so I'm told).
On the very bottom you'll find a pair of loops where you can attach a tripod, and right above that is the zippered pocket that hides the AW All Weather rain cover. If you ditch the rain cover the pocket can store other soft items. There is a large pouch in front that's marked with reflective stripes. It's big enough to stow a bike helmet or lightweight jacket.
The harness has been improved, particularly the padded waistbelt. It's wider and features zippered pockets for keys, lens caps and what have you. The padded back is ribbed with small trenches that improve airflow and overall comfort—especially when you're moving fast. Behind that pad is a segregated, top-loading compartment for a 2-liter hydration reservoir (Camelbak or Platypus fit but neither is included).
I'm using the Photo Sport 200 AW II which weighs just a bit more than 2.5-lbs dry. The larger capacity Photo Sport 300 AW II is bigger in every dimension but less than 3-inches taller. It weighs 3.3-pounds which is a living testimony to the strong, super-light-weight materials that make up theses bags.
The Photo Sport BP 200 AW II has an MSRP of $169.95 and 300 AW II a bit higher at $199.95. Both are now available for purchase at a number of retail locations as well as directly from Lowepro.
—Jon Sienkiewicz
FEATURED VIDEO