The Bag Man Looks at the Lowepro ProTactic Series of Photo Backpacks and Shoulder Bags
Last year Lowepro launched the ProTactic Series of photo gadget bags. They immediately earned high marks in my book because they are durable, highly functional and provide superb protection for the photo gear inside. Initially just two bags, the lineup has grown to six in total, three photo backpacks and three shoulder bags. Here's a quick rundown on what they're all about.
Available in black, black or black, the dominant physical feature that helps cement the family look is the network of attachment points for Lowepro's proprietary SlipLock strap system. You can personalize your ProTactic bag by attaching accessory pouches, bottle holders, tripod cups, etc., to the attachment points using SlipLock or standard military MOLLE clips. The largest bag (the 450 AW) comes with five accessories ready to hang, but I found many other accessories that are equally suitable and just as secure.
The ProTactic 450 AW will accommodate two pro-sized DSLRs with grips and up to eight lenses (or strobes) and a 15-inch MacBook. One of the DSLRs can have a 70-200 f2.8 attached. The slightly smaller ProTactic 350 AW fits a pair of professional DSLRs (one wearing a fat 24-70) and a half-dozen more lenses along with a 13-inch MacBook. MSRPs are $249 and $199 respectively.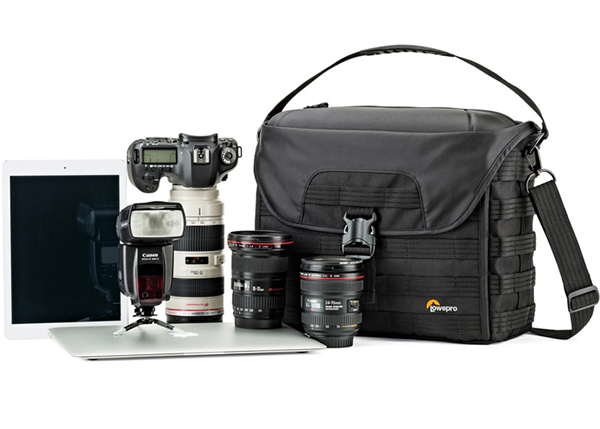 One size smaller, but equally versatile, the 250 AW camera backpack is built expressly for mirrorless cameras (like my Olympus OM-D EM-5) along with four additional lenses, and a phablet, iPad or 11-inch MacBook Air. List price is $189.
The shoulder bag realm, the mid-sized ProTactic SH 180 AW ($129 MSRP) is just the right size for many situations. Recently I've been shooting with three rather chubby lenses and this bag accommodates my Nikon D800 with one pudgy lens attached and still has room for the other two whales. The top is semi-hard but has a full-length zipper to facilitate fast access to the equipment within. For general size estimation, it accommodates a full-size DSLR with 24-70 or similar zoom attached plus two more lenses and a smart tablet.
The larger ProTactic SH 200 AW will comfortably carry a professional-size DSLR with 70-200mm zoom, two or three more lenses or flash units and a 13-inch laptop. This is a good, all around bag and it costs $169. If you need the extra space for the longer zoom, the SH 200 is the ticket; otherwise, go with the SH 180.
The ProTactic SH 120 AW is a mirrorless special, same as the 250 AW backpack. It holds a standard mirrorless SLR with one or two more lenses plus a small flash and tabletop tripod. It's priced at $99. It's good to see Lowepro building bags with the smaller form factor of mirrorless cameras in mind.
By the way, the AW in their names stands for All Weather, and all packs come complete with a hideaway rain cover.
Two more features that all have: great straps. I have always liked the straps that Lowepro supplies with their bags and backpacks. Too often the strap provided by other manufacturers is the worst part of their product, but with Lowepro that's not the case. These bag straps are strong, have two adjustment buckles, come equipped with stout, metal snaps and swivels, and include a comfortable, padded, slip-proof shoulder pad.
—Jon Sienkiewicz