The 5 Best Photo Printers in 2019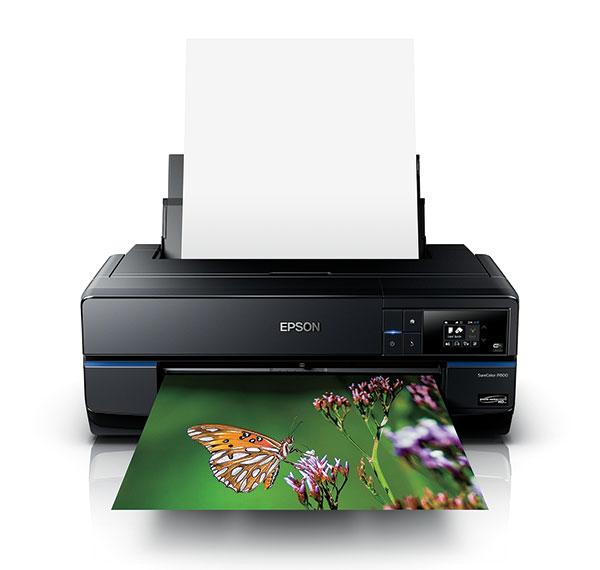 Printing photos may seem a little retro these days but there's really nothing like seeing—and holding—a hard copy of your images. There's a depth and texture in a photo print that almost brings the image to life, a visual and tactile sense that can't be replicated on a screen.
And the only way to get a real live photo print is to use an actual photo printer. In this buyer's guide, we've chosen our five favorite photo printers for $1099 or less. As you'll see they come in all shapes and sizes, with one that can fit in your pocket retailing for just over $100, and an all-in-one photo printer that goes for under $70.
It's easy to keep your photos hidden on your phone or a hard drive but that really does a disservice to your hard work and creative vision. When output on a photo printer, you can show off your work, whether it's in a small frame on your desk or a large print on the wall. Heck, at least magnet some of your favorite shots on the refrigerator door.
Photo albums (yes, they're still a thing) are great gifts for family and friends. And portable printers are pretty cool to use at parties and get-togethers where everyone can leave with a little print as a reminder of the good time you shared.
In other words, maybe it's time to make some prints. Our five favorite photo printers of 2019 will do that for you in a snap.
#1 Epson SureColor P800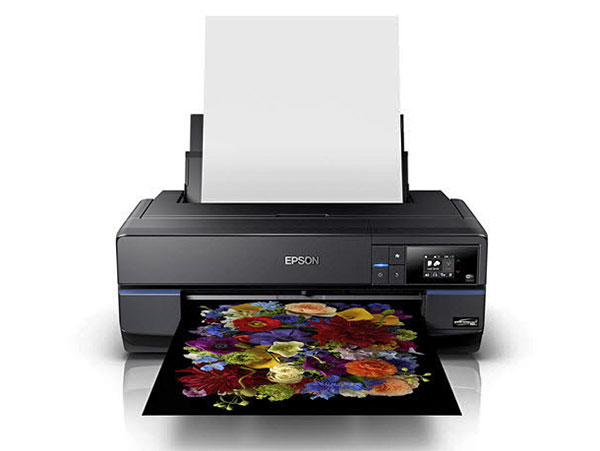 This wide format inkjet printer from Epson handles a wide variety of media up to 17-inches wide and a whopping 129-inches long (there's an optional roll feed). Perfect for gallery-sized prints to hang on the wall or to display in an exhibit or to output those panorama photos you have sitting idle on your SD card. The Epson P800 is also capable of printing snapshot-sized 3.5 x 5-inch prints.
This Epson printer's versatility doesn't stop at paper sizes. The Epson P800 can print on glossy or matte photo paper as well as fine art media and poster board. With three black inks (photo or matte black, light black and light, light black), this printer excels at both color and monochrome printing. And in addition to USB and Ethernet connectivity, the printer supports Apple AirPrint, Google Cloud Print as well as wireless. A 2.7-inch tilting color touch panel LCD adds to the Epson P800's ease of operation.
Who's it for?: Photographers who are serious about printing their work, particularly landscape and fine art photographers. The former will love the Epson P800's panoramic capabilities; the latter will appreciate the option to use a variety of media and the printer's monochrome option.
Why I like it: Print quality is excellent in both color and black and white and combined with its wide range of paper handling, the Epson P800 is perfect for printing pretty much any image I've shot—from color fashion runway photos to black and white infrared landscapes.
Read our full review of the Epson SureColor P800 here.
Price: $1,099
Buy it on Amazon here.
#2 Epson SureColor P400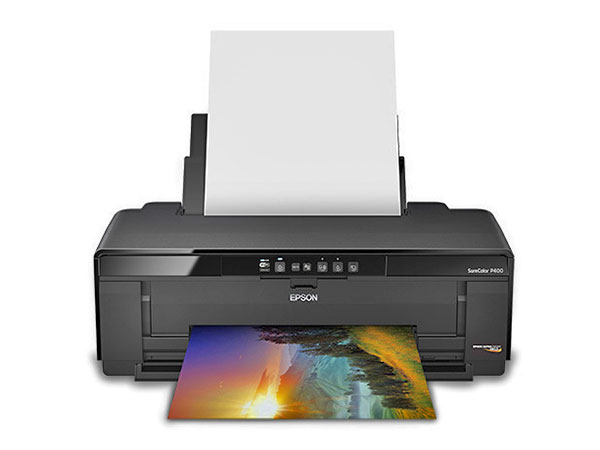 The youngest sibling in the Epson SureColor family, this 13-inch printer features an 8-color pigment ink set that includes red and orange inks for a little extra pizazz in color photos. A special Gloss Optimizer provides the finishing touch for professional looking prints with a smooth finish on the Epson P400.
Although it doesn't have as many black inks as the P800, the smaller Epson P400 does a really good job printing monochrome. Its dedicated channels for photo and matte black ink is more economical since the printer doesn't have to empty and refill the chamber when switching between black inks. In addition to monochrome printing, the P400 easily handles a variety of media in both cut sheet and roll (up to 13 x 129 inches). The roll paper holder is included, as are CD print tray and software so you can print directly onto CDs and DVDs—a nice bonus! Connect via wireless, USB or Ethernet.
Who's it for?: Photographers who want top-notch print quality without (totally) breaking the bank. The Epson P400 is a great alternative to the P800 at half the price.
Why I like it: The Epson P400 offers terrific value for the price given its image quality and included extras such as the roll feed and the ability to print directly on CD/DVD for slide shows to be gifted to family and friends (and clients).
Price: $539.99
Buy it on Amazon here.
#3 Canon PIXMA TS6320

This all-in-one printer from Canon combines photo and text printing with copier and scanning functionality. The Canon PIXMA TS6320 uses five individual ink cartridges and has several auto features including paper width detection, print head alignment and more, including an auto replenishment system. When activated, a replacement order is automatically placed when the printer senses it's running low on one or more inks. And there's built-in troubleshooting help via QR code support.
In addition to standard plain paper and photo paper sizes, the Canon TS6320 also features square printing and lots of creative options including greetings cards and stickers.
Connectivity options are pretty slick with everything from Apple AirPrint, wireless, Mopria Print service and voice printing via Google Assistant and Amazon Alexa. The Canon TS6320 is also equipped with a 1.44-in OLED screen for easy navigation. And it comes in three colors: black, white or navy.
Who's it for?: Families, small businesses and anyone who wants (or needs) to print photos, text and graphics without crowding a desk with multiple devices. And with its versatile and convenient connectivity options, the Canon PIXMA TS6320 appeals to the techie in all of us.
Why I like it: I love the flexibility and efficiency of the Canon PIXMA TS6320. While much of our life is digital, there are still times we need to scan and copy paper (or photos). No more running to the local copy shop!
Price: $69.99
Buy it on Amazon here.
#4 Canon SELPHY CP1300

At 5.4 x 7.2 x 2.5 inches, the Canon SELPHY CP1300 is compact enough to be portable (especially with the optional battery pack) and doesn't take up a lot of room on your desk. But beyond its small size, this little dye-sub printer offers basic on-board editing capabilities for on the fly retouching via a 3.2-inch LCD screen.
Although the Canon CP1300 prints at 4 x 6 inches, users can take advantage of combining multiple images on a single print. Photo booth-type strips (2 x 6 inches) and other layouts are available.
Wireless printing, mobile devices and USB are a few of the options for sending photos for printing. The Canon SELPHY CP1300 printer is equipped with an SD card slot and is PictBridge compatible for direct printing. Oh, yeah – image quality is excellent.
Who's it for?: The Canon SELPHY CP1300 is a great printer for anyone who wants to make high quality snapshot-sized prints without the hassle. Take this cute photo printer device to a party or small event for on-the-spot prints and lots of fun.
Why I like it: No muss, no fuss operation and excellent print quality with vibrant colors make this my go-to printer when I want some quick snapshot-sized prints.
Price: $99
Buy it on Amazon here.
#5 Polaroid Zip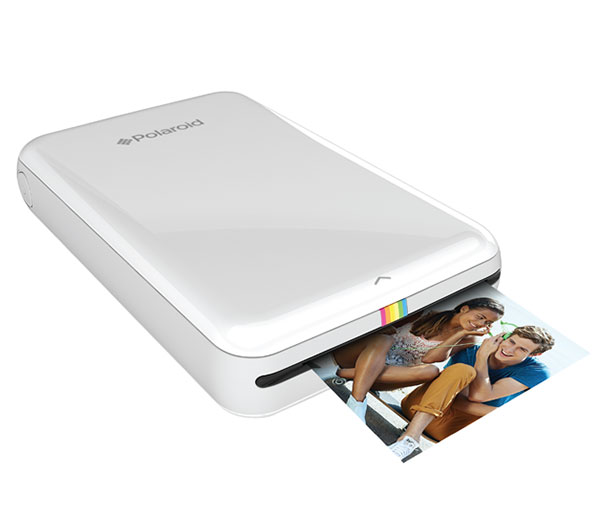 The pint-sized Polaroid Zip Instant Photoprinter utilizes ZINK (zero ink) technology to produce its tiny, 2 x 3-inch prints. The ink is embedded in the ZINK paper and released via heat passing over the paper so there's no need to buy ink. Technology aside, this Lilliputian printer measures 4.72 x 2.91 x 0.75 inches and feats neatly into all but the smallest pockets.
Just charge the Polaroid Zip printer via USB for about 1.5 hours for approximately 25-30 prints. A free app controls the printer, which has minimal external controls. Basic editing, frames, stickers and other virtual decorations are available in the app's menu to be applied to photos you select from a mobile device or social media account like Facebook. Get others to join in the fun when they download the app and access the Polaroid Zip.
Who's it for?: Anyone who wants to print on the go (or without the hassle of a larger, more complicated printer). Think party time and other social events for lots and lots of fun. And for anyone who has ever wished they could leave a photo with someone they photographed on vacation, the Polaroid Zip makes that easy. Many photographers thank their subjects in foreign countries with prints and the Polaroid Zip lets you avoid the hassle of sending a print after the fact.
Why I like it: The Polaroid Zip is quick and easy to print from anywhere—even sitting on the living room couch. Although I'm generally not a big fan of "cute," these tiny prints are a good kind of cute and fun to give to family and friends.