3 Legged Thing 'Ellie' Universal L-Bracket & 'DOCZ2' Monopod Base Review
British tripod maker 3 Legged Thing gives their products clever names, but I just call them awesome. In addition to some of the best tripods money can buy, they offer camera brackets, monopods and related accessories. Here's my review of the morphable Ellie L-bracket and the DOCZ2, a combination monopod stabilizer plus heavy-duty tabletop tripod.
Most photographers would give anything to avoid the shakes. Even if your cameras and/or lenses have built-in image stabilization, there are times when you need rigid support to hold still. Long time exposures. Extreme close-ups. Video pursuits. And fireworks sometimes, too.
Our friends at 3 Legged Thing help you keep your camera pointed precisely in the direction of your choice for as long as you would like. When you break it down, that's what tripods and camera supports do: lock your aim in a very specific direction and keep it there.
3 Legged Thing 'Ellie' Universal L-Bracket
The Ellie is a universal L-bracket that's adjustable to match a wide range of cameras. That's her defining characteristic. Like other brackets she facilitates attaching your camera to any tripod that has Arca Swiss compatible grooves, and makes it easy to switch from landscape to portrait orientation without fuss—and without significantly changing the relationship between the focal plane and the horizon.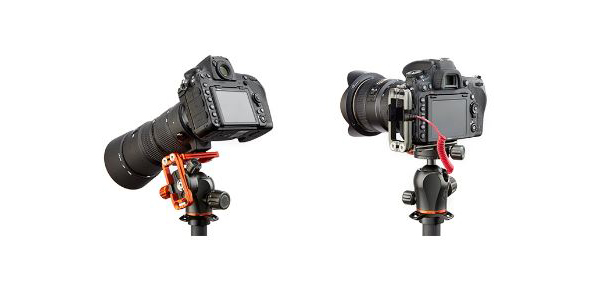 Made primarily of aluminum alloy and stainless steel, and available in muted slate gray or subtle copper/orange, Ellie from 3 Legged Thing provides a variety of attachment options, including two screw mount slots, and is skeletonized in the appropriate areas to allow you to connect cables or access the camera battery. The base length is adjustable via two rigid stainless steel sliding bars which lock tight and secure.
Using Ellie
In the field, Ellie is a breeze to use, but I recommend you adjust and attach her to your camera before leaving home. If you plan to always use Ellie on the same camera, that's likely the only adjustment you'll make. 3 Legged Thing includes a handy hex wrench to complete the operation.
Switching from portrait to landscape or vice versa is simple and easy. And while that's Ellie's main purpose in life, I find myself using her to provide extra grip on my Fujifilm X-T1. Naturally, I don't use a tripod all the time (or even as often as I should) but I have been using Ellie for every shot. She adds virtually zero weight (around 90 grams, I think, which is a hair more than three ounces).
Ellie's price is $69 and she can be purchased from Amazon or other USA retailers.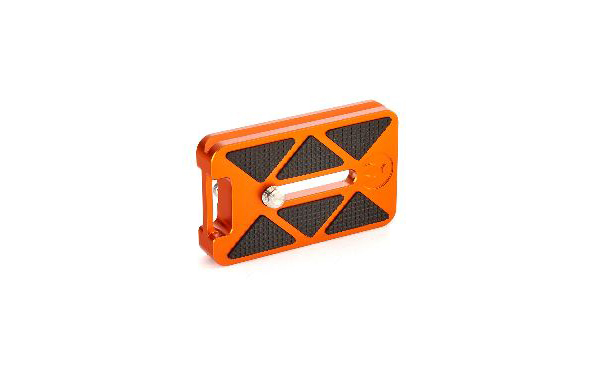 QR7-EQ Quick Release
If you don't need to switch from horizontal to vertical but want the ease of coupling your camera to a tripod head via Arca Swiss rails, look at 3 Legged Thing's QE-7-EQ bracket. Priced at $29 it's essentially half of an L-bracket. It measures 1.50 x 2.4 inches (38 x 62mm) and includes a stainless steel mounting screw. It does not however, have a clever name.
3 Legged Thing 'DOCZ2'
Sounds like a rapper, right? It's not. Two personae; as a tabletop tripod this is the Arnold Schwarzenegger model if there ever could be such a thing, and as a monopod stabilizer it's a world class anchor.
With a monopod attached, the legs fold upwards for easy carry and better weight balance. The limbs click solidly in place and provide a large, squat footprint. There's a ballhead that's controlled by a rubber adjuster which frankly I found to be obstinately uncooperative. That did not, however, detract from DOCZ2's functionality as a monopod base.
DOCZ2 Deployed
I had never thought about using a monopod stabilizer before. I mean, if you've got the time you use a tripod, and if you don't you opt for a monopod, no? Or so my clouded thinking presumed. Actually, using a reliable monopod with a suitable stabilizer is in many ways the best of both worlds. The combo provides speed, flexibility and most important of all, great stability.
DOCZ2 is easy and intuitive to use. And the ability to use it has a workhorse mini-tripod is a real plus. It's earned a place in my equipment bin and I think I'll use it often.
DOCZ2 is now available for $59. You can buy a robust 3 Legged Thing 'Alan' Professional 100% carbon fiber monopod with a DOCZ2 unit for $199. The duo extends taller than 58 inches and supports up to 130 pounds.
—Jon Sienkiewicz

FEATURED VIDEO