The Wish List: Create Your Own View-Master Reels With Image3D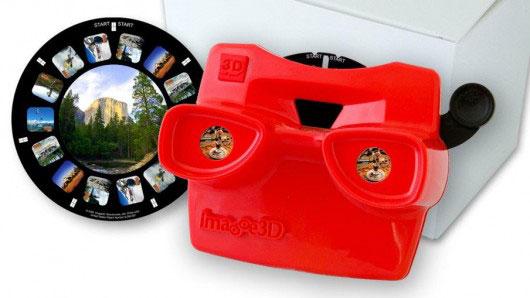 First introduced in 1939, the View-Master soon became a popular toy and a pop culture icon. Image3D is a fan's dream come true, a company that lets you transform your own images into the familiar View-Master reel format.
The subject of many fond memories for generations of kids, the plastic stereo viewer (most of us are familiar with the red one) works with a round reel that features duplicate sets of photographs that—when viewed at the same time—produce a very effective yet simple 3D effect. Reels are available in sets of three and the subject matter ranges from global travel destinations to theme parks, TV shows, cartoons, movies, wildlife, museums and more.
Many fans have transformed these childhood memories into an extensive hobby by collecting various reel sets (from the early days to the more current offerings) and viewers (and there are many different types, styles and colors of viewers from talking ones to versions that have a built-in light).
I have to admit that I am also a View-Master fan and an avid collector so I was very happy to come across the Image3D website. Image3D allows fans of all ages to quickly and easily use their own images to make a View-Master reel. This is a great gift idea for View-Master fans, a unqiue way to celebrate a special occasion (weddings, birthdays, anniversaries, class reunions) or a memorable means to present your images to potential clients.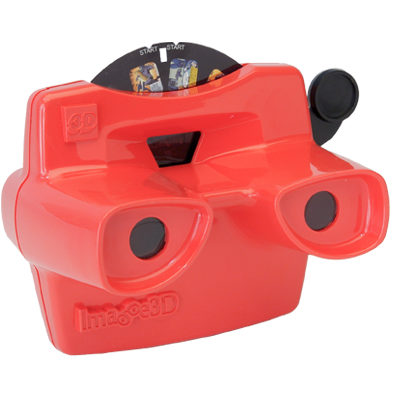 The process is simple, just use their Reel Builder to name the project, upload your images, edit or delete the images, add a background and colorful text (you can also adjust the font style and size), drag and drop your images into the reel template (seven shots are used in the reel) to preview and approve the project.
Prices vary depending upon how many reels you purchase and if you add a viewer. A single reel is $23.95, 2 to 10 reels for $19 each or 11 to 25 reels for $14 each. You may also purchase a set that contains a viewer and one reel for $29.95, 2 to 10 sets for $25 per set, 11 to 25 sets for $20 per set or 26 to 50 sets for $15 per set.
More info on Image3D here.