When You Care Enough To Print The Very Best; Fine Art Ink Jet Papers From Moab Paper
Photos © 2004, Joe Farace, All Rights Reserved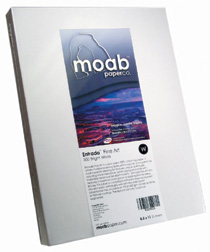 It's no secret that the simplest way to get high quality output from an ink jet printer is to use the best paper. What's the best? That depends on your printer and the kind of inks it uses.

It shouldn't surprise you that the same image file printed on the same paper but with two different printers deliver slightly, and sometimes more than slightly, different results. To get the results that you want, experiment with different kinds of ink jet papers and learn their "personalities," including base color, contrast, and ink absorption characteristics. Use this uniqueness when you feel it`s appropriate or even inappropriate for a specific image. For fine art photographers, I suggest starting with the archival media available from Moab Paper Company (www.moabpaper.com.)
Testing, Testing
For best possible results, Moab Paper recommends you create your own custom paper profile, but since not everyone is equipped or experienced enough to do that, they provide ICC Profiles on their website under "Free Profiles." Andre Behla (www.behladesign.com) created some profiles for Epson's Stylus Photo 7600 and 2200 printers with others produced by Moab for different Epson Stylus Photo and Canon ink jet printers. If your printer isn't supported or you find using profiles to be convoluted, what settings do you use? Ultimately this becomes a matter of personal preference and taste, so I make test prints using the kind of "Kentucky windage" seat-of-the-pants adjustments I might make in a traditional darkroom, only this time it's done through the printer's driver settings.
| | |
| --- | --- |
| | |
| Entrada Fine Art 300 Natural Bright works well rendering the fine detail and the rocks and puddles in this Japanese garden. It was printed on a Canon i950 using their standard inks and the printer driver set at "Matte Photo Paper"; no profiles, no tricks, right from the file. | The Bright White version of Entrada Fine Art 300 paper works well with the subtle tones of this flower photograph printed on an Epson Stylus Photo 1280 using their standard inks and the printer driver set on "Matte Heavyweight paper." |
Up Close And Personal With A Few Moab Papers
Kayenta Photo Matte paper is designed for everyday jobs and is available at affordable prices. A 50-sheet package of letter-sized paper costs just $22. Sheets are available up to 17x22 and rolls as large as 44"x100'. This dual-sided, acid-free, lignin-free paper has a brightness of 94 and a weight of 230gsm (grams per square meter). See sidebars for the scoop on lignin and what these specifications mean. Its exquisitely smooth matte surface is ideal for printing portfolio prints and portraits that nevertheless maintains sharpness and contrast for images with a lot of detail. It's also inexpensive enough to use for proofing and scrapbooking.

FEATURED VIDEO