Vanguard Veo 235AB Tripod Review
I'm as bad as the next guy when it comes to tripods. I know I should know better—they're the only accessory you can buy that has the potential to improve every single picture you take. I've written about tripods at least a hundred times. That said, there have been too many occasions when I've been two-legged when I should have used three.
All that changed when Vanguard sent me a Veo 235AB tripod last May. When it's not under my camera it's in the back of my truck, snug in the supplied ballistic nylon case.
By actual measurement the tripod is a hair shorter than 15-inches when folded up. Including the case we're looking at a package that's 16-inches long a 6-inches on the fattest side. Despite the petite traveling stature, the Veo 235AB becomes a real bulldog when extended to its full height of 57+ inches. Made of aluminum alloy, it's rated to handle loads up to 13.2-lbs so it will accommodate most cameras.
It ships with a fully adjustable, Arca-Swiss compatible TBH-50 ball head and a platform head that's equipped with a standard attachment screw. The ball head features comfortable adjustment knobs and a spirit level.
The legs are five section, and I found the section release levers to be very smooth moving and secure. Legs can be angled in three set positions or folded completely up like a windblown umbrella for very convenient storage. If you shoot close to the ground and/or from low angles, you will appreciate the extreme versatility of the legs. The feet are rubber for good gripping even on slick floors and they conceal twist-out spikes for outdoor use.
Vanguard offers a line of Veo backpacks that are good matches for the tripods. We'll write about those another day, but let it be said that they are high quality and highly functional. The Veo 42 that I have been using on and off converts into a day bag and offers more than adequate protection for the gear inside. It also has an outstanding tripod carrying system, as one might expect, and a rain cover. It's priced at $89.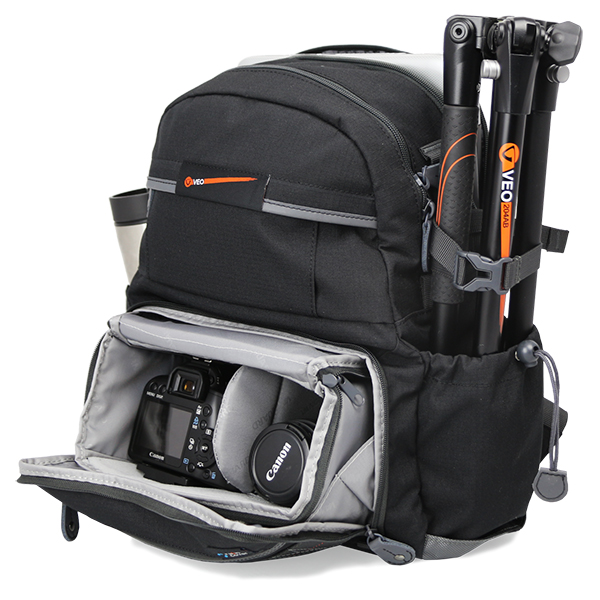 Last November I wrote about the Vanguard Reno 22, a compact shoulder bag that may well be the best small bag you can buy. You can check that review here.
The company behind these products, Vanguard World, is relatively young. They began in 1986 and have earned both ISO 9001 and ISO 14001 certifications. A woman-owned and operated company, Vanguard World is headquartered in Guangdong, China, and has subsidiaries in the United States, Luxembourg, the United Kingdom, Spain, Germany, and Japan.
Download a complete Vanguard catalog here. The Vanguard Veo 235AB tripod sells for $149 and can be purchased at most camera stores, or order online from B&H, Adorama or other merchants.
—Jon Sienkiewicz