Gitzo Légende Tripod and Photo Backpack Review
Introducing the Gitzo Légende tripod and camera backpack, two milestone products from the camera accessory manufacturer known for a century of greatness. Backed by an unlimited lifetime warranty, user-replaceable parts and build quality in a class by itself, Gitzo Légende is certain to be the centerpiece in your arsenal of photo gear for many years to come.
Overview & First Impressions
Gitzo wants to be the last tripod you ever buy—in a good way. So they set out to conceive and design a tripod that, in their words, "…was forever repairable, could withstand any adventure, and would never be thrown away." And so they have.
They packaged the live-forever tripod with a worthy photo backpack and offered the combination on indiegogo.com. About 30 minutes later they were fully funded. As of this writing they are poised at 2875% of their funding goal. But there is still time for you to join in the early-action savings.
Although Gitzo is far better known for their unparalleled tripods, they are not strangers to the camera bag arena. We reviewed the Gitzo Century compact camera messenger bag a while back; you can read about it here. Instead of producing dozens of models that appeal to mass market consumers, Gitzo tends to manufacture products that afford their customers pride of ownership, superior performance and lifelong value.
Design & Construction
The Gitzo Légende tripod is made up of 170 individual parts that can be repaired or individually replaced in the unlikely event of breakage. In theory, it will never be necessary to replace the entire tripod because of damage. One-hundred-percent of the tripod parts are replaceable, and seventy percent of those can be done by the user. What's more, Gitzo has your back: parts required for simple repairs will be provided at no extra charge.
The carbon fiber tripod legs are a four-section design with extremely secure locking nuts. The ballhead is the two-knob style that is very easy to control and adjust, and provides full 360° panorama rotation. Once set, the ballhead is rigidly immobile and reliable. The empty weight is 3.2 pounds (1.5kg) and the load capacity is 17.6 pounds (8kg), a very health level. For reference, a Nikon D5 and attached Nikon AF-S NIKKOR 70-200mm f/2.8E FL ED VR zoom lens weigh less than 6.5 pounds.
Maximum height of the Gitzo Légende tripod is 65 inches, and the minimum working height is 17 inches. The legs splay at 25° and 70° angles, so you can adapt to most any terrain or condition.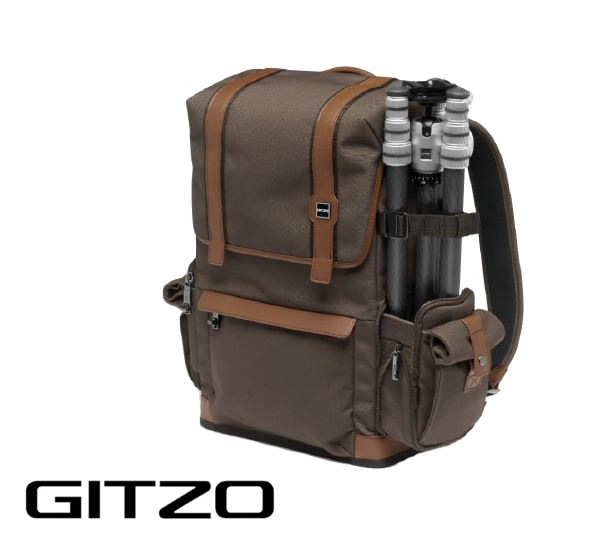 The Gitzo Légende photo backpack is rich dark brown with light brown faux leather trim. The main exterior fabric is made 100% of recycled polyester; furthermore, 65% percent of the entire bag weight is comprised of recycled fabrics. There's a lot to feel good about here. The interior lining is 50% recycled polyester fiber manufactured from clear PET plastic water bottles. The faux leather is a non-toxic synthetic.
The backpack design provides top and side access, and the cover flap is fastened both magnetically and mechanically. Side pockets and a zippered front pouch provide additional storage space for small items. And therein lies the rub. The side access hatch is small—about 6 inches if you stretch a bit. And there is a pocket that completely covers the flap, which means that it can be very clumsy to open the side access flap if that pocket is full.
Tripod Specifications
Backpack Specifications
The dimensions of the camera compartment are: 11 x 4.1 x 9.1 inches (28 x 10.5 x 23 cm). The recommended maximum dimensions of compatible laptop are 10.6 x 0.8 x 15.2 inches (27 x 2 x 38.5 cm). For reference, the dimensions of the current Apple MacBook Pro 16-inch model are 9.68 x 0.64 x 14.09 inches (24.59 x 1.63 x 35.79 cm).
Field Performance
The Gitzo Légende Tripod is simply magnificent. It's modeled after the popular Gitzo Traveler Series 1, 4-section tripod. The manufacturing precision is amazing. The locking lugs are very secure and display absolutely zero shimmy or rotational distortion. The carbon fiber is a pleasant diamond pattern and beautifully smooth.
It's easier to carry than most. Overall weight, including the ballhead, is only 3.19 pounds. Compare that to the Manfrotto BeFree, for example, at 3.5 pounds, or the Benro Rhino (which we really like) at 4.5 pounds. How much a tripod weighs matters only if you have to carry it all day.
The Gitzo Légende photo backpack is beautiful and extremely well made, but it's too small for practical use with any but the smallest and most sparse camera system. The design suffers even in small ways. For example, the bottom panel is thin polyester fabric instead of being reinforced or rubberized. That means you're taking a chance setting it down on wet grass or even rough, dry concrete. But the biggest problem is the narrow side access hatch. If you own a DSLR, you're bound to be frustrated.
Conclusion
The Gitzo Légende tripod and photo backpack combination presents a chance to own a classic tripod that you can use for the rest of your life, and very likely, can pass down for generations. Highly recommended. The photo backpack is too small and poorly designed to be recommendable.
Price & Availability
Available today through indiegogo.com, the Légende tripod and backpack will be ready to ship in June 2021. Retail availability beyond that date is still undecided. Kit pricing starts at $699 for super early birds who will get a Légende Tripod, Backpack and Gitzo Mini Traveler. The comparable Gitzo Traveler Series 1, 4-section tripod alone is currently $851 on Amazon.
Five percent of campaign sales go toward Gitzo's Wild Shots Outreach educational program which endeavors to educate the children bordering the Kruger National Park in northeastern South Africa about conservation and photography.
—Jon Sienkiewicz
(As an Amazon Associate, Shutterbug earns from qualifying purchases linked in this story.)
FEATURED VIDEO