Tamron 35-150mm f/2.8-4 Di VC OSD Lens Review
Tamron has a long history of producing versatile, do-everything lenses and the Tamron 35-150mm F/2.8-4 Di VC OSD (Model A043) continues with that heritage. I received the Canon EF-mount version of the lens for testing, but a Nikon F-mount version is also available at the same price ($799.95). While designed for Canon's full-frame EF-mount cameras, the Tamron 35-150mm lens can also be used with their APS-C models where it produces a field-of-view equivalent to 56-240mm.
Tamron has always used abbreviations to describe their lens' various features such as VC for vibration compensation. The lens' Dual MPU system uses two microprocessors: One is dedicated to vibration compensation and the other for lens control, including autofocus.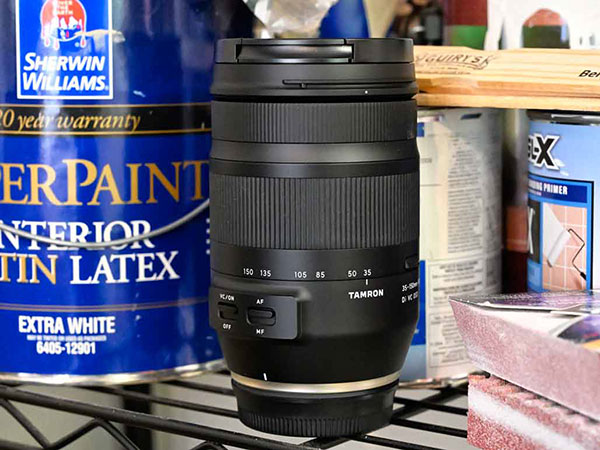 Tamron says their VC is good for five stops of image stabilization and that's something I tested and was happily surprised by the results. OSD is a new abbreviation for me and stands for Optimized Silent Drive (see image below) that's designed to produce near-silent, focusing, mostly for shooting video I assume but the lens is really quiet when shooting stills as well.
Read what I think of the Tamron 35-150mm F/2.8-4 Di VC OSD in this review.
What's New?
The Tamron 35-150mm lens' optical design consists of 19 elements in 14 groups. Tamron reduces chromatic and spherical aberrations by using low dispersion (LD) glass along with aspherical elements to improve clarity and sharpness.
Those aspherical elements are supposed to correct spherical and comatic aberrations, including distortion, and to produce consistent edge-to-edge sharpness and illumination throughout the zoom range, as well as a reducing sagittal comatic flare. Geek alert: Sagittal comatic flare is a type of lens aberration that produces comet tail-like blur in night scenes but it was not noticeable in my testing, as you will see.
Included in the Tamron 35-150mm lens' box are the expected lens caps as well as a plastic lens hood, so be sure to use it when shooting to avoid the other kind of flare.
On the Tamron 35-150mm lens barrel there's a wide zoom ring that has a firm touch, with a precise and just this-side-of-stiff feel as well as a narrower manual focus ring with commendably accurate action and wonderfully short focus range from near to infinity. Video shooters will find that useful for making focus pull, aka rack focus shots. Both rings feature a finely knurled, grippy rubber surface providing excellent feedback.
You'll find three switches on the Tamron 35-150mm lens barrel. Two were expected, the other not so much. In addition to an autofocus on/off switch, there's one for vibration compensation with the surprise addition of a lock switch.
Typically lock switches are used for zoom lenses whose construction is so loose that when you point the lens down the focal length changes; a lock prevents this. The Tamron 35-150mm f/2.8-4 Di VC OSD lens is well crafted with precise tolerances so I don't foresee this happening.
The Tamron 35-150mm lens has a 77mm filter diameter and shooters who venture into the wilds or work in environmentally challenging environments might want to invest in a protection filter like the B+W 77mm UV Haze. At $43.95 it's cheaper than repairing/replacing the 35-150mm's big front element. There's no lens case, not that I expected one.
In the Field
These days there seems to be a compelling imperative for camera and lens manufacturers to make the biggest, heaviest and sometimes most expensive lenses possible, although that latter aspect does not necessarily apply to Tamron's 35-150mm f/2.8-4.
The lens measures 8.0 x 6.4 x 6.3 inches and for its focal length range and fast aperture might be considered compact by some measures. The Canon version weighs 1.76 pounds and, interestingly, weighs almost as much as the original Canon EOS 5D (1.78 pounds) I mounted it on. Canon's EOS 5D Marks II through IV DSLRs are increasingly heavier with each new generation.
Nikon shooters will be pleased to learn that the F-mount version of the Tamron 35-150mm lens is slightly shorter and somewhat lighter at 1.74 pounds. I'll leave it for others to debate what "big" means but it seems that way to me.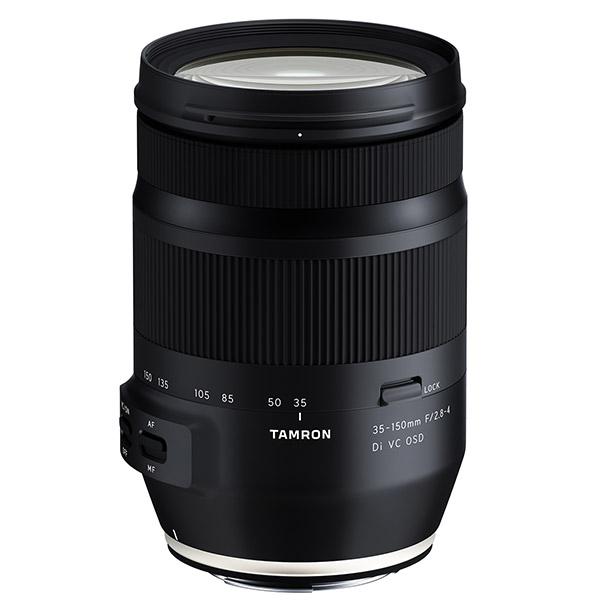 Besides having a practical focal length range, the Tamron 35-150mm lens' biggest attribute may be its f/2.8-4 maximum aperture range but how fast is it really? Like most variable aperture lenses that I've tested recently, and this seems especially true for relatively fast lenses like this one, that f/2.8 aperture is short lived as you move away from the 35mm focal length. By the time you get to 50mm the lens's maximum aperture becomes f/3.2 and that gradually stops down as you head toward a maximum of f/4 at 150mm.
To get started, I headed out to my favorite wall of well laid bricks to see how well the lens performed at the extreme ends of its focal length range. At 35mm wide open the lens is sharp corner-to-corner with slight but visible barrel distortion that does not go away until well past an f/8 sweet spot.
At f/2.8 there is vignetting in all of the corners, albeit more in the top of the frame than the bottom but this is gone by the time you get to f/5.6. At 150mm, even wide open at f/4, no barrel distortion is visible.
Vignetting, again mostly at the top, is present at f/4 but eliminated by f/5.6. Lens sharpness throughout the focal length and aperture ranges is impressive with an ability to render delicate details that should satisfy the most discriminating pixel peeper.
Because I know my readers are picky about lens characteristics such as distortion, I took my Tamron 35-150mm lens testing beyond the brick wall and gave it the "pier test" that fits more real world shooting situations. After a short walk from Daisy Hill to Bingham Lake, I photographed the lake's new pier where a previous camera/lens I tested showed all too well the effects of barrel distortion.
When shooting with Tamron's 35-150mm f/2.8-4 lens and using a typical daytime exposure setting, the lens appears not to show any distortion. It was only later when I used Photoshop's Ruler tool, drawing guidelines over the pier's front most planks could I see any, tiny at that, barrel distortion at 35mm. I shot the same scene at 50mm but there was no distortion present, even when using Photoshop's guidelines to check.
While the Tamron is hardly a true macro lens, it offers a 17.7-inch minimum focusing distance throughout the zoom range for working with close-up subjects. While focusing in general was commendably fast and did its job so well I didn't even notice how good it was, AF was less swift at the minimum focus distance when shooting at 150mm.
To get the highest magnification for a close-up flower image I shot, the lens was once again able to render delicate details commendably crisp, while also producing what I think was pleasant looking bokeh.
At this point, I decided to switch off camera bodies and use my Canon EOS 60D, an APS-C sensor DSLR, for some of the images. I wanted to see how big a difference there was between the number of APS-C DSLR shooters out there vs. their full frame siblings, but while there's lots of statistics and opinions about this online, there's little real information.
It stands to reason though that less expensive cameras would be more numerous than more expensive ones, so if you shoot an APS-C DSLR you you'll be pleased to know that Tamron's 35-150mm f/2.8-4 did not disappoint. I really liked the way lens balanced on the smaller, lighter camera and think my BG-E9 battery grip acted as a nice counter-balance making this lens/camera package pleasant to shoot.
Mary and I were having lunch in our back yard when a young mule deer decided to join us. Instead of the delicious sandwiches we had, they decided to munch on recently bloomed yucca plant flowers.
I went into our home and picked up my Canon 5D with Tamron's 35-150mm f/2.8-4 lens, setting it in Program mode as I walked back into the yard. By then all the flowers had been gobbled up so I made a few shots and to get the deer to look at me I said "hey" and made this photo.
Less than a minute later, it scampered off. The crispness of the lens is evident in the delicate way the yucca plant itself is rendered.
When I had switched to shooting the Canon 60D, I came home to find a large mule deer buck lounging in repose in my front yard. This is the kind of pose deer adopt after dining on the smorgasbord of the plants and bushes in my front yard, allowing their multiple stomachs to digest their food.
Consequently, he was in no hurry to move, allowing me to get quite close. The slightly cropped image you see below was shot at 150mm or with a 240mm angle-of-view. OK, the 35-150mm f/2.8-4 may not be the best for typical wildlife photography but what are you gonna do when the wildlife comes to you? Just ask it to smile and take its photo.
To take advantage of both the lens's fast aperture and image stabilization, I set out at night to photograph downtown Parker, including the gazebo that long-time Shutterbug reader Todd Abbotts calls "gazebo glamour."
With Daylight Savings Time, light in the sky hangs on onto well after 9:45 pm when I made these shots, but I was able to make sharp handheld exposures at one-quarter of a second. I also made a few shots of Main Street itself with cars driving up and down, again at one-quarter of a second, with notable sharpness produced by the lens's image stabilization.
As far as fast lens performance, that was also good even when the wide-open aperture varied from f/3.2 to f/3.5 and the lens never let me down as a low light optic.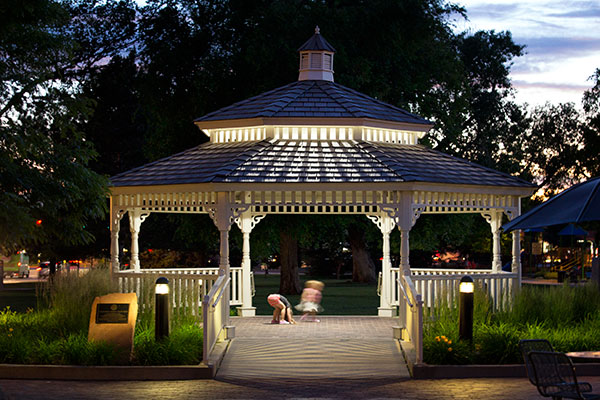 Time was running out on before I would be having surgery on my right hand and had to return the lens to Tamron, so I decided to take it to the usually awesome First Saturday car show in Colorado Springs. It was sunny when Mary and I left Daisy Hill but by the time we got to the show it was pouring rain.
So, the following week we took it to a local Cars & Coffee event and met some nice young people from the Mitsubishi 3000/Dodge Stealth club and while the weather was pleasant, the light was contrasty. But as Chief Dan George once said, I "endeavored to persevere" and made some photos that you see here, anyway.
As far as handling, the Tamron 35-150mm f/2.8-4 lens seemed quite at home in this environment, even with the EOS 60D's 1.6X magnification factor, and I successfully shot images at all different focal length choices. More details in the captions.
The Tamron 35-150mm f/2.8-4 lens is probably not useful for street photography because its in-your-face presence calls too much attention to itself and its size will more than likely distract your subjects. Or as would happen here in Colorado, get you a punch in the face.
And for much the same reason, the lens doesn't seem ideal for vlogging, so there's none with this review. On the other hand, the Tamron lens's 35-150mm focal length range is eminently useful for portraiture especially outdoors, where 135mm is my favorite portrait choice, and where its wide aperture and lovely bokeh are an asset.
I placed an ad on a modeling website but was unsuccessful in finding models willing to pose for free while I had the lens. If you or a friend would like to help me by posing for future reviews, please email me though the Contact page on my website.
Conclusion
Like a lot of the innovative products currently coming from independent lens makers, Tamron's 35-150mm f/2.8-4 Di VC OSD lens is impressive, from its professional-level construction to the high-quality images it produces. The lens is fast, its focal length range is versatile and it's relatively affordable for an f/2.8 (at least some of the time) lens. The Tamron 35-150mm lens' performance in low light and it's outstanding VC image stabilization make it an available light shooter's dream. The lens' overall versatility and all-around image making capability show that Tamron has indeed produced yet another great do-everything lens for Canon and Nikon shooters.
Back in the film days, a friend introduced Joe to shooting with Canon SLRs and along the way he wrote the Magic Lantern Guide to the Canon Elan 7 and 7E. At the same time, he continued shooting Contax film SLRs and cameras until Contax bowed out and Canon launched the D30 at which point he embraced Canon DSLRs, at least until the Micro Four-thirds system caught his attention. If you would like to see the actual equipment that's inside Joe's gear closet including a number of EOS cameras and EF and EF-S lenses, please visit www.joefarace.com or www.joefaraceshootscars.com.