Tamrac 5102 Camera Shoulder Bag Review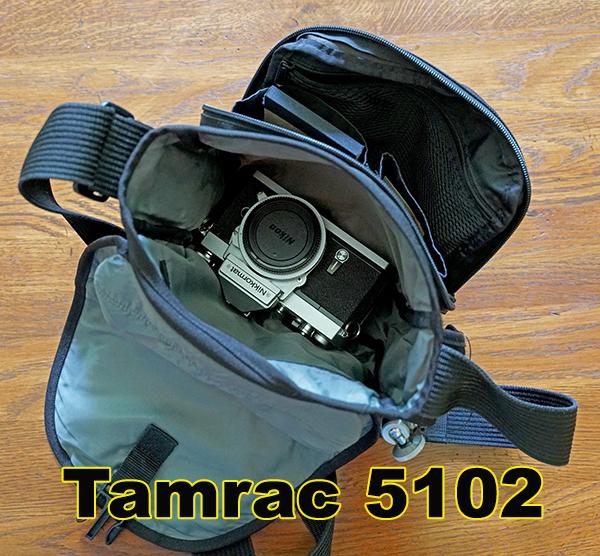 One of my overall, long-time favorite camera bags has been out of production for many years. It can still be found on eBay, usually for around $30 in excellent condition. With so many outstanding modern bags available today, why waste this ink on a camera bag that was discontinued more than 15 years ago?
The Tamrac 5102 Compact Traveler camera shoulder bag is the closest thing I've ever found to the perfect combination camera-slash-every day bag. It's medium-sized, approximately 11 inches tall by 10 inches wide, and can expand to a thickness of about five inches when packed full.
The adjustable strap is wide and nicely ribbed, and permanently attached on one end. The 5102 is compatible with Tamrac's SAS (Strap Accessory System) and has two loops suitable for hanging a water bottle holder, cellphone case, or similar small pouch.
Exterior material is heavy ballistic nylon (about 1000 to 1200 denier, I guess) and scuff resistant. Inside is lined with light-weight, non-scratch nylon. The main cover flap is held closed by a single military-style plastic fastener and there's a total of about a dozen pockets depending on how you count them.
Protective padding is nil, which is one reason why it collapses quite flat when empty. But accessibility, comfort and durability are maximum, a fair tradeoff for less protection in this example. And as we've said at least a million times, all camera bag designs are compromises.
For more shopping advice and our handy 10-point camera bag evaluation system, read our article from last summer, How to Buy a Camera Bag.
So why do I write about a bag that you can't buy today? I'm hoping that some enterprising camera bag designer somewhere will read this rundown and be inspired thereby.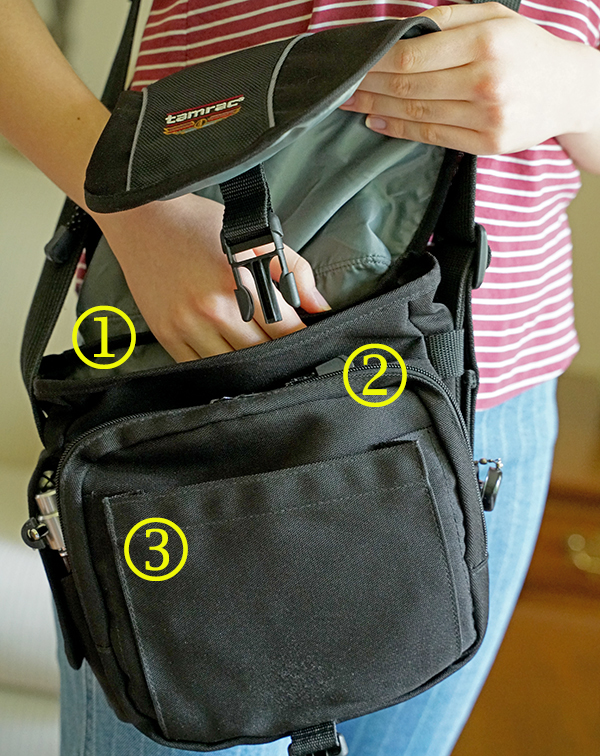 Discontinued because…
Can't say for sure, but my educated guess is that manufacturing cost was way too high. It's clear that construction required several steps. It's very well made but quite labor intensive, and it was made in the USA, so labor costs were already high compared to labor costs in parts of Asia.
If you can find a Tamrac 5102 Compact Traveler in decent condition at a flea market or online auction, I recommend you buy it if the asking price is acceptable. If you like the design but not the idea of buying a used bag, take a look at the Domke F10. It's similar and is available on Amazon for $89. The Mountainsmith Focus II is similar as well, but it was discontinued a few years back and is very hard to find.
—Jon Sienkiewicz
(As an Amazon Associate, Shutterbug earns from qualifying purchases linked in this story.)
FEATURED VIDEO