Sporting Chance; Want To Shoot Pro Sports? There's A Workshop For That
Years ago, before I became a free-lancer, I worked at a publishing company that every summer held a couple of employee baseball games, and for each game I was asked the same question: "You gonna play or shoot?"

Tough decision. I loved to play baseball. Though my passion exceeded my skills, I was a reliable singles hitter and played an adequate first base. Left handed, I had the advantage on the 3-6-3 double play, and, in general, I could be counted on not to embarrass myself.

But as much as I loved to play the game, it was my fantasy to be a sports photographer, and shooting the company's games was the closest I was ever going to get. (I once tried to photograph Little League, but several of my son's teammates' fathers were lawyers, and they wouldn't let me near the field, fearing that if I got hit by a foul ball or a tossed bat I'd sue somebody.)
Smarty Jones with jockey Stewart Elliot takes the lead in the final turn at the Preakness, May 15, 2004. Smarty Jones went on to win the race.
© 2007, Jeffrey Snyder, All Rights Reserved
So what was it going to be, play or shoot? Did I want to be Keith Hernandez or John Iacono?

Today I'd have a whole different kind of opportunity. Forget company games and Little League; I can shoot the real thing.
So can you.

Meet Jeff Snyder, a man of several photography-related occupations. Jeff is the professional sales contact at Penn Camera, headquartered in Beltsville, Maryland. He's also a pro shooter who's covered Major League Baseball and Super Bowl contests, and who now specializes in horse racing. And he's a partner in, and co-director of, Washington Photo Workshops. It's in that role that he can put you among the professional photographers at baseball, hockey, and basketball games, as well as at thoroughbred races.

If you've got the wish, fulfillment is a few mouse clicks and several thousands of dollars away. I might as well get that out of the way right up front: it's going to cost you about $4000 to live out your fantasy.
Street Sense with jockey Calvin Borel wins the 133rd Kentucky Derby, May 5, 2007.
© 2007, Jeffrey Snyder, All Rights Reserved
Still with me?
About two years ago the idea of a sports shooter fantasy workshop came to Jeff and Mitchell Layton, who for 25 years has photographed sports in the DC-Baltimore area. "Mitchell and I have known each other for more than 15 years," Jeff says, "and he knew a guy who wanted to do this, wanted to photograph pro sports. So we thought, why not a fantasy-type workshop? Mitchell had contacts with the pro teams in the area--the Washington Wizards in the NBA, the Washington Capitals in the NHL, the Nationals in Major League Baseball, plus Georgetown University basketball. I had contacts at area racetracks, and could handle the logistics." The pro teams were quick to see the public relations advantages, and before long the workshop was up and running.

What makes it work for the teams, the workshop attendees, and the partners is the fact that it's manageable and personal. "We have two workshop students per game," Jeff says. "Two is ideal because the student participants haven't been in this position before, and there's a lot to watch out for. And some of the games get pretty crowded with professional photographers." Of course, two students per game makes for lots of personal attention, especially since there are two instructors--Jeff is usually one of them--per game.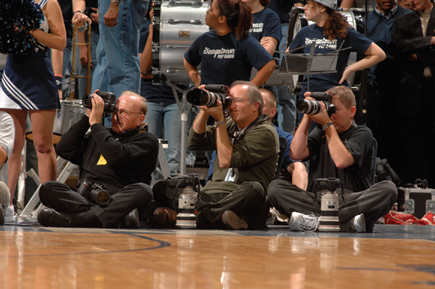 Workshop students George Kush (l) and Keith Allison (r), along with instructor Gary Cameron, shoot a Georgetown University NCAA basketball game at the Verizon Center in Washington, DC.
© 2007, Jeffrey Snyder, All Rights Reserved
What you get for your four grand are eight separate sessions: an intro to digital and digital workflow/know-your-camera class; a Washington Wizards game; a Washington Nationals game; a Washington Capitals game; a Georgetown University NCAA event; a day of thoroughbred racing at Laurel Park in Laurel, Maryland; a lighting class; and a final edit/critique dinner.

"We run concurrent sessions," Jeff says. "There's a lot of basketball, hockey, and baseball during those sports' seasons and a lot of racing. Most often our workshop students are from the area, so they're available for the games. And we're flexible. The majority of people signing up are professionals in what they do; they often travel for their business, and there are times they'll call and say they can't make it. We tell them, `No problem, call when you're back and we'll work it out.'"

There's no screening of applicants. If you want to do it and can afford it, you're in. But if you're going to come to the workshop, come heavy. "Our students are serious, advanced amateurs," Jeff says, "but we've had some show up with pretty amateur gear." Not point-and-shoot amateur, but not the level needed to capture the kinds of photos the students want to take home. The Rebel XT and the D40X are fine cameras, but they're not what you'll need. And a 35-70mm lens isn't going to do it either. Neither is a 75-300mm f/4-5.6; for indoor work at this workshop, you're going to need f/2.8 fast glass.
Jockeys reading for the next race at Laurel Park, Laurel, Maryland.
© 2007, Bob Youngentob, All Rights Reserved
"The people who sign up for this are generally of means," Jeff says, "and if they don't have the right gear, they go out and buy it." Or they get lucky: "One student was an attorney who came to a horse-racing event with a Rebel," Jeff says, "and it happened that a Canon Professional Services rep was with us and he loaned her an EOS Mark II and, I think, a 300mm f/2.8. The next day she went out and bought that camera and lens." There are limited loaners available through the workshop, and, because of Jeff's Penn Camera connection, there's also the possibility of discount rentals. In any case, the truth is at this level of sports photography, equipment matters a lot. There's a reason the pros use high-performance cameras and lenses. And even with top-gun gear, it's a tough job.

"The first thing we tell the students in the introductory session is that they're going to make better photos if they understand the sport," Jeff says. "There's a guy on first base, the batter steps in--and you should be watching second base because that's where the play is going to be."

FEATURED VIDEO