Special Report: photokina
New Photo Printers
Photo printers remain popular accessories and virtually all new models are PictBridge compliant, capable of printing directly from any PictBridge-compatible digital camera, via a USB cable connection. Some printers retain slots for printing directly from memory cards, great for those who do not yet own a PictBridge-compatible digicam. We're also starting to see a few machines that allow for wireless direct printing. A couple are covered in this report but this feature is becoming available in the smaller 4x6" printers, such as the new Kodak EasyShare Printer Dock Plus. Frankly, the technology is still in its infancy. It will probably be refined in 2005 and should become readily available in an increasing number of printers, including the HP Deskjet 6840 (with Network and WiFi connection) that was shown only as a product under development; for more information, visit www.hp.com.


Otherwise, the big news at photokina came from Canon, who introduced four new photo printers in the PIXMA series that was announced about a month earlier. The first models were multifunction printers, but these specifically target photo enthusiasts. They include important new technology as well as substantially more sophisticated software.

Although Lexmark did not exhibit at the photokina show, I decided to feature their brand-new printers as well. They were announced at a press conference in Lexington, Kentucky, that I attended just before my trip to Germany. In the past, Lexmark has not been a major contender in the photo printer market but this brand should become more competitive with the substantially improved models.

Canon's Entirely New Printers
Although Canon's tabloid size (13x19") i9900 Photo Printer has not been upgraded with the new technology as of this writing, four letter-size PIXMA models have been introduced. The iP4000R, iP5000, iP6000D, and iP8500 should deliver superior photo prints of greater consistency, at greater speed, with the FINE (Full-photolitho graphy Inkjet Nozzle Engineering) print heads that deliver sub-micron level precision in high-speed printing over wide areas in a single pass.

All four are PictBridge compliant, employ individual ink tanks, include a secondary paper tray for loading media of different size/type, and can make borderless prints in most sizes up to 8.5x11". More importantly, they're faster than the printers they replace and offer an entirely new feature. Auto Duplexing, or double-sided printing capability, is now available and this will be a benefit especially for those who use photo albums that display both sides of a print. As you might expect, Canon has introduced exactly such albums, as well as new photo papers designed for double-sided printing.

The PIXMA photo printers are packaged with new Easy-PhotoPrint software (for Windows and Mac) for greater versatility in print sizes and layouts plus some cool enhancing features. New tools include "Photo Noise Reduction" to decrease digital noise, "Face Sharpening" for out-of-focus face correction, "Face Brightener," "Redeye Correction," and "Blemish Remover" to moderate wrinkles and skin imperfections.

The iP8500 is the most impressive PIXMA model, with 4800x2400dpi resolution. Its 6144 micro nozzles can eject a full 147 million incredibly small 2 picoliter (pl) droplets per second using eight ChromaPLUS inks including a red and green ink. The combination should provide ultrahigh clarity, contrast, and smoothness of tone as well as a wider color range and improved red and green saturation. I watched this machine make a gorgeous 4x6" print in 25 seconds and a borderless 8.5x11" photo in about a minute, and was impressed with its high speed and print quality. (Street price, $349.)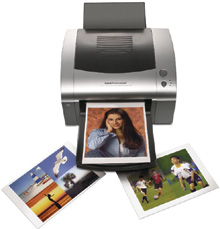 Offering even higher 9600x2400dpi resolution, the iP5000 is the first printer to feature microscopic 1 pl ink droplets. An 1856-nozzle print head ejects droplets that are virtually invisible to the naked eye, for exceptional, virtually grain-free photographs with great detail and tonal gradation. This machine utilizes Canon's ContrastPLUS (five color) ink system, including a dye-based photo-grade black ink tank for great photo contrast plus a pigment-based black ink tank for superior document printing. The iP5000 is not quite as fast as the iP8500 but it makes fine 4x6" photo prints in about 40 seconds. (Street price, $199.)

Intended for households connected to a wireless network, the iP4000R combines high speed and great photo quality with wireless capabilities, making it the first IEEE 802.11g WiFi model in the Canon line. (A PIXMA iP4000 model, without wireless capability, is also available, at a street price of $149.) This 4800x1200dpi model also uses the five-color ContrastPLUS ink system, with 2 pl and 5 pl ink droplets, and offers the same print speed as the iP5000. (Street price, $229.)

Those who want to print directly from digital camera memory cards will prefer the PIXMA iP6000D, a six-color 4800x1200dpi photo printer that ejects 2 pl and 5 pl droplets. This one includes slots for most types of cards plus a large, 2.5" color LCD monitor for image preview. A new image search function allows for quickly finding images based on the date they were made while another new function allows for easy adjustment of color balance. The iP6000D can also print JPEG images from a cell phone with infrared capabilities. (Street price, $179.)

To learn more about the PIXMA series of printers, visit Canon's website at: www.usa.canon.com.
FEATURED VIDEO