CES Photo Tech Notes: Get Connected, Go Retro & Stay Tough
In an attempt to connect everything electronic, this year's CES/PMA show in Las Vegas was awash in "smart" TVs, tablets, and various and sundry devices that can link to your device—be it phone, tablet, or camera—and allow you to access "image content" anywhere, anytime. There was also a rash of rough cameras, a 3D lens for still and video, new ways to customize your camera, and a major boost in USB storage and memory card speed. Following are some photo tech highlights.
D-SLRs
Rumors of the death of the mid-range D-SLR category (caused by the onrush of mirrorless compacts) are somewhat exaggerated, at least when you consider Nikon's latest entry, the D5200, previously available in Europe but reaching our shores soon. The camera has what might be dubbed an "enhanced grip," a vari-angle monitor, and a 24MP APS-C sensor. It offers Full HD video and a wide range of "Effects," including monochrome, miniature, color sketch, "night vision," in camera HDR, various tone and color controls, etc. You can apply them prior to exposure of film or video or, for the faint at heart, after, in camera. Normal ISO range is 100 to 6400, plus the brave at heart can opt for ISO 25,600.
For focusing accuracy you get contrast detection in both Live View and video shooting, plus you can record up to 5 frames per second (fps) at full resolution. Though the camera does not have wireless built in, you can use the optional Nikon WU-1a Wireless Mobile Adapter and free app for both Android and Apple iOS sharing, plus you can remotely control the camera from about 66 feet away with Nikon's radio frequency remote accessory, the WR-R10 and WR-T10 Wireless Remote Controllers. Available in three colors (black, red, and bronze), the suggested retail price is $899.95 with the AF-S DX Nikkor 18-55mm f/3.5-5.6 VR kit lens.
Mirrorless And Compacts
Sticking with Nikon for the moment, the Nikon 1 J3 is their latest mirrorless compact model. The camera sports a 14.2MP CX-format CMOS sensor and has what Nikon dubs their Advanced Hybrid AF System, on-chip contrast and phase detection, the former for precision and the latter for speed.
The Advanced Movie Mode is of interest. It allows simultaneous shooting of Full HD video and high-resolution stills, plus allows for full manual exposure controls (P, S, A, M) and slow-motion movies at both 400 fps and 1200 fps. Enhanced Motion Snapshot Mode gives the option of capturing a passing moment with a short, slow-motion movie sequence in addition to a single still image.
The Nikon 1 J3 is designed to work with Nikon's optional WU-1b Wireless Mobile Adapter (see above). Along with the J3 came two new lenses for Nikon 1 cameras, the 6.7-13mm f/3.5-5.6 (18-35mm equivalent) and the 10-100mm f/4-5.6 (27-270mm equivalent), both with VR built in. The Nikon 1 J3 camera with the kit 10-30mm lens has a suggested retail price of $599.95.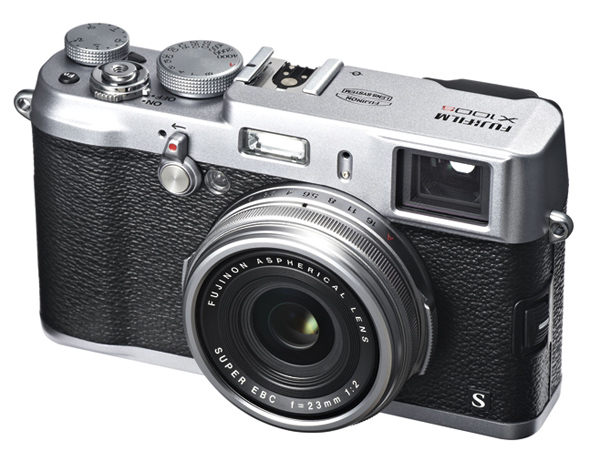 Another compact camera of note is the new Fujifilm X100S. Sporting a retro design with Fujifilm's hybrid optical/electronic finder, the camera has phase detection AF embedded on its CMOS sensor, allowing you to choose contrast or phase detection depending on the shooting conditions and subject matter. According to the maker, their X-Trans CMOS II Sensor, EXR Processor II, and FUJINON 23mm F2 fixed lens delivers the world's fastest autofocus speeds of up to 0.08 seconds, plus can deliver up to 6 fps shooting at a full 45MB resolution (it's a 16MP sensor).
You can also avail yourself of focus peaking and a sort of digital split image finder. The unit does not have a low-pass filter in the path, letting the processor do the heavy lifting and, again according to Fujifilm, delivers image resolution and low noise levels that rival full-frame D-SLRs. The unit's LCD sports 2.3 million RGB dots. With a 23mm f/2 fixed lens it runs about $1299, and replaces the X100 in their lineup. The retro design retains the X100 look and feel; Fujifilm dubs it "timeless" and one that continues to appeal to their clientele.
Mirrorless & 3D, Too
Samsung's NX300 sports a brand-new 20.3MP APS-CMOS sensor with an ISO range of 100 to 25,600 and a Hybrid Auto Focus (AF) system. The DRIMe IV imaging engine is said to provide better color reproduction and greater noise reduction, as well as support Full 1080p HD video capture in both 2D and 3D (when combined with Samsung's new 45mm 2D/3D lens—more on that following). It has a 3.31" AMOLED tilt touchscreen with five-way manual key interface.
The Camera's Smart Mode allows you to choose from 14 different settings, such as Creative Shot, Landscape, Light Trace, or Action Freeze. The NX300 also includes i-Depth, a sort of depth of field preview, using the NX Series' i-Function setup on the lens barrel. The NX300 sports Wi-Fi connectivity with the aid of the downloadable Samsung SMART CAMERA App; it lets you get images from the camera right into your smartphone or tablet. The SMART CAMERA App also features a Remote Viewfinder function.
Perhaps the most intriguing feature of the camera is its ability to utilize the Samsung 45mm 2D/3D lens, said to be the world's first one-lens 3D system for a consumer camera. "Filters" within the lens barrel itself switch back and forth during exposure and serve as a kind of shutter during recording to create the left/right parallax effect in both still and video recording. We saw still and video images made with the camera in a live demo and the effect was quite good.
Brassy Number
Can you imagine a camera that's "built to brass"? That's what happens with the Pentax MX-1. Encased in brass covers with a texturized grip, the MX-1's brass areas develop what the makers call "a stunning patina impressing a history on the camera with each use." The one we saw had brassing already, and we're not sure it was used extensively, or just rubbed down for dramatic effect.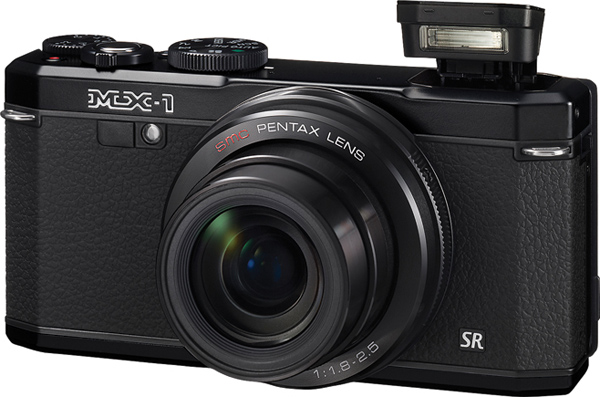 The MX-1 sports an f/1.8-2.5 lens and has a 1/1.7", 12MP sensor. Its 4x zoom offers a 28-112mm (35mm format) lens, a dual shake-reduction system, and a macro mode to capture close-ups from as close as 1cm away. The ISO range goes up to 12,800.
There's a 3" articulating LCD display with approximately 921,000 dots and it can capture Full HD in H.264 recording format with creative movie capture modes, including a High-speed Movie mode for slow-motion playback and a Time-lapse Movie mode. (In these modes, the recorded size is fixed at VGA dimensions—640x480 pixels.) The MX-1 has a suggested retail price of $499.95.
Tough Tech
In the old days a "tough" camera was one that had seals and a hard case, and, depending on model, could go to depths consistent with the price. But divers were not the only ones making good use of these resilient cameras; witness the presence of the old Nikonos series carried by skiers, kayakers, and climbers alike.
These new tough cameras serve as travel aids as well, plus have features that the users of the old turtles could never have imagined. The Olympus TOUGH TG-2 iHS is a case in point. Aside from its hard exterior (water resistant to 50 feet, shockproof to 2 meters, freeze proof to 14˚F, crushproof up to 220 lbs, and of course dustproof), this 12MP unit can also be switched to "super macro" for focusing up to 1cm (0.39"). It can deliver 5 fps bursts or 60 fps continuous, albeit knocking the resolution down to 3MP. It sports built-in HDR, an LED "illuminator," a degree of tone compensation, plus has GPS and e-compass functions. In black or red it lists for about $379.
Panasonic's Lumix DMC-TS5 ($429) is waterproof to a depth of 43 feet, shockproof from a height of 6.6 feet, freeze proof to a temperature of 14˚F, and pressure resistant to 220 lbs. You can use it to shoot Full HD 1920x1080 movies in AVCHD Progressive format; audio capture is via Dolby Digital. The lens is a Leica DC-Vario Elmar (28mm wide with a 4.6x zoom) and there's a 3" LCD. Other features of note include a 16.1MP sensor, new Venus processing engine, time-lapse recording, and 10 fps burst shooting. As for connectivity, the TS5 has "one-touch easy" connection to Wi-Fi (IEEE 802.11 b/g/n) with NFC (Near Field Communication), allowing for remote picture capture using the Lumix remote app. You can download the Panasonic Image App to a mobile device and use it as your viewfinder to take photographs and tag the location using the built-in GPS functionality.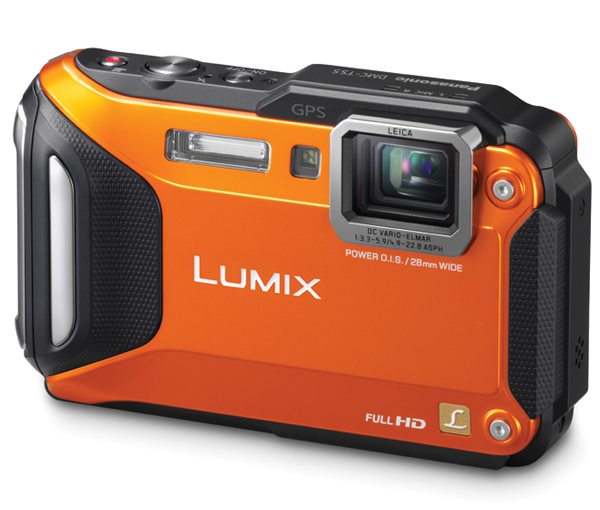 The Sony Cyber-shot TF1 ($199) is waterproof (up to 33 feet), dustproof, shockproof, and freeze proof. It features a 16.1MP Super HAD CCD sensor with 4x optical zoom (25-100mm), large buttons and camera grip and auto screen brightness, HD movie (720p) shooting capabilities with Optical SteadyShot, and perhaps the most intriguing feature, a 360 Sweep Panorama mode.
Android-Powered "Smart" Cam
The 18MP Polaroid iM1836 (MSRP $399) features the Android 4.1 "Jelly Bean" operating system and comes with a 10-30mm optical zoom lens, but also takes Micro Four Thirds system lenses with an adapter. It has a 3.5" touchscreen LCD display and an Android interface/menu, plus can capture 1080p HD video.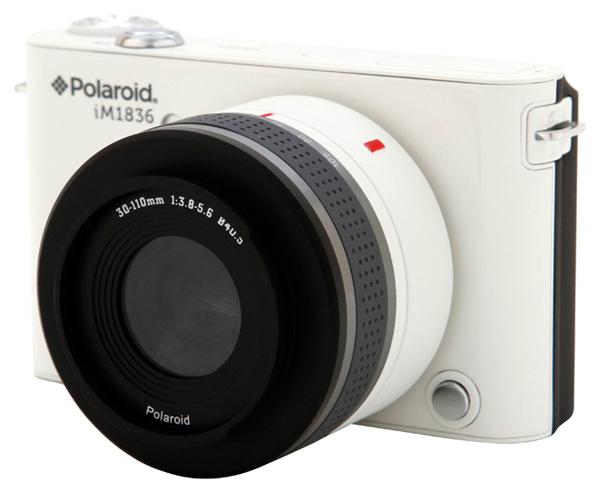 With built-in Wi-Fi and Polaroid photo sharing apps on board, the Polaroid iM1836 camera lets you upload and share via Facebook, Twitter, YouTube, and all the usual suspects. When Wi-Fi isn't available, built-in Bluetooth connectivity hooks up the camera with any Bluetooth-enabled device.
Variations On A Scene
The Canon PowerShot N (MSRP $299) measures 3.09x2.37x1.15" with a 2.8" capacitive tilt touch panel LCD with 90 degrees of tilt. The camera's 28mm wide-angle 8x optical zoom lens and shutter are both operated via the camera's dual-ring lens. The outer ring controls the shutter, which can be released from any point on the ring, and the inner ring controls the zoom.
One selling point of the camera is the built-in Creative Shot feature that adds "artistic" effects to your photos. In Creative Shot mode, you compose the shot and then let the PowerShot N analyze it to apply a series of artistic elements by varying cropping, composition, lighting, and color. Creative Shot then renders five different variations of the shot in different color modes, crops, and styles, all on its own, although it still saves the original exposure as well. There's no user control on these variables, and our first impression was that it was kind of a crapshoot. But that mode is just one feature; the camera also offers 58 "Smart Auto" scene modes and all in all is kind of fun to have and to hold.
Cards & Storage
Get ready for small but massive capacity storage media, faster and more robust memory cards, and read/write speeds that will handle anything a high-end digital video recording device can throw at it. In the small but massive storage arena Kingston Digital's DataTraveler HyperX Predator 3.0 USB Flash drive is now available in a 1TB capacity. The company says that the drive DT HyperX Predator offers speeds of up to 240MB/s read and 160MB/s write. The casing is made of zinc alloy metal for shock resistance. It is also backwards compatible with USB 2.0 for "efficient data transfer rates."
Lexar's Professional 1100x XQD card is available in 32GB and 64GB capacities. Perhaps the most enticing aspect of their announcement was the statement that the cards meet specs for "next-generation D-SLR camera models backed by Nikon and Sony," which means we should all stay tuned for more pro models in the coming year. The card delivers a minimum guaranteed read transfer speed of 1100x (168MB/s) for 1080p Full HD and 3D video and up to 100 frames in Raw format in continuous shooting mode. The Lexar Professional 1100x XQD card will have MSRPs of $299.99 (32GB) and $579.99 (64GB). There's also an accompanying XQD USB 3.0 Reader with an MSRP of $44.99.
Fashion Statements
How would you like to design your own camera color scheme? That's what Pentax is offering with their Q10, which they dub the world's smallest, lightest mirrorless interchangeable lens system. There are 100 different color combinations from which to choose. Pentax says they will custom build each of the cameras to order according to the color specifications chosen. Once an order is placed, the specifications are sent to the Pentax manufacturing facility where each camera will be hand built. You can mix and match body and grip colors by visiting the Q10 Studio at www.pentaximaging.com where you can define the perfect color combination to complement individual style, school, team, or just whatever combo matches the outfit of the day.
On-Board 4k Video
With 4K being the buzzword of the show, Ambarella introduced the development of their A9 camera System on Chip (SoC) with support for the new 4K Ultra HD video standard. The A9 may be seen in coming mirrorless, sports, and digital still cameras. In addition to 4K Ultra HD video resolution at 30 fps, the A9 supports high frame-rate video for capturing fast-action sports with 1080p video at 120 fps or 720p video at 240 fps.
The A9's video features include video time-lapse modes, capture of high-resolution still images during video recording, Electronic Image Stabilization (EIS), and burst capture of up to sixty 12MP still images per second. Ultra-wide angle and small form factor lenses are supported with full lens distortion correction. The A9's support for High Dynamic Range (HDR) video and still processing is said to yield excellent results even in challenging lighting conditions.
Displays
TV, TV, everywhere a TV—that's what CES was. The buzzphrase drilled into your head was 4K, a code for higher resolution displays in both TVs and tablets. Many exhibits held perhaps unintended irony in that they showed these higher res screens sitting side by side with the current models, which showed just how poorly your present TV actually performs. There were even a smattering of prototype "8K" displays, which gives a hint about how the industry will try to up-sell you next time around.
Resolution can be quantified, but the quality visual experience it produces is measured more by how you perceive and are pleased by the image. As any printmaker will tell you, perceptual quality depends on the size of the image and the viewing distance from which one views it. Sharpness and resolution, though closely allied, are two different matters.
Look at an oversharpened image too closely and it throws any gains from higher resolution out the door. In fact, higher resolution can exaggerate the oversharpening. If you walk up to a high-res display and look at it with your nose to the surface it sure doesn't look as sharp as it might from, say, 5 feet away. Same with a print, same with a TV, but in TV land that distance is generally based on how far the couch sits from the set.
In any case, the main display items of photographic interest were in tablets and how you can use them to create a mobile viewing and even processing device. Just about every display maker had a tablet that will connect to your camera—wired or wirelessly—for download and viewing, and some of them were quite impressive. These were often tucked away in the prototype corners of the booths.
This raises the prospect of eliminating desktop- and even laptop-centric imaging processing systems. Fujifilm showed a very impressive 4K tablet-size device. At the Panasonic booth there was a camera wired to a large tablet/monitor into which the shots were loaded directly into a Photoshop CS6 workspace, where images could be manipulated with a direct-on-screen stylus, à la the Wacom Cintiq. There were some bugs to be worked out, such as the inability to expand the PS panels to make them workable, but the idea is intriguing nonetheless.
POV Vidcams
The iON Air Pro 2 is designed for skiers, bikers, boarders, skaters, and other rugged and hearty types to capture video images with a compact wearable video camera. Known as a POV (or Point Of View) class camera, the 14MP iON Air Pro 2 captures up to 60 fps HID video. It sports a new 180-degree lens plus its standard battery provides up to 2.5 hours recording time, and there's a microphone-in jack enabling the use of accessory microphones. Of course it's "connectable" with the accessory Wi-Fi PODZ. The iON Air Pro 2 has an MSRP of $249.99 and comes with a mini tripod, helmet mount, travel power adapter, USB cable, and pouch. The Wi-Fi version lists for $299.99 and includes the above plus the Wi-Fi PODZ.
The Samsung Connection
Samsung has created what they call SMART CAMERA 2.0. New functionalities and upgrades allow users to shoot and share instantly using any camera in the company's SMART CAMERA group. AutoShare allows images to simultaneously be sent and saved straight to a smartphone, via a Wi-Fi connection, as soon as the photo is taken on a camera. Connectivity has also been built into the external design with a stand-alone Direct Link hot key that begins Wi-Fi functionality at the touch of a button.
The Samsung SMART CAMERA App can be downloaded on your smartphone to connect with the preinstalled SMART CAMERA capabilities via a Wi-Fi connection. This then allows you to manipulate, share, and back up images shot using any of the connected Samsung cameras. Among new cameras featuring this functionality is their WB800F, a long-zoom camera with a 21x optical zoom and a 16.3MP CMOS sensor.
To contact any of the manufacturers listed in this article simply type the boldfaced names into a Search engine and you will be brought to their site. If you have any difficulty contact us at editorial@shutterbug.com and we will do our best to connect you.—Editor
All photos courtesy of the respective manufacturers.
FEATURED VIDEO