Sony Alpha 7 II Mirrorless Camera Review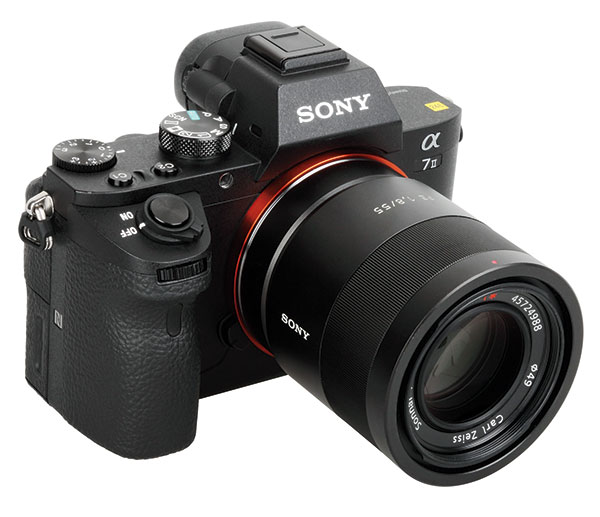 Editor's Note: Lab test and comments are by Betternet, Shutterbug's TIPA-affiliated testing lab. TIPA (www.tipa.com) is a worldwide association of photo and imaging magazine editors. Shutterbug is the sole US member of the association, and Editor at Large George Schaub serves as a member of the Technical Committee. You can find more Shutterbug photo gear reviews here.]
The new Sony A7 II is a mirrorless system camera with a 24MP full-frame sensor. It is the follow-up to the A7, Sony's successful and first full-frame CSC (Compact System Camera), which debuted in 2013. The new A7 II has a somewhat different body design: the grip on the right-hand side became a little larger and now fits better into the photographer's hand. The body overall became 100 grams heavier. The larger grip and the heavier body allow the photographer to hold the camera in a very stable and steady fashion. Handling is even better with the optional Sony handgrip: VGC2EM.
More important for really steady shots is the new built-in image stabilizer. The camera is the first full-frame sensor system with a 5-axis image stabilizer. In our tests, it allowed us to shoot shake-free images with shutter speed settings of about 1/4 second with the 55mm mounted.
The 5-axis system compensates vertical and horizontal movements as well as roll, yaw, and pitch movements. It also did a good job when recording video clips.
Camera Build & Layout
The Sony A7 II offers a high-resolution electronic viewfinder with 2.36 million RGB dots. The quality of this large viewfinder is excellent. The viewfinder has a sensor on the eyepiece that automatically switches between the viewfinder and the LCD on the back. The 3-inch LCD screen has a resolution of 1.3 million RGB dots. It can only be flipped up- and downward because it is mounted by a hinged bracket on the back instead of by a swivel joint.
Even though the body of the A7 II is a little bit bigger than its predecessor it's still a very slim camera. It offers two setup dials on the top, but no status LCD screen. The first dial on the top is for choosing standard exposure modes (P, S, A, M), two user-defined camera settings, scene modes, full AUTO mode, the panorama and the movie mode. The second dial controls the EV compensation (+/- 3 EV) and is very handy when shooting in automatic exposure modes.
For menu navigation, the camera offers a control field, which also can be used as a setup wheel for image parameter or menu navigation. Along with two other setup dials (one on the back, one near the shutter release button) it is very easy to change all image parameters quickly and efficiently. The camera offers four function buttons on the top and back of the body. The user can define their own settings for all of these function buttons in the camera menu.
The location of the video recording button is a bit unwieldy being that it's placed nearly on the right-hand side of the camera. Potentially, this could result in a little shaking and movement of the camera when starting video recording. Most other cameras have the additional video recording button on the back or the top near the photo shutter release button.
Performance
The Sony A7 II showed a very good performance in our AF tests. The hybrid AF system, with 117 phase-detection sensors, worked very well and very quickly. However, in dimly lit conditions it wasn't as fast and occasionally displayed "searching" behavior.
The camera showed a good performance in our speed tests. Startup time is very fast and shutter delay time isn't worth mentioning. The Sony A7 II offers shooting rates up to five frames per second, which were achieved during our tests.
Comments On Image Quality
Color: The Sony A7 II did an excellent job in the color tests. The result chart shows only a minor shift of gray colors into the direction of green and yellowish nuances. The saturation is only a bit too high, but only red nuances show a boost toward the orange area of the color space. Skin tones (both darker and paler) are reproduced nearly perfectly.
Sharpness: The camera showed a very good result in our resolution tests. The test chart was reproduced with 3,347 of 4,000 lines per picture height, which is a good result, but no show-stopper. Nevertheless, the images have a very crisp and clean look. There is little or no oversharpening in processing JPEG files. The test chart shows that over- and undershot effects are very low. As a result, Sony A7 II images have a very natural look. The very fine Zeiss Sonnar T* FE 55mm F1.8 ZA lens was used for the test.
Noise: The camera showed an excellent result in noise and dynamic range tests. The luminance noise factor stays way below 1.0 percent even at ISO 3200 and ISO 6400. It first crosses the 1.0 percent line in its highest speed of ISO 25,600. Color noise is visible in images taken with ISO 1600 to ISO 3200, but is still quite inconspicuous. The anti-color noise filtering reduces image details only at ISO 25,600.
The dynamic range results are very high. The camera achieved a maximum of 11.7 f/stops and keeps a high level of a little less than 11 f/stops up to ISO 1600 mode. At the highest ISO speed settings the dynamic range result drops significantly to about 8 f/stops.
Comments On Video Functions
The new Sony camera offers a comprehensive set of video options. Video in Full HD resolution delivers up to 60 frames per second, even in progressive mode. This is helpful when recording sport scenes or other fast-moving objects. The camera also offers PAL-compatible modes with 50 and 25 frames per second. In addition, it can be set to shoot with 24 frames per second, which is used for Blu-ray discs and cinematic movies.
The camera offers standard camcorder recording in AVCHD modes, saving MTS files with up to 28 megabits per second, or in Sony XAVC-S mode, with higher data rates up to 50 megabits per second, recorded in MP4 file format. When recording in XAVC-S mode the photographer has to use very fast media: the camera is compatible with appropriate SDXC cards.
Besides saving video on its own SD card system, A7 II movies can be recorded by an external HDMI recording device, such as the Atomos Shogun. It offers a "clean" HDMI signal to record these sequences without overlay information.
The camera allows manual exposure control for video recording. All scene modes and even some image effect settings can be used. Setting ISO speed manually is also possible, but restricted to ISO 200 to ISO 25,600. The camera also offers manual sound control. It offers both a microphone jack and an earphone interface.
Comments On Video Quality
The Sony A7 II showed very good results in our video color tests. Just as in photo mode, the color errors are on a very low level and the white balance system caused only a very little shift into the yellow and green direction. Saturation is only slightly increased; only true cyan ("Cy" in result chart) is less saturated than could have been expected.
The camera also showed a very good result in our resolution test and reproduced the ISO 12.233 chart with 750 of 1,080 lines per image height (Full HD recording in AVCHD mode). However, it showed a slight tendency to aliasing and moiré effects. In our sample shoot we noticed moiré effects on scene details like the roofs of the buildings. Noise and dynamic range results are very good, so the A7 II can be recommended for video recording in low-light situations.
Scorecard
Pros
+ Improved design and handling (compared to original A7 version)
+ Very fast AF system
+ 5-axis image stabilizer
+ Large and bright electronic viewfinder
Cons
- Swivel monitor can only be flipped up- and downward, not fully articulated
- Awkward placement of video button
- AF struggles in dimly lit conditions
The Sony Alpha 7 II has a list price of $1,699. For more information, visit www.sony.com.
FEATURED VIDEO