Sony's Alpha A100; A Fast 10-Megapixel Digital SLR
The first 10-megapixel entry-level digital SLR to reach the market, the Sony Alpha A100 raises the resolution bar in the sub-$900 category. While that makes the camera particularly newsworthy, it's interesting in several other respects. This model is a hybrid, combining the best of the Konica Minolta Maxxum 5D with entirely new Sony technology and features. As discussed in our First Look report (August 2006 issue), the A100 is compatible with most Maxxum mount lenses and certain flash units. But it takes a giant step forward with new features, such as an ultra-fast BIONZ processor, improved Anti-Shake system, a unique Dynamic Range Optimizer, two features that minimize sensor dust, superior LCD monitor display, and significantly longer battery life.
Design And Operation
Resembling the late lamented Konica Minolta Maxxum digital SLRs in general appearance, menu items, and some controls, the A100 features different trim and a more handsome, contoured body. This is a well-balanced, compact digital SLR with a large rubberized handgrip and a large viewfinder that prevents a tunnel vision effect. It's nicely finished with a scratch-resistant matte black exterior over polycarbonate panels and a magnesium-alloy chassis. Not quite as petite/lightweight as the EOS Digital Rebel XT, the Alpha A100 is quite portable and sports a 2.5" wide view, anti-glare LCD monitor with oversized data numerals.

It's also remarkably versatile for an "entry-level" model so it compares favorably with all other digital SLRs in its price range. Numerous user selectable overrides allow for controlling virtually every aspect of an image. While a reflex mirror lockup feature (available with the Digital Rebel XT) is not available, experienced photographers will appreciate several advantages, such as the fact that wireless, off-camera flash does not require an extra-cost accessory. Set up a remote Maxxum D-series or Sony HVL flash unit and it will be triggered by the burst of light from the built-in flash.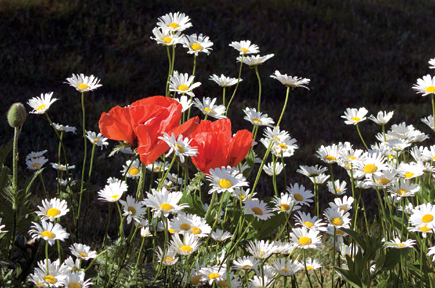 While the built-in stabilizer system is the most attractive feature, the Alpha A100 is a highly desirable camera for many other reasons. These include quick response, superlative image quality, fast recording to a memory card, plus a wealth of highly advanced capabilities. (At f/11 in Aperture Priority mode; ISO 100; JPEG Large/Fine capture.)
All Photos © 2006, Peter K. Burian, All Rights Reserved
The A100 sports relatively few buttons. Many of the frequently-used features are selected by using the two large knobs on the camera's "shoulders." That reduces the need to access the electronic menu with its numerous options, multiple sections, and tedious navigation process. Sony adopted the menu devised by Konica Minolta, but hopefully they'll develop a streamlined version before introducing their next digital SLR. After the basic setup to meet personal preferences, operation with the analog controls was quick, intuitive, and convenient.

Evaluation: In order to satisfy first-time digital SLR buyers, this Sony camera can be simple to use with one of the six "intelligent" subject-specific Programs. Even so, it will satisfy many experienced shooters who will take advantage of the many overrides. In long-term use, I would miss only two capabilities: a high-speed (5 fps) Burst mode and reflex mirror lockup to minimize internal vibrations in macro photography.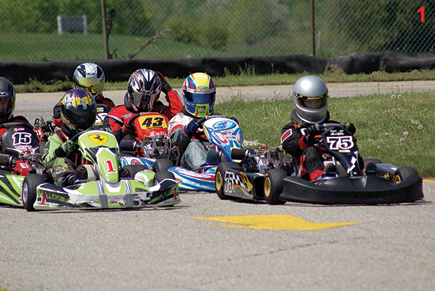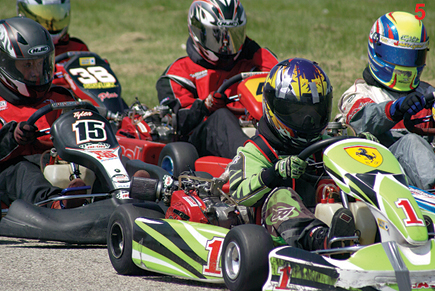 The effective Continuous AF system, 3 fps advance rate plus the ability to shoot an "unlimited" number of JPEGs in a single burst make the Alpha A100 suitable for action photography. While the point of focus is not always on the front vehicle in this series, the AF system was often successful in tracking the motion of these go-kart racers. (Shutter Priority mode at 1/1000 sec; ISO 200; central point AF sensor selected; Sony 75-300mm zoom at 300mm.)
Performance Evaluation
During extensive shooting the Sony Alpha A100 proved to be very competent. It started up in about a 1/2 sec and was much quicker than average in buffer clearing: writing data to a memory card. When using a high-speed CompactFlash card, I was able to shoot dozens of large/fine JPEGs, or nine raw files, in a single sequence. And even after a long burst, the camera was almost always ready to take some more shots.

In most outdoor locations, autofocus was fast and reliable with static subjects. In low light, focusing took up to a 1/2 sec but there was rarely a need for the focus-assist feature, available only with flash. Continuous AF was also fast, although the system was not always successful with subjects accelerating at an erratic rate. I used the Sony 75-300mm f/4.5-5.6 zoom for action photography and found that roughly 90 percent of my photos were sharply focused. Autofocus should be even faster and more reliable with one of the few Sony SSM lenses with Supersonic-Wave Motor or the similar (but discontinued) Maxxum SSM lenses.
The on-board Super SteadyShot stabilizer is an improved version of the Konica Minolta system that shifts the entire CCD sensor module to compensate for camera shake. While it took about a 1/2 sec to be fully active, the system ensured that nearly all of my 1200 photos--made indoors and out without a tripod--are acceptably sharp or razor sharp. This Anti-Shake mechanism should work with nearly all compatible AF lenses but, as Sony indicates, it's less effective when panning with moving subjects or in macro photography. The company also recommends turning the stabilizer off when the A100 is mounted on a tripod, a standard recommendation.

FEATURED VIDEO